It wasn't supposed to end this way — i.e., with a chance to win the continent's biggest prize in inter-club football — and yet that's just how this season is playing out for South African giants Kaizer Chiefs.
The Amakhosi have been through a dimly-lit tunnel — pitch-dark at times — this term, looking nothing like the side that fell just short of winning a first league title in five years last season.
In truth, though, Chiefs' latest top-flight campaign only felt like a natural sequel to the one before it, when a poor second-round run saw them end up as bridesmaids to winners Mamelodi Sundowns.
This time, though, they finished much lower than second in the DStv Premiership — mid-table (eighth), much closer to the bottom than to the top — and, but for the saving grace that still exists in the 2020/21 CAF Champions League, this would have already gone down as a thoroughly forgettable season.
But here they are, still going — trudging, really — on the African front, one game away from unprecedented success. The occasion — and certainly the opponent, Egypt's Al Ahly – is as big as it gets, though, and much would be demanded of Chiefs if they are to emerge with the spoils.
Chiefs may have only ever faced Ahly once — a CAF Super Cup game nearly two decades ago that, given how badly it went for the former, is best forgotten — but the north African side's current trainer, Pitso Mosimane, is a much more familiar foe.
Not quite a year ago, South African Mosimane was right up in Chiefs' faces, after his Sundowns team successfully hunted them down, eventually beating them to league glory. That was the third championship — in a row — that the 56-year-old sealed for Downs, firmly establishing them as Mzansi's finest, and so you can see why Chiefs would feel like they have an axe — sharp and shiny — to grind with Mosimane, their nemesis.
Speaking of axes, there is one — just as sharp, just as shiny — hanging above Mosimane's own head right now, as the man himself admits.
"Here [at Ahly] if you don't win the Champions League and you don't win the league, you might as well try and look [elsewhere]," Mosimane said in a recent interview.
"So that's why I am here: I am on the edge."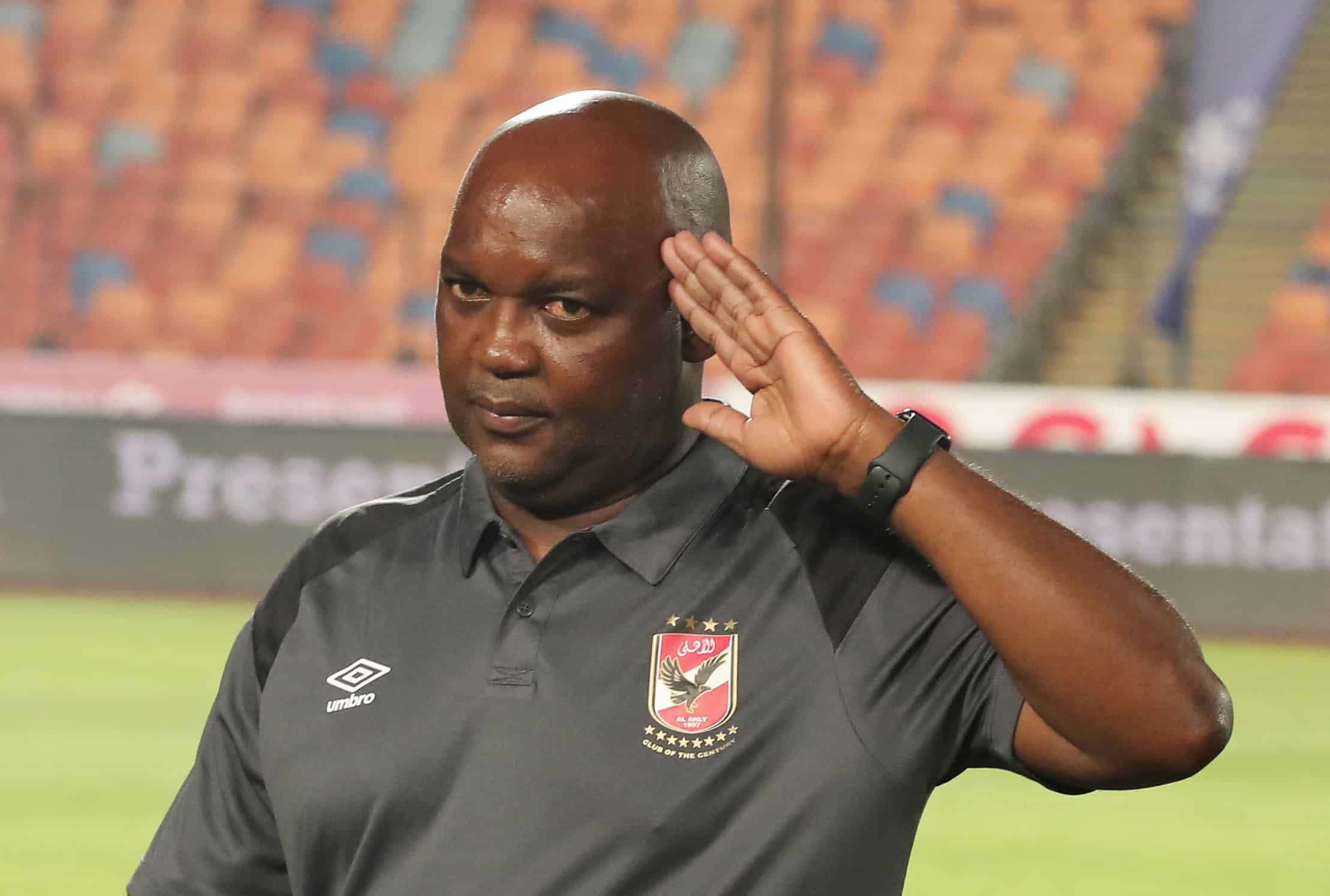 On the edge?
Not exactly, as things stand.
Ahly might be ten points behind Cairene archrivals Zamalek in the league, but they have more than enough games (four) in hand to catch up and overtake, while their Egyptian Cup run isn't yet over (who cares about that trinket, though, right?). What matters most, however, is the third trophy, the one they really are on the edge of bringing home for a record tenth time.
Mosimane won the long-awaited ninth — itself a record, as were the sixth, seventh and eighth — late last year, at the expense of Zamalek, but the debate hasn't yet died down over just how much credit for that triumph ought to go to the Kagiso native, as he only arrived at the club after a last-four ticket had already been booked.
But Mosimane has answered some of that criticism, guiding Ahly to the final once more — all on his own, this time — and with a chance to claim his third Champions League crown, against a team he has an idea or two about beating.
In the adjacent dug-out would be a tag-team of caretaker coaches, Arthur Zwane and Dillon Sheppard, with much less top-level management experience between them. The pair was tasked with seeing out what remained of Chiefs' nightmare of a season, following the sacking of former coach Gavin Hunt (and the inability of substantive successor Stuart Baxter to take his place on the bench just yet*) but they've outdone themselves.
Ensuring Chiefs had the best-possible climax to the domestic season — under the circumstances — was good enough, but nicking a Champions League final ticket off a far superior Wydad Athletic Club (WAC) side over two legs was unarguably more impressive. They won that tight tie by a Samir Nurkovic goal, and in a manner that was certainly in keeping with their course throughout the competition.
Chiefs made it into the knock-out phase on the fourth tie-breaker (sorry, Horoya), before edging Simba and WAC by similarly fine margins. When a team goes all the way this way, you wouldn't bet against them going on to win the whole darned thing, and Mosimane would certainly be wary of that.
Chiefs would be out to get him, yes, but also out to level up with the other two of South Africa's 'Big Three' clubs — namely, Sundowns and Orlando Pirates — on one Champions League 'star' each; the knock-on effect of Chiefs becoming [Africa's] kings could also see Pirates, with whom they contest the feisty Soweto Derby, kicked out of the CAF Confederation Cup even before the Bucs get to kick a ball in the competition.
"The easiest final for Al Ahly in their history"?
Well, that's the prediction of former Egypt international Mido, ahead of Saturday's showdown, and while there's a pretty good chance that Chiefs would be played off the park — as they were in Casablanca at the same venue, in the semi-final first leg — they would be comfortable enough in the knowledge that their season would end on a much better note than was foreseeable months ago.
Not that it would stop them from trying to get that bit of title-winning flourish, would it?
*It has been confirmed, on the eve of the final, that Baxter will officially lead Chiefs' technical team.
Yaw Frimpong — Ink & Kicks