For a Division One League (DOL) outfit, Accra Lions are an incredibly attractive team to follow.
I found out about them, I think, only last year, during that lengthy lean period when we had to scrape and scratch the Internet for something — anything — to satisfy our craving for football.
And, boy, what a find they have been!
It's hard, indeed, to identify many clubs on the local scene more structured and better-run than Lions.
For one, they don't get their kits through the guy-next-door who happens to know someone with a set of jerseys that matches their colours. PUMA, the famous German sportswear manufacturer (Nike, before that), has them covered — literally — in that regard.
And when the kits do arrive, they are branded with the logo of a reputable headline sponsor that, I'd imagine, offers something worthwhile in return.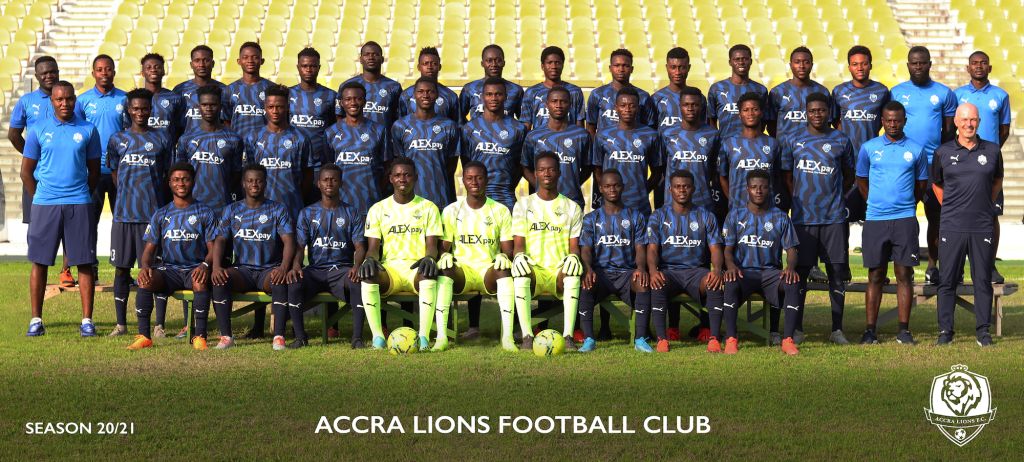 Then there is InStat, the globally renowned sports performance analysis company that has had a working relationship with Lions longer than it has with record Ghanaian champions Asante Kotoko.
You might also want to check out Lions' website: an asset many an 'elite' Ghana Premier League club could do with, which is properly designed, well-resourced and regularly updated.
This, in many ways, is a very modern club that has embraced professional methods which others are yet to warm up to, and is also armed with a recruitment policy that has brought in young players from other African countries.
Lions' commitment to talent development, the primary focus, has already yielded dividends, with two of the players who were invited as Ghana prepared for the final batch of Afcon 2021 qualifiers having passed through the system.
One of those, Osman Bukari, is currently based in Belgium with KAA Gent and had his senior international debut against Sao Tome and Principe last month; the other, Evans Etti, is still on Lions' books and is one of the leading scorers in this term's DOL.
All of that had me frothing at the prospect of Lions getting promoted to the Premier League in the not-too-distant future. Halfway through what should be their first full season in second-tier football, that quest is going pretty well.
They did make a strong start to the campaign, springing off the blocks with six straight wins. And while they are no longer reeling in three points each matchday, Lions are still on track to reach their target.
They're just behind Zone 3 leaders Tema Youth, a side with the advantage of significant previous Premier League experience. The belief, though, among Lions' players and officials is that they deserve to be in a more commanding position, leading the pack as they did in the first few weeks of the season.
Underpinning that belief is a strong sense of injustice over refereeing decisions against them in recent games, particularly their last couple on the road.
Away to Kotoku Royals, first, and then to Accra City Stars, Lions conceded penalties that, in truth, could only have been conjured from the wildest imaginations of the referees that called them.
The first came after a ball struck the arm chest of Lions' skipper Richmond Ankrah; the second, about a month later, followed a foul that never was.
The latter incident was arguably more shocking, and a video of it has been doing the rounds on social media ever since it transpired last Friday.
Penalties, even if legitimate, are only supposed to be awarded after the fact. In this case, it was actually given before the fact; heck, was there even a fact to begin with?
Lions, thankfully, lost neither of those games, but those fanciful decisions cost them four points that could have made the table look very different at this stage of the campaign. Instead, they're now trailing, even if only by a solitary point.
Justice should be served, and, to an extent, it has. One of the two erring referees has been handed a lengthy suspension, and the other — following the filing of a complaint with the Match Review Panel of the Ghana Football Association – should soon be served his punishment, too.
It would be fairer, though, that these avoidable and expensive mistakes, in a league where the margins are often so fine and so faint, aren't made at all.
At a time when the welfare of referees is being championed — and rightly so — the responsibility of these officials to protect clubs' interests, too, must be discharged properly.
And if any club deserves this 'kindness' (they all do, of course) — for all the reasons mentioned earlier in this article — it's Lions.
Yaw Frimpong — Ink & Kicks