When it comes to the Africa Cup of Nations (AFCON), there is very little Samuel Eto'o Fils hasn't seen or done.
We first meet him at the tournament's 22nd edition, in 2000, which Ghana co-hosted with sub-regional cousins Nigeria. Even at 18, just shy of his 19th birthday, Eto'o wasn't exactly an unknown quantity. The young man already had something of a reputation, being on the books of Spanish giant Real Madrid — albeit on loan at Espanyol — at the time.
He had appeared at the FIFA World Cup two years earlier, the youngest to get a kick at that competition, but this was still new ground for Eto'o that could prove a tad daunting for the teenager he still was.
From the start, it did feel like Eto'o would have to do with the bit-part role he had at France 1998, with Cameroon trainer Pierre Lechantre choosing to ease Eto'o into the cauldron with a late cameo appearance in the Indomitable Lions' opener against Ghana.
Before long, though, it became apparent that this fresh-faced kid wanted more and was, in fact, capable of more.
By the time the tournament — which Cameroon won after a keenly contested final against immediate neighbours Nigeria — ended, Eto'o had more than cut his teeth on this grand stage; he'd sharpened them, biting expertly through all that was handed him.
His place as strike partner of the more experienced Patrick M'Boma was sealed — they finished with four goals apiece, just behind top-scoring Shaun Bartlett of South Africa — and, after the older man eventually exited the international stage, Eto'o picked up the mantle of responsibility of being Cameroon's front-man and served with distinction for years.
He'd have a few more glorious moments with M'Boma at his side before that potent pairing had run its course, though, with Cameroon winning Gold at the Summer Olympics later that year (2000) and successfully defending their AFCON crown with a fourth continental triumph at Mali 2002.
For all that Eto'o would go on to achieve in his stellar career — the most-decorated African footballer of all time; the first to four African Footballer of the Year awards; and the honour of being, for a year, officially the third-best player in the world — some of his greatest moments came in a Cameroon shirt.
Things weren't all rosy, though. The bliss of his early years as a Cameroon international soon faded, with the only other memorable high — aside from some forgettable appearances at the FIFA World Cup, and an emotional run at the 2003 FIFA Confederations Cup — coming in 2008 when Cameroon reached another AFCON final, losing narrowly to Egypt.
It was telling, in fact, that the announcement of Eto'o's retirement from international football was four years removed from his last appearance at the AFCON. Cameroon had missed out on the last two editions, an indication that they were somewhat spent as a continental force.
For Eto'o, however, the disappointment was also on a wholly personal level.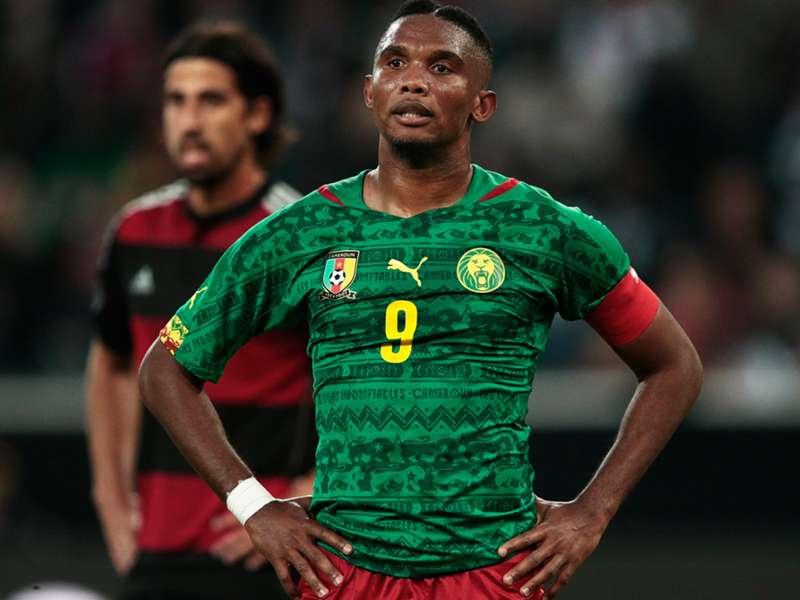 There was, for instance, the lengthy ban he copped for his role, as captain, in the playing body's boycott of a game against Algeria in late 2011 over a money dispute. And when, many months later, that exile was over and Eto'o was due to return, he had a little message for the Cameronian football federation (FECAFOOT).
"Our national team continues to dwell in an environment characterised by amateurism and poor organisation not compatible with professional sports," Eto'o wrote in a letter.
"I doubt if supporters of the Indomitable Lions will understand my move aimed at attracting attention to the imperative necessity to make the team professional. The team is a veritable institution that has contributed much to the nation and from which much is still expected."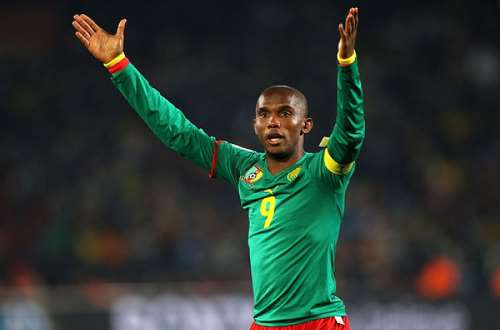 In summary, Eto'o wasn't yet ready to return to the national team, due to the shortcomings of its handlers (FECAFOOT, primarily), thus voluntarily delaying his comeback. Eventually, Eto'o returned, even making it to the Mundial in 2014; he retired not long afterwards, gone for good.
Or so we thought…
Eto'o's story with Cameroon wasn't quite done. His imprint is still indelibly etched on the AFCON, anyway, with the 40-year-old's place as the competition's all-time top-scorer looking safe and solely his in the foreseeable future. His presence, though, has graced recent AFCON tournaments in other ways.
Eto'o was up in the plush seats of the Stade de l'Amitié, Libreville (Gabon), arms and eyes wide in celebration, when Vincent Aboubakar scored the late winner in the AFCON 2017 final to seal Cameroon's first title — and fifth overall — since that which Eto'o and Co. brought home 15 years prior.
And two years later, ahead of the final (not featuring Cameroon this time, it must be mentioned), Eto'o was down on the pitch to present the AFCON trophy for display. We didn't know it then (neither did Eto'o himself, if he'd be honest), but the next time the tournament was due, Eto'o would have something far more important than a ceremonial part.
Had that event been held when it was supposed to — this time last year, that is — Eto'o would likely have been little more than another spectator, even if of a higher profile than most. The postponement to 2022 — even if the edition still retains its '2021' tag, proudly — afforded Eto'o a window of opportunity to launch a bid for the FECAFOOT presidency and successfully secure the position, elected just weeks ago by a comfortable margin.
There will be a lot for Eto'o to get done in the four years of his first term, before he even dreams of a second, and top of the pile is the pressing assignment of overseeing the successful hosting of the upcoming AFCON.
It wouldn't be a straightforward task, as attempts to reschedule the tournament — or even relocate it — proves. But Eto'o, embracing the challenge, has talked tough and insisted on pushing forward with the existing plans. He's had his way now, with the ball at his feet. He used to, in his day, strike it remarkably well; could he do so, albeit in a less literal sense, now?
It's one thing hosting the AFCON in a country where security isn't guaranteed, as Angola found out in 2010; its another to do so amid a raging public health crisis, as Equatorial Guinea had to contend with in 2015. Cameroon, though, would have to juggle both risks adroitly, in ensuring that this AFCON takes place with little incident.
The prospect of winning it feels like an afterthought at this point, even if Eto'o is confident Portuguese trainer Toni Conceição and his charges are up to the task.
Cameroon have won the AFCON five times, more than any other country bar Egypt, but they've never done so on their own soil. The Indomitable Lions were only good for third-place the last time the AFCON came around (1972), and they'd like to make this chance count a bit more.
A successful AFCON for the Central African nation — on both counts — would be a truly remarkable achievement, if Eto'o could pull that off. It would go some way to prove that Cameroon's favourite son — sorry, Roger Milla, you lost that pride of place a while ago — could actually walk the talk, excelling in a capacity in which he believes his predecessors didn't exactly cover themselves in glory.
And it would be a great start for the new chapter Eto'o seeks to write in Cameroonian football, one in which he could fix all that didn't quite go right in the previous chapter.
Welcome, then, to the opening scenes of Samuel Eto'o Fils, The Sequel: lights, camera, action AFCON.