A day after joining the rest of the country in a nationwide tree-planting exercise, Charles Akonnor's Black Stars sought to present their compatriots with encouraging seedlings of promise.
A first friendly earlier in the week — away to Morocco — saw them fail to impress as a collective, even if it was an individual error that let them down in the end.
Four days later, on their own turf — a worse turf, I must add — the Black Stars, after contributing their bit to a greener Ghana/world, took on the national team of western neighbours Ivory Coast.
Ghana's rivalry with Les Elephants is a long — sometimes exhilarating, sometimes excruciating — one that goes all the way back to an Africa Cup of Nations meeting in 1965, an encounter won by the Black Stars en route to securing the second of their four continental triumphs.
It wasn't until after seven years and eight games that the Ivorians figured out how to beat the Black Stars, doing so for the first time in a friendly match.
And they've done it quite a few more times since, even when it has mattered most, edging the Black Stars twice to win their only Afcon titles, albeit via marathon penalty shootouts on both occasions.
Two generations of Ghanaian fans have felt those crushing blows, the latest of which was dealt at the tournament's 2015 edition which, incidentally, was the last time these West African giants shared a pitch before last Saturday's game.
Neither team is quite the same as it was back then — many new faces and fewer of the old guard — and neither has reached the same heights. The 2018 Fifa World Cup was the first edition in four not to feature either, while the two teams didn't exactly set pulses racing at the Afcons of 2017 and 2019.
Ivory Coast has entrusted quite a few trainers with the task of sparking a revival, with a fourth, Frenchman Patrice Beaumelle (formerly an assistant to Herve Renard, the man who delivered glory at Ghana's expense some six years ago), now at the helm and hoping to succeed where those before him failed.
Ghana hasn't burned through as many managers, with only two — both natives — taking the wheel, but, some 18 months since his appointment, current boss Akonnor hasn't yet dispelled doubts about his ability to do any better than immediate predecessor Kwasi Appiah.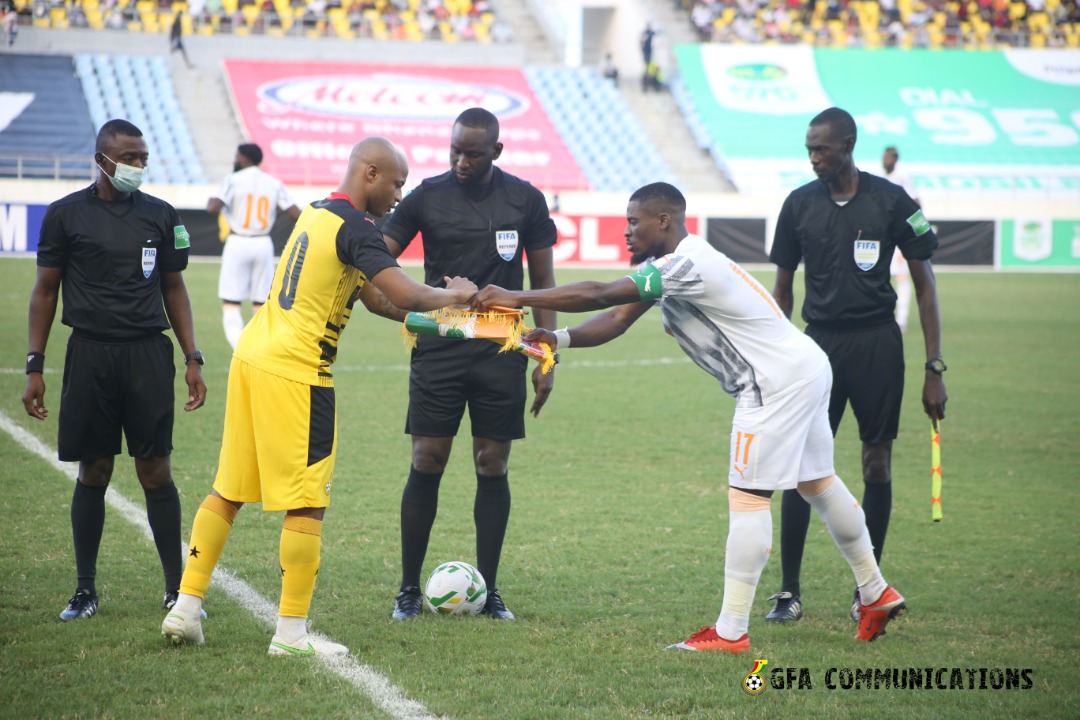 All that recent history framed the weekend's friendly nicely, when Beaumelle and his charges made the short trip to Cape Coast, Ghana, for what would be a fair test of how far both teams have come since their epic showdown in Bata.
That, at least, is what Akonnor seems to have set his team up for, and, despite only playing out a scoreless draw, he claims to have identified quite a few areas of noticeable progress.
"We could clearly see the work ethics of the players, positional play, the team shape, discipline, the ability to know that 'I am responsible for this position and this role'," Akonnor said after the game.
"And so it gave me a little bit of joy about the things we have achieved in this short period of time."
The vast majority of fans, though, were looking out for just one thing — results — and, per their expectations, the Black Stars came up short against Ivory Coast (as they did against Morocco).
It was certainly encouraging to see the heart of Ghana's defence — anchored by the returning Daniel Amartey, of Leicester City, who thrived alongside three different partners across those 180-odd minutes — hold steady, while Mohammed Kudus fuelled a growing belief that he could be central to Akonnor's plans.
But Ghana underwhelmed in other areas and were, even if only slightly, second-best. The biggest source of concern — aside, perhaps, the fact that Partey is still not quite fulfilling his role as the team's leading light, flickering instead of glowing — was the Black Stars' frustrating bluntness upfront which, thankfully, didn't escape Akonnor's attention.
He concedes that there is room for improvement, especially in attack, while also insisting that his team is only a touch or two away from being the finished product (despite having only three wins, from eight games, to show thus far).
"Of course, I want them to believe that we're developing something and very, very soon that would yield a good result," Akonnor said, when asked if his project is worth the confidence of Ghanaians.
"The team has a future. The team is bright."
That 'future' begins in only a few months' time, when Ghana dives into a pool of Qatar 2022 qualifiers spread across September, October, and November.
Between now and then, Akonnor — and his technical team, boosted by the recent addition of Dutchman Patrick Greveraars — would have to find a way to nurse the sprouts that are blossoming, towards the anticipated flourish.
Yaw Frimpong — Ink & Kicks