It was with pride, and a head held high, that Andre Ayew departed Swansea City last week, knowing that the service he had rendered to the club over the last two Championship seasons was of the highest quality.
But it was also with sadness, and a heavy heart, knowing that such undisputed quality — 44 goal contributions in two seasons, if you want to distil it into numbers — was never quite enough to drag Swansea back to the Premier League where, in 2015, he first found them.
Altogether, he had three-and-a-half seasons on the coast of South Wales, and there weren't many days on which Ayew came up short. He might have failed to save Swansea from going down in 2018, despite being repurchased at considerable expense in mid-season for just that purpose, but Ayew has more than made up for it.
Twice he led the charge as Swansea made the Championship playoffs, going all the way to the last hurdle this term, only for the Jacks to run into a superior, hungrier Brentford side — the same team that stopped their march a season prior, only a little earlier — in May's big Wembley final.
Following that heartbreak, Swansea would return to the drawing board to plot another route to the top, but Ayew would no longer be among the architects. Swansea just can't afford his Premier League-level wages anymore, and the Ghana captain has parted ways with the club as a free agent.
That should make him quite a catch — but for which club?
Ayew, to be sure, won't lack suitors, and his most recent stint away from his former Welsh employers suggests he might have a taste for foreign adventures. Sampling Turkish delights during a season-long loan stay with Fenerbahce — in Swansea's first season back as a Championship club — probably left a good taste in Ayew's mouth, a longing for more of such.
If so, there would be quite a few options to choose from.
The path to France, where he cut his teeth as a footballer, is still open. Marseille, his boyhood club, for one, have shown a willingness to embrace old players of theirs willing to return from a spell across the English Channel — see Dimitri Payet.
And Ayew might be an even more attractive prospect for Marseille than his former teammate, given that he wouldn't be as hard to acquire (he's unattached, remember) and is a lifelong Olympien who came through the ranks and spent the first half of his professional career at the Stade Velodrome.
Alternatively, he could head to any of the other major European leagues, including those of Germany and Italy, where his famous dad, Abedi, once played. There is always room for a 30-something-year-old — especially for one full of heart and, most importantly, ambition — in Serie A, with Ayew claiming to have been contacted about an Italian job in the not-too-distant past; the Bundesliga, on the other hand, holds its own allure.
But there are reports also linking Ayew to deposed Scottish champions Celtic, who have just appointed a new manager, Greek-Australian Ange Postecoglou, and are looking to rebuild and respond to the stunning resurgence of rivals Rangers.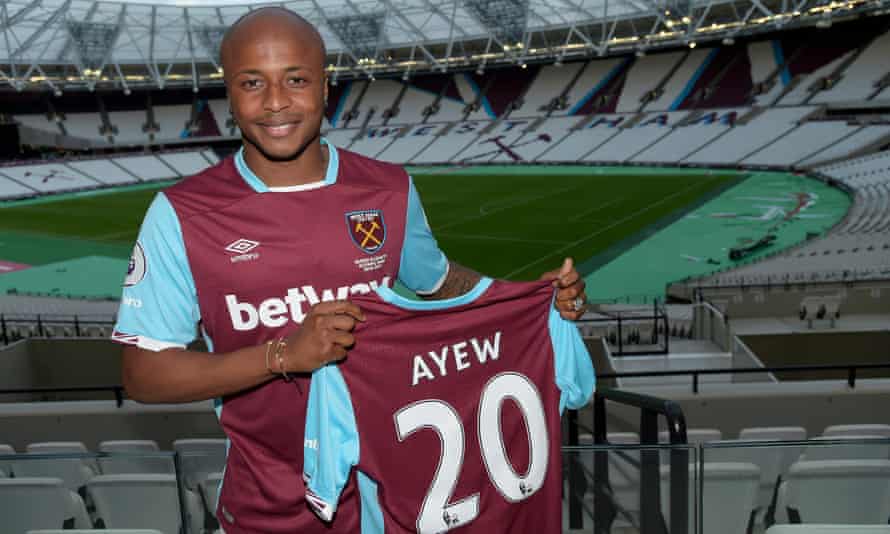 Rather than move further north (or entirely outside the British Isles, for that matter), however, Ayew might fancy crossing the border, back to England — and back to the Premier League — where he, arguably, has unfinished business. For all he has achieved since arriving six years ago, Ayew has only had one good season in the Premier League.
That was his successful debut campaign, which earned him a club-record-fee transfer to West Ham United. But the next two seasons — one-and-a-half in the capital, and the other half back at the Liberty Stadium — weren't very great, and there is a sense that Ayew still has some loose ends he might want to tie up.
Many would agree he is very much an elite talent, even at 31, and there shouldn't be a shortage of clubs in the top tier — from mid-table downwards, particularly — that would be shopping for a player of his profile (one or two were in touch while he still played lower-league football with Swansea).
Again, it is the league to which he has been working to return — albeit with Swansea — during the last couple of years, so why give up on the dream now?
Why not go for it, even if for a season or two?
Why not do what an Ayew typically does, namely, taking up the biggest challenges?
NY Frimpong — Ink & Kicks