Some things are just made for each other: economies and taxes, bread and butter, happiness and a bottle of Tequila, and, of course, Andre Ayew and the big stage.
At 31, the Ghanaian continues to blaze the trail for both club and country in typical 'the older, the better' fashion.
Ayew, on Monday, was the star of the show as Swansea City boosted their hopes of reaching the final of this season's Championship play-offs by defeating Barnsley 1-0 on the road. The Ghana captain decided the game as early as the 39th minute with a magnificent curling effort, the kind of which Dutch great Arjen Robben would be very proud.
Having latched onto a clever ball from Kyle Naughton, Ayew's first touch threatened to let him down as it pushed him a bit wide. Like the genius that he is, however, Ayew quickly controlled the ball with his left foot, glided in between two Barnsley defenders, dropped a shoulder, and ended up scoring a beauty.
It was the type of goal worthy of winning any game, let alone a Championship play-off fixture.
But it wasn't so surprising, was it?
Ayew is the ultimate big-game player and has consistently demonstrated that since returning to Swansea in 2019 from his year-long loan spell at Fenerbahce. His goal against Barnsley was Ayew's 17th of the season for Steve Cooper's side, and, as far as consistency is concerned, he is up there with anyone currently in the English second tier.
The former Olympique Marseille and West Ham United man has become the talisman at the Liberty Stadium, and his strong character and zeal constitute exactly the sort of infectious ethos that Swansea need in their latest quest to return to the Premier League.
"We got a real moment of excellence with Andre's goal and we managed to continue to be strong defensively," manager Cooper effused in the aftermath of the game.
"Andre has then made the difference and we know he can do that — we've seen it plenty of times."
Indeed, Ayew's brilliance has shone through since he first joined the Jack Army in 2015. In his initial stint at the club, Ayew scored a dozen goals in the Premier League and recorded five assists — numbers which earned him a big-money move to West Ham after just a solitary season in South Wales.
And, in each of the two seasons with Swansea in the Championship, after returning from that underwhelming spell in the capital, Ayew has averaged some 17 goals. For a player who is not an out-and-out striker, those figures are simply astonishing.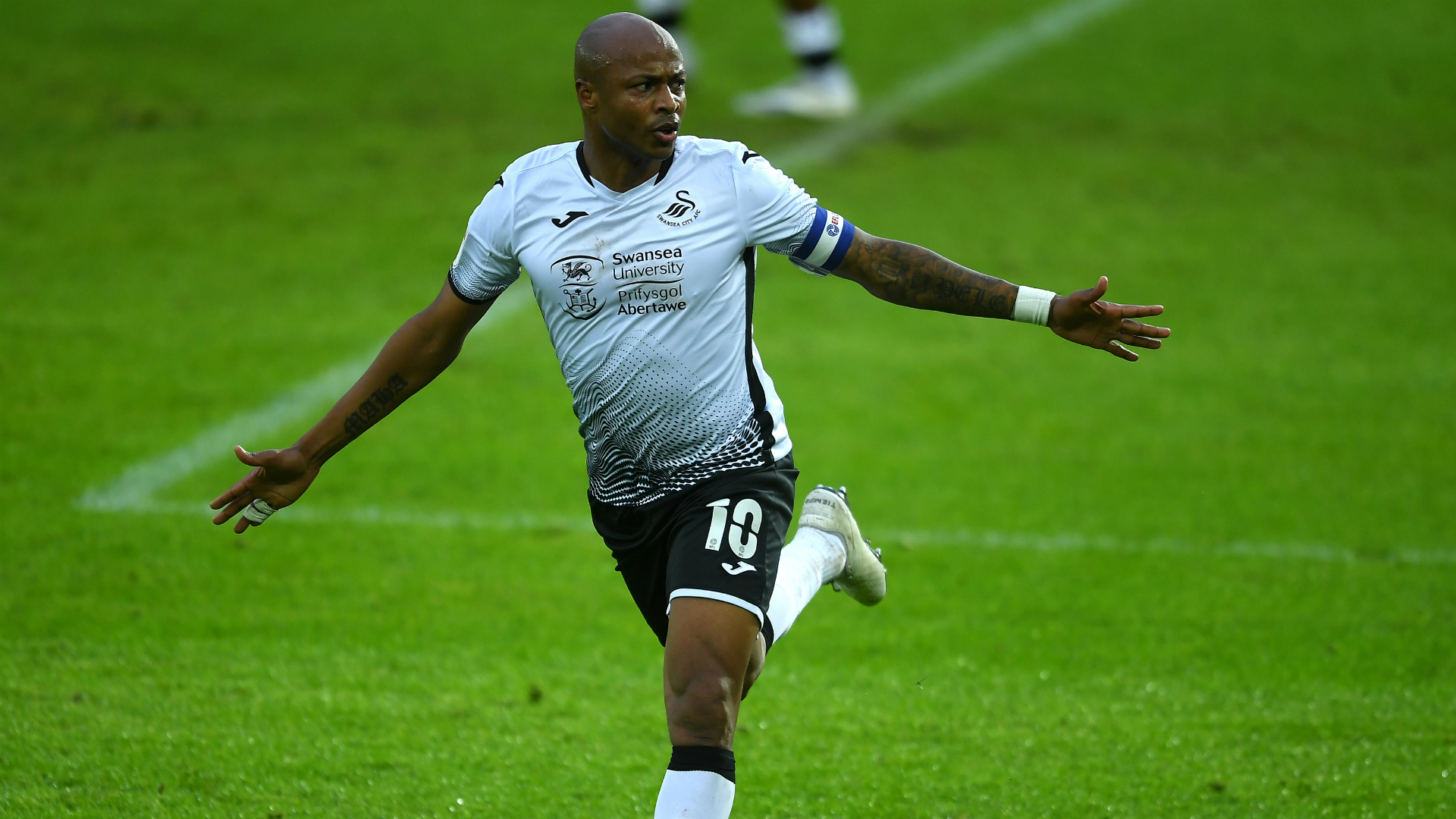 Ayew has been a loyal servant to the club and, perhaps, he deserves a last hurrah in the Premier League.
He has had opportunities to do so, in fact — just not with Swansea.
"Some people will say maybe my career has dwindled because I'm playing in the Championship, and let me say there were offers to go and play in the Premier League and I could have jumped at the first offer that came in, but no," Ayew told BBC Sport Africa earlier this week.
"Sometimes, it's not every offer that comes that you have to take. You first look at your happiness and then consult your family and the team and see what is best before making a decision.
"I really don't think I have lost anything; look at my numbers both here and at the [Ghana] national team — they are getting better and I'm happy for the journey I took."
Swansea fell short at this same stage last season, losing heavily in the second leg to Brentford after securing a narrow home victory. Now, they have another head-start to work with, and, hopefully, they'd make it count this time.
With Ayew leading the charge, as hungry as ever, Swansea have a chance.
Emmanuel Ayamga — Ink & Kicks