More than merely a will to win, it's a compulsion bordering on malady that sees some of the greatest managers divide opinion among football fans: committed, courageous and heroic in the eyes of their own; overzealous, ruthless, and repulsive to everyone else.
In other words, Jose Mourinho Samuel Boadu.
The 35-year-old has only been at Accra Hearts of Oak a little over six months, but his successes — Ghana Premier League triumph and FA Cup glory, the club's first major pieces of silverware in 12 years — have ensured he's already dearly beloved by Hearts fans, with whom Boadu has established a strong bond.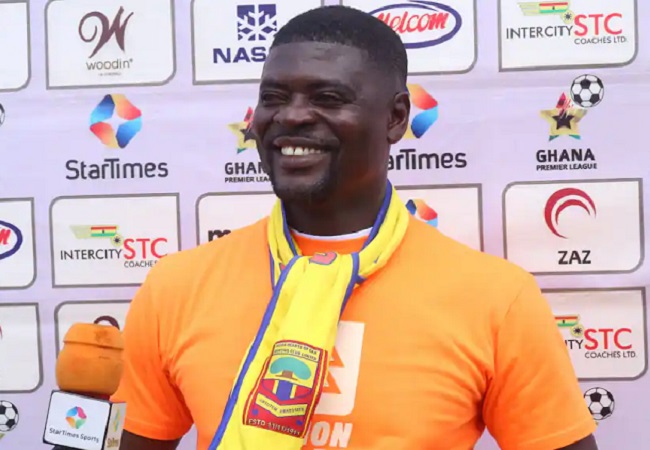 Fans of rival clubs certainly won't feel the same way about Boadu, but even neutrals can't help but be charmed by the infectious charisma of this guy — this frenzied conductor and commander of the touchline flashing the million-dollar smile.
But while there is a lot of sincerity in his affable public persona, those who have worked with Boadu know it only extends so far; a proper darling Boadu may be, but he can also prove an uncompromising character when in the mood.
Occasionally — occasionally? — that fiery aspect of his personality spills over on matchday, and he can be seen raging on the sidelines, berating the referees, and generally willing to make life miserable for anyone who seemingly gets in the way of his side winning a match.
It seems a reflection of the compulsion mentioned at the outset, and Boadu does all that with the singular aim of gaining some advantage, no matter how slight. Most coaches are guilty of same, anyway, but it's when this display of emotions reaches the point of feverishness that the self-control button must be hit.
Boadu hasn't done that very well, unfortunately, and has a tendency to lose his cool during games when things aren't going his way. His touchline behaviour wasn't exactly exemplary, for instance, when his Hearts team faced Kotoko in the heat of last season's title challenge.
It happened again in one of Hearts' recent friendly matches, against Togolese side ASKO Kara, and Boadu carried it over into last Sunday's one-off CAF Champions League qualifier at home to CI Kamsar of Guinea; on at least three occasions, he was seen being reprimanded by the fourth referee.
In those moments, it's easy to forget just how good a brain Boadu has up there, even if the result often sends a reminder.
But maybe here's a reminder he could use: Boadu can't always get away with living on the edge, and, especially as his team advances in this season's continental competition, he'd do well to tone down and make himself a more calming presence.
Godfred Budu Yeboah — Ink & Kicks