To stand out on a football pitch while surrounded by up to 22 people competing for the attention of spectators isn't the easiest thing to do, but some referees tend to achieve that — for reasons right or wrong — quite effortlessly.
Standing out doesn't always mean being popular, of course, but referees generally don't really care about their approval ratings, considering that some of the least popular decisions they take are actually the most accurate ones.
Even so, it was impossible not to admire referee Bamlak Tessema Weyesa's performance on Wednesday night when Burkina Faso and Senegal contested the first of the two semi-finals at the 2021 Africa Cup of Nations (AFCON).
Senegal forward Sadio Mane, in inspired form, duly claimed Man of the Match honours at the end of his country's 3-1 victory — to which he contributed a goal and an assist — but Tessema could easily have walked home with that shiny prize had he been eligible.
What Tessema wouldn't be denied, though, was praise on social media, from viewers based in Africa and beyond.
And the plaudits came not trickling, but in a torrent.
Tessema hardly put a foot wrong, and even on the rare occasions when he did err, the full-time medical researcher — who turned 41 only at the end of 2021 — was bold and humble enough to concede his fault and reverse those calls on the recommendations of the Video Assistant Referee (VAR).
If you've followed the story of Tessema's refereeing career, you'd know that being forthright comes naturally to him. But there is also that softer, amiable facet of his which cracks through to the surface — in the form of an infectious smile flashed every now and then — even in intense moments.
It's not just work to him, you feel; Tessema actually enjoys it.
Most referees do appear blasé and detached, displaying only enough enthusiasm as is required to get their task over and done with, and while Tessema does give off similar vibes at times (it comes with the job, I guess), players — even those in distress — might find him warmer than they would the archetypal referee.
And few games provide a clearer snapshot of Tessema's double-edged persona than the second of his three thus far at AFCON 2021, a David-versus-Goliath match-up between hosts Cameroon and minnows Comoros at the Round of 16 stage.
Things already looked pretty bad for the Comorians even before kick-off, with a combination of injury and COVID-19 cases denying them the availability of key personnel, even wiping the roster clean of any recognised goalkeeper.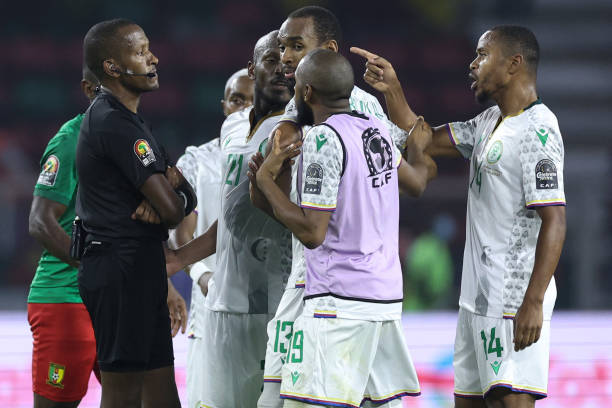 That desperate situation forced the islanders to start an outfielder, Chaker Alhadhur, in goal, and they were as much an object of pity as they were the neutral's favourite.
But Tessema wouldn't be purged of his characteristic ruthlessness and uncompromising nature by some stab of pathos, stamping his authority as early as the seventh minute, when he sent off Comoros skipper Nadjim Abdou for a reckless challenge with one of the more reasonable of this AFCON edition's 14 red cards.
As the game entered its final third, however, Comoros — Alhadhur, specifically — would experience Tessema's humane, even humorous, side.
Karl Toko Ekambi, from a clearly offside position, set up Vincent Aboubakar who smashed the ball in off the underside of the bar, to momentarily double the Indomitable Lions' lead.
The goal was promptly disallowed, easing Comoros' troubles for a while, and when the camera panned to a close-up of Tessema's face, it found the Ethiopian trying to calm the worst fears of a visibly crestfallen Alhadhur, grinning from ear to ear as he did so.
"Relax, man," Tessema appeared to say. "That's not gonna stand."
Poor Alhadhur did eventually concede a second goal, just five minutes later, from which brave yet decimated Comoros just couldn't come back, but that light-hearted moment with Tessema would be one of the few memorable souvenirs the makeshift goalkeeper took with him from an unusual — and ultimately heartbreaking — night.
Just a second prior, interestingly, Tessema had been as wide-eyed as a stunned owl as he took in information through his earpiece. How quickly he switched facial expressions, and how well he did so, was quite the spectacle.
At these finals where officiating has been a needlessly contentious topic, Tessema — with Rwandan female referee Salima Mukansanga the other outstanding example, albeit for entirely different reasons — has been a glowing beacon of excellence.
It's why many are already clamouring that Tessema — who has already handled finals of the CAF Champions League and Confederation Cup, having also made appearances at the FIFA World Cup and Club World Cup — be assigned Sunday's grand climax that would see Senegal come up against Egypt at Yaounde's Olembe Stadium.
And rightly so, as Tessema radiates just the sort of warmth and brilliance an occasion as potentially fierce as this one deserves. CAF, really, could do worse.