Even in a summer that saw Cristiano Ronaldo return to light up Old Trafford again, Manchester City splash £100 million on Jack Grealish to further illuminate the other side of town, and Chelsea break the bank to bring back Romelu Lukaku, the move that truly had me excited involved a player whose arrival wasn't as heralded and who — unlike Ronaldo or Grealish or Lukaku — had no previous experience of the English game.
Patson Daka had been a subject of interest to quite a few Premier League clubs, including Liverpool, whom he supported as a kid. The Reds have three Red Bull Salzburg old boys — Sadio Mane, Naby Keita and Takumi Minamino — on their books, but, being so risk-averse in their transfer business, decided against making Daka a fourth.
Leicester — a club far more comfortable with plucking relative unknowns and giving them the chance to grow their value — had no such qualms, though, snapping Daka up for the £23 million Salzburg quoted.
It only took Daka three games, in a pre-season friendly against Queens Park Rangers, to register his first goal as a Leicester player. But Daka knew minutes would be harder to come by once the 2021/22 season started, especially in the Premier League — a competition that held out a nice little bit of history for the 23-year-old to grab.
Only three Zambians — Neil Gregory, Collins Mbesuma and Emmanuel Mayuka — had ever preceded Daka in the Premier League, without leaving much of a legacy between them. More conspicuously, all three — all strikers — had failed to score, meaning Daka only needed one goal to eclipse their collective impact.
He couldn't deliver it in his first appearance, half-an-hour in a horrible 4-1 loss to in-form West Ham. But when his second chance came, nearly two months later against Manchester United last Saturday, Daka was ready to make it count.
And he did, creeping up being behind a sloppy Harry Maguire at the back-post to slot home Leicester's fourth and final strike in what would go down as a famous victory for the Foxes. Finally off the mark, Daka might have been tempted to content himself with that first bite, waiting for more crumbs of playing time to drop off the table of starters.
The very idea, it appeared, appealed not to Daka. And, perhaps, to show just how utterly it repulsed him, the young man took the occasion of Leicester's next fixture to make a stronger case and carve up a few more slices of history for himself.
Daka, on Wednesday, was handed a start when Leicester visited Spartak Moscow for its third group game of this season's Europa League campaign, just as was the case for the two preceding continental outings. He had failed to score in either game, with Leicester winning neither, and it felt like this one — the hosts 2-0 up nearly half-way through — was going very much the same way.
But Daka halved the deficit just before recess and, in just about eight minutes following resumption of proceedings, scored two more to turn the game on its head, also completing his hat-trick — the first Zambian to achieve such a feat in a major European competition.
By the 79th minute, Daka had bettered that record — first to four — walking away with the match-ball and then some.
Daka's confidence, clearly, is growing in leaps and bounds now, with his gifts rapidly bubbling to the surface. If the goal against United owed a bit to opportunity and highlighted Daka's positioning, the quartet in the Russian capital was testament to his movement and finishing.
The belief is that Daka won't have to wait another 50-odd days for his next league start. This, of course, isn't to suggest that he'll suddenly become Leicester boss Brendan Rodgers' go-to-man for goals. That burden — and, really, a privilege — remains with Jamie Vardy, the man who has borne it for some 10 straight seasons now and who just happens to be one of the best marksmen around.
Next in that pecking order would be Nigerian Kelechi Iheanacho, who proved in the second half of last season that he has more to offer than many had imagined since joining Leicester in 2017 for just about the same fee that Daka cost and an identical next-[African]-big-thing tag.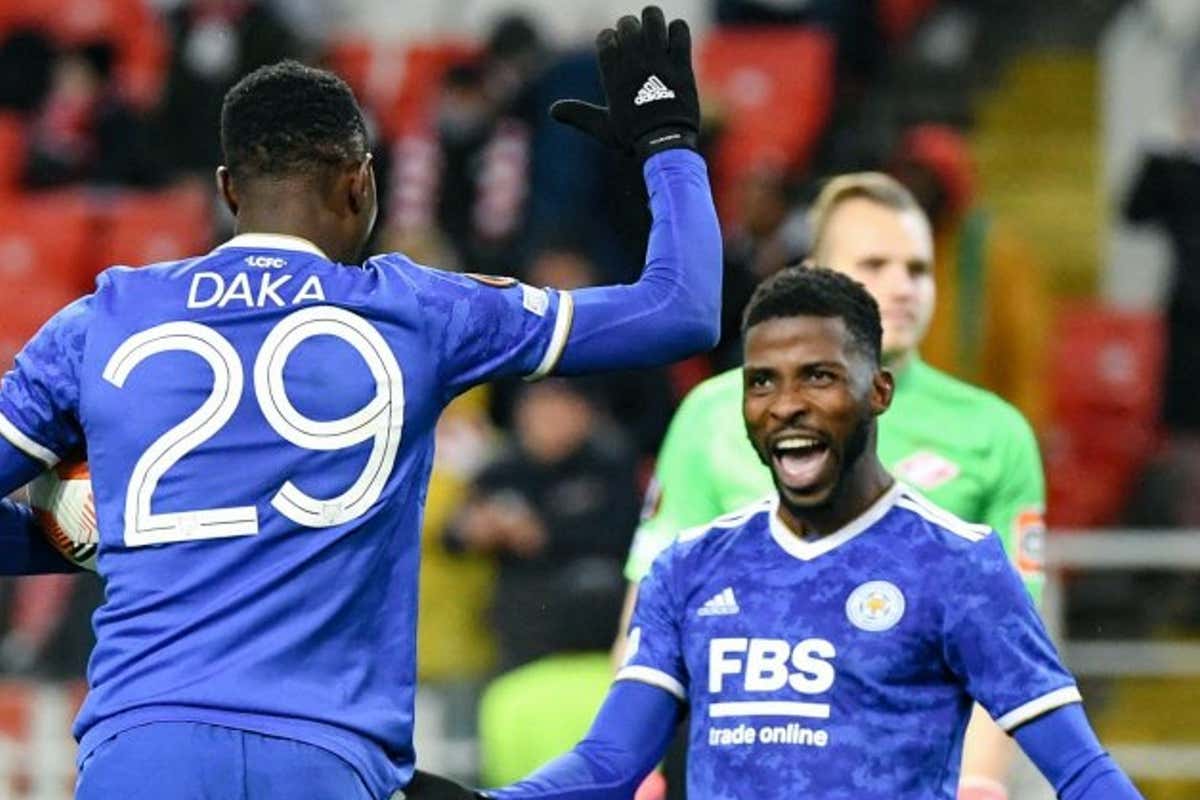 If, though, there was anything more exciting about the mid-week 4-3 victory than Daka's solo performance, it was how well the the summer signing dovetailed with strike partner Iheanacho — so beautifully and so effectively — resulting in the first two of his goals.
Vardy is already 34 and, despite his enduring brilliance and how well Rodgers and his technical team manage him, he can't be at the vanguard for Leicester much longer; the keys to the team's attack would, in a couple of years, likely be entrusted to Iheanacho — aged just 25 — and Daka.
Watching those two take Spartak apart, the prospect of a two-man strike-force — even at a time when that system seems out of vogue, with many sides opting to go with one striker, faux strikers, or no strikers at all — must have looked tantalising, even to a manager who hasn't always been a fan.
Towards the end of last season, as Vardy's goals dried up and Iheanacho's overflowed, Rodgers found great value in having the two pair up in what proved a very fruitful partnership.
Acknowledging Vardy's limitations, Rodgers hinted in March that he could commit to the two-man template — with Iheanacho as one half — in the future should the club bring in fresher limbs.
"We will always need another striker," he said. "Moving forward, [Iheanacho] has done a very good job, but we may need another one to go with just two strikers."
Enter Daka.
That African pairing isn't one we're going to see an awful lot of immediately — no, not while Vardy is still firmly installed — but if Wednesday offered a glimpse of what the combo promises, it's certainly worth looking forward to.
Yaw Frimpong — Ink & Kicks