For the first time since 2006, Asamoah Gyan will not be part of a Ghana squad at the Africa Cup of Nations (AFCON), following his unsurprising omission from the provisional list Milovan Rajevac named on Tuesday for Cameroon 2021.
Gyan is currently without a club, out of form and out of shape. Presently aged 36, his odds of appearing at the AFCON that follows next year's don't look too good, and while he might not be ready to admit it just yet, the general consensus is that Gyan's race as a Black Star is run.
And what a run it has been, with over a decade of consecutive AFCON appearances to his name. Only current skipper Andre Ayew has scored more AFCON goals for Ghana (9) than Gyan's eight. This, then, is as good a time as any to reflect on his AFCON legend, highlighting three — that number of such special significance to him — of Gyan's best goals at the finals.
AFCON 2010 – GHANA V NIGERIA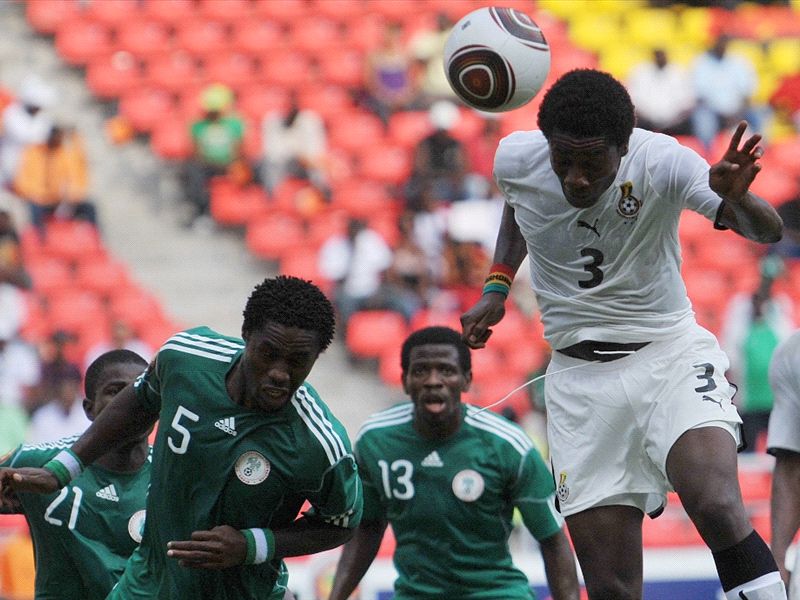 Ghana had narrowly managed to reach the knockout round of the AFCON in Angola, following a two-game-long group stage, and a squad severely decimated by the absences of experienced figures but boosted by an injection of youthfulness didn't look like it could advance much farther.
Defeating Angola in the quarter-finals wasn't too much for that team helmed by Rajevac [during his first stint], even if the margin of victory was again narrow, but a quarter-final date against arch-rivals Nigeria was deemed a bridge too far.
With Gyan in such inspired form, though, nothing felt impossible for Ghana at that tournament, and he duly delivered. Gyan, then rocking a 'fro, hurled himself at a Kwadwo Asamoah corner-kick to thread through a near-post header after 21 minutes. 
Ghana bravely held on to the lead, reaching a final eventually lost to holders Egypt, and that AFCON, though Gyan's second, will be remembered as his coming-of-age outing.
AFCON 2012 – GHANA V MALI
There aren't many free-kick goals in the Gyan portfolio, but the few he has scored for Ghana were truly memorable.
Off-head, I can recall two, with that which came in the AFCON 2012 group game against Mali arguably standing out. The first of two games between the two West African countries at that tournament was won by the Black Stars, but it took over an hour for the Ghanaians to break their opponents' resolve.
And it was Gyan, from some range, who unlocked the Malian defence, bending the ball over and around the wall, and beyond goalkeeper Soumbeila Diakite. It was a work of art, a thing of real beauty, the sort of strike even players more renowned for their prowess from set-plays would wish to have in their own collections. Chapeau!
AFCON 2015 – GHANA V ALGERIA
Ghana had started their campaign in tough Group C on a poor note, losing to Senegal in a game that saw the Black Stars lack the bite Gyan usually offered. He had missed that match due to illness, and even though the 'Baby Jet' still wasn't really fit for flight four days later in Ghana's second game, against Algeria, he was summoned anyway by head coach Avram Grant to provide that much-needed spark.
It took a while — all of 92 minutes, in fact — but, after huffing and puffing all game, Gyan finally came through with what was required. The pattern of play which led to that late winner was just the type that Gyan had modeled his game for Ghana on: latching onto a long ball from the back, racing into firing range, and hammering home.
It was Gyan's only notable contribution at that tournament, but his job was really done. The rest of the team picked it up from there, winning the final group fixture and going all the way to the final, against the odds.