Mrs. Evelyn Nsiah Asare isn't quite sure how all of this would end.
Hasaacas Ladies, the club of which she is Chief Executive Officer (CEO), is about to contest a semi-final of the inaugural Ghana Women's Premier Super Cup against its arch-rivals, Ampem Darkoa Ladies.
The latter have every reason to go into this game with menace in their eyes and revenge on their minds, having been beaten in their two previous meetings with Hasaacas during the year, missing out on the Women's Premier League title and FA Cup glory as a consequence.
Hasaacas, on the other hand, have already had a year to remember. After winning the aforementioned pieces of silverware, strengthening their claim as the best in the land, they went on to establish themselves as a force in the sub-region.
That they did by winning the WAFU Zone B qualifiers, thereby booking a ticket to the first edition of the CAF Women's Champions League. And at the continental showpiece, held last month in Cairo, Egypt, Hasaacas went all the way, standing out as the most eye-catching team en route to reaching the final.
There, for reasons that would be explained a little later in this feature, the wheels came off Hasaacas' train, with the hitherto formidable team slumping to a 2-0 loss at the hands of a Mamelodi Sundowns side that had only scored exactly that number of goals in their preceding four games.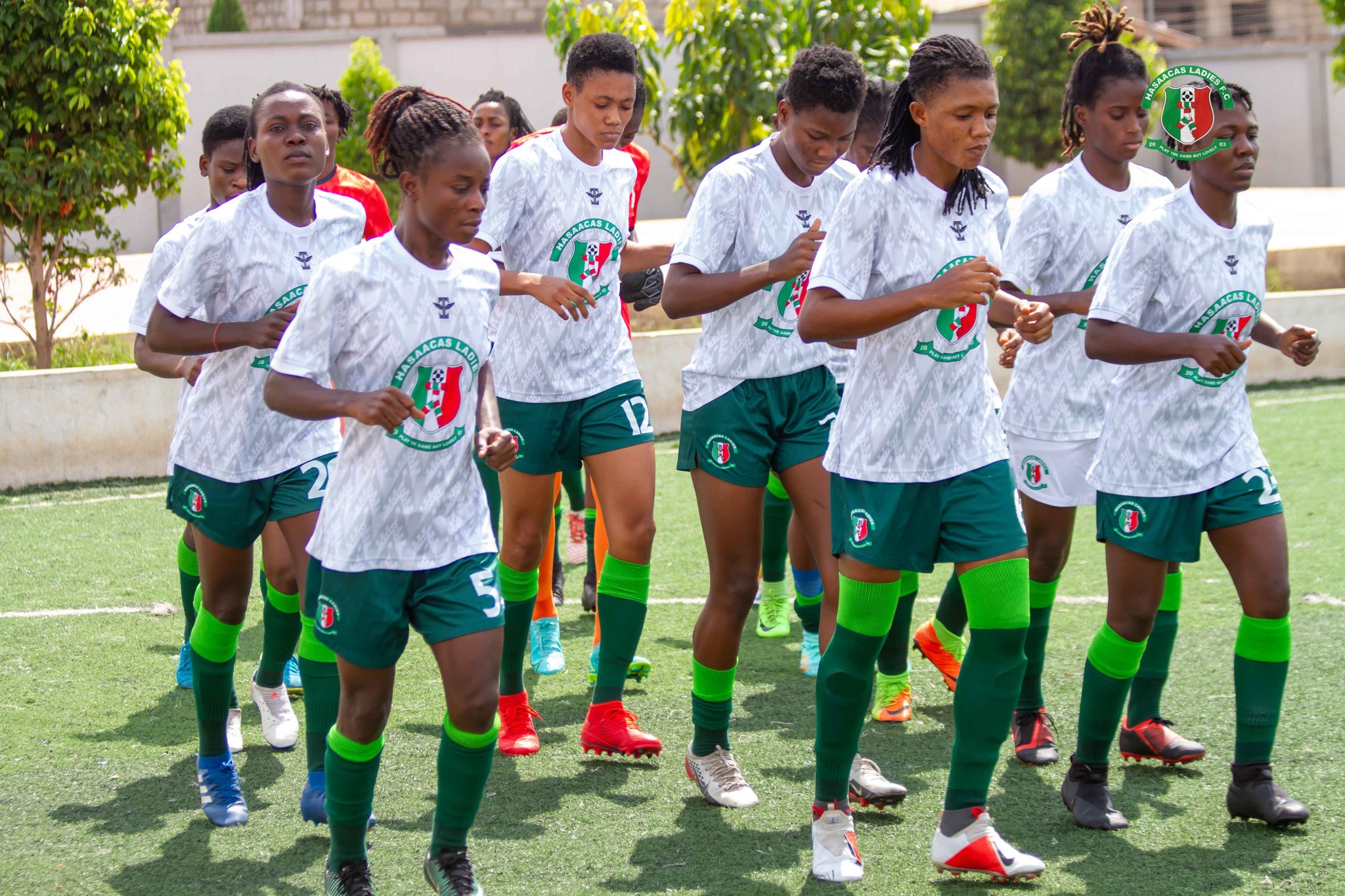 On their return, Hasaacas had five of their first-teamers — starters, no less — summoned for national service, as part of the Black Princesses roster due to face Zambia in the race to reach the 2022 FIFA U-20 Women's World Cup.
Without those stars, Hasaacas had to take on some of their top-flight fellows in the competition mentioned at the outset and defend their honour. Hasaacas were the team of the moment, the one all the others had in their crosshairs, and yet the Sekondi outfit were at their most vulnerable.
"We barely got through the group stage, recovering after losing our first game," Nsiah Asare tells me, in an interview conducted in the Staff Common Room of the Sunyani Technical University, where she is employed full-time as a lecturer.
"You can understand why I'm not so sure about our chances against a full-strength and determined Ampem Darkoa."
She needn't have worried.
Hasaacas, even a considerably depleted version of themselves, just went ahead to do what Hasaacas do for fun these days: beat Ampem Darkoa, 3-0, before going on to defeat Ladystrikers in a thrilling finale.
Job done: trophy No.4 in the bag.
Four days later, in the maiden First Lady's Cup, again at the expense of poor Ampem Darkoa, Hasmal grabbed a fifth to wrap up an unforgettable winning spree in 2021.
***
Somehow, though, Nsiah Asare struggles to shrug off the one disappointment of the season just gone by.
"I was every bit as disconsolate as the girls, distraught, after that crushing setback in the Champions League final," she reveals with a sigh. "Yet how could I, who was required to cheer them up, let my own pain show?
"They skipped dinner that evening, as well as breakfast on the next day. By lunch-time, an intervention was clearly needed. We did what we could, taking them on a tour to see the Nile, and I even had to play the clown for a while, just to lift their mood. It worked… or, well, at least I tried."
Clowning wasn't exactly what Nsiah Asare signed up for when, last year, she was appointed CEO of Hasaacas, a club she has long had an association with. Hasaacas weren't doing badly on the pitch at the time; off it, though, a makeover was overdue.
"I've always believed that branding is essential for the growth of any business, and the club was in dire need of an upgrade in that department. With that in mind, I assembled a small team of creatives to take us to that next level."
That move has seen Hasaacas emerge as one of the Ghanaian game's most attractive brands, boasting a presence on social media that looks well-crafted and properly orchestrated.
"For the modern football club, social media could be a powerful instrument, if handled right, in trumpeting your achievements to the world," she says, relating an experience that perfectly illustrates her point.
"Even before a ball was kicked at the Champions League, agents were getting in touch with us about some of our star performers."
Their reference?
"Videos they had seen on Twitter of highlights and goals from our triumphant participation at the aforementioned WAFU competition."
On that note, she applauds the Kurt Okraku-led Ghana Football Association (GFA) administration for the emphasis it has placed on advancing the domestic game through the use of technology and the various social media platforms.
"It wasn't," she says, "not too long ago when most videos you'd see online of games involving Hasaacas were recorded with my phone. Now the matches are streamed live, with a lot more clarity and detail, courtesy of dedicated equipment that the FA has acquired and made available."
Enjoy this one, Kurt. The next mention you get won't be very flattering.
***
For all that Hasaacas had achieved before Nsiah Asare rose to the helm, her brief tenure has seen them break new ground.
With her guidance, Hasaacas have won their maiden FA Cup trophy and, as discussed earlier, made an impactful first foray into inter-club competition. It's hard to top the sort of year Hasaacas have just had, but while they do have the appetite and relentlessness to go again in the new season, Nsiah Asare also eyes success of another kind.
"The focus now would be to not just further decorate the trophy cabinet, but put up befitting physical structures and also bolster the team's finances. The club-house, already several years in use, could do with a face-lift, and we'd also have to look at bringing on board some long-term sponsors to ease the pressure on the Club President."
The 'Club President' she refers to is Benjamin Nanabayin Eyison, who doubles as a member of the Board of the Hasaacas men's side. Eyison, a veteran Ghanaian football administrator, helped establish the women's team some 18 years ago, and now bankrolls it almost single-handedly.
Of his magnanimity, Nsiah Asare speaks glowingly.
"Nanabayin has done so well for the team for nearly two decades, committing lots of personal resources to its operation and to bringing my ideas to fruition. I believe the time has come to relieve him of some of that burden."
Nsiah Asare's bid to do so thus far into her tenure, in a country where women's football isn't exactly everyone's cup of tea, only started to yield significant results as Hasaacas' African campaign gathered momentum.
From well-meaning individuals and institutions support flowed, and Nsiah Asare couldn't be more grateful.
"We are very appreciative of, and content with, the support received, and we're confident we'd be able to count on those benefactors going forward. Hopefully, now that we've put down a marker, we'd be taken more seriously by prospective sponsors."
And Nsiah Asare hopes, too, that they'd be taken more seriously by those whose actual responsibility is to take them seriously.
"I was a tad disappointed in the GFA president and the Minister of Youth and Sports (MoYS). Ahead of the Champions League final, a word of encouragement delivered directly from them to the girls would have gone a long way to motivate them in overcoming that last hurdle. It never came. Neither personality, in fact, even graced the occasion. That's not to say they weren't at all supportive; they just could have done much better, especially at that critical stage."
That goes for you, Kurt.
Oh, and you, too, Hon. Mustapha Ussif.
***
To meet the challenge of running a modern Ghanaian football club, never mind a women's outfit, Nsiah Asare has had to draw on nearly everything she has learnt and practised in her academic and working life.
She has a degree in Health, Physical Education, Recreation and Sports (HPERS), a tool that provides insight into the physiology and psychology of her players; an MBA in Logistics and Supply Chain Management that has been useful in knowing how to make the most of the scarce resources at her disposal and finding ways to procure more; and a diverse background in journalism and communication that has helped her overcome certain barriers.
"There are all sorts of negative stereotypes regarding women's football in Ghana, from dismissive opinions about the relevance of the game to doubts about the moral character of the footballers themselves, that have held back progress.
"To overturn such entrenched prejudices, there is the need for each club, not just the FA, to actively educate and sensitise potential partners about the benefits of investing in the women's game. Knowing how to approach such delicate matters, and what to say in doing so, is a skill in itself."
It's a skill that Nsiah Asare has mastered, blazing a trail certainly worth following. After Hasaacas won the third of their five trophies last season, the club produced a tastefully designed and info-packed brochure intended to attract the sponsorship needed to fuel its future pursuits.
Clearly, Nsiah Asare isn't one of those club executives who just sit around and wait for the GFA to do what they should in providing support, whining when that aid tarries or is deemed insufficient.
She does her bit, even if it means taking inspiration from a new club, Accra-based Berry Ladies, that could otherwise be rightly regarded as an emerging threat.
"I don't see Berry Ladies as a threat at all. If anything, they have raised the bar courtesy of the aura of freshness with which they have announced their arrival, a bar that all other clubs — ourselves included — should strive to reach. The competition they provide, under the able leadership of Mrs. Gifty Oware-Mensah — who is also now vice-president of Ghana Premier League side Berekum Chelsea — is very welcome."
And it's not just from Berry, the new kid on the block, that Nsiah Asare seeks to learn. She also expresses admiration for the system that allows the likes of Police Ladies and Prisons Ladies to poach premium talent, the ability to secure employment opportunities for these young ladies and guarantee them some financial stability.
Nsiah Asare, though, looks to do even more.
"I have resolved to help dispel toxic notions about female footballers. To this end, Hasaacas are developing a proposal to appeal to institutions, public and private, to employ our players in order to supplement whatever income they make from football. We also intend to look at character development, to prove to society that these ladies are also perfectly capable of living well-rounded lives."
She also sheds light on a scheme to help the girls aspire to and attain greater heights, not limiting themselves to what is achievable locally.
"We want to build a side strong enough to supply 80% of players for the national team, thus increasing their value and their chances of landing at Europe's biggest clubs, some of whom (the clubs) we are hopeful of establishing partnerships with."
***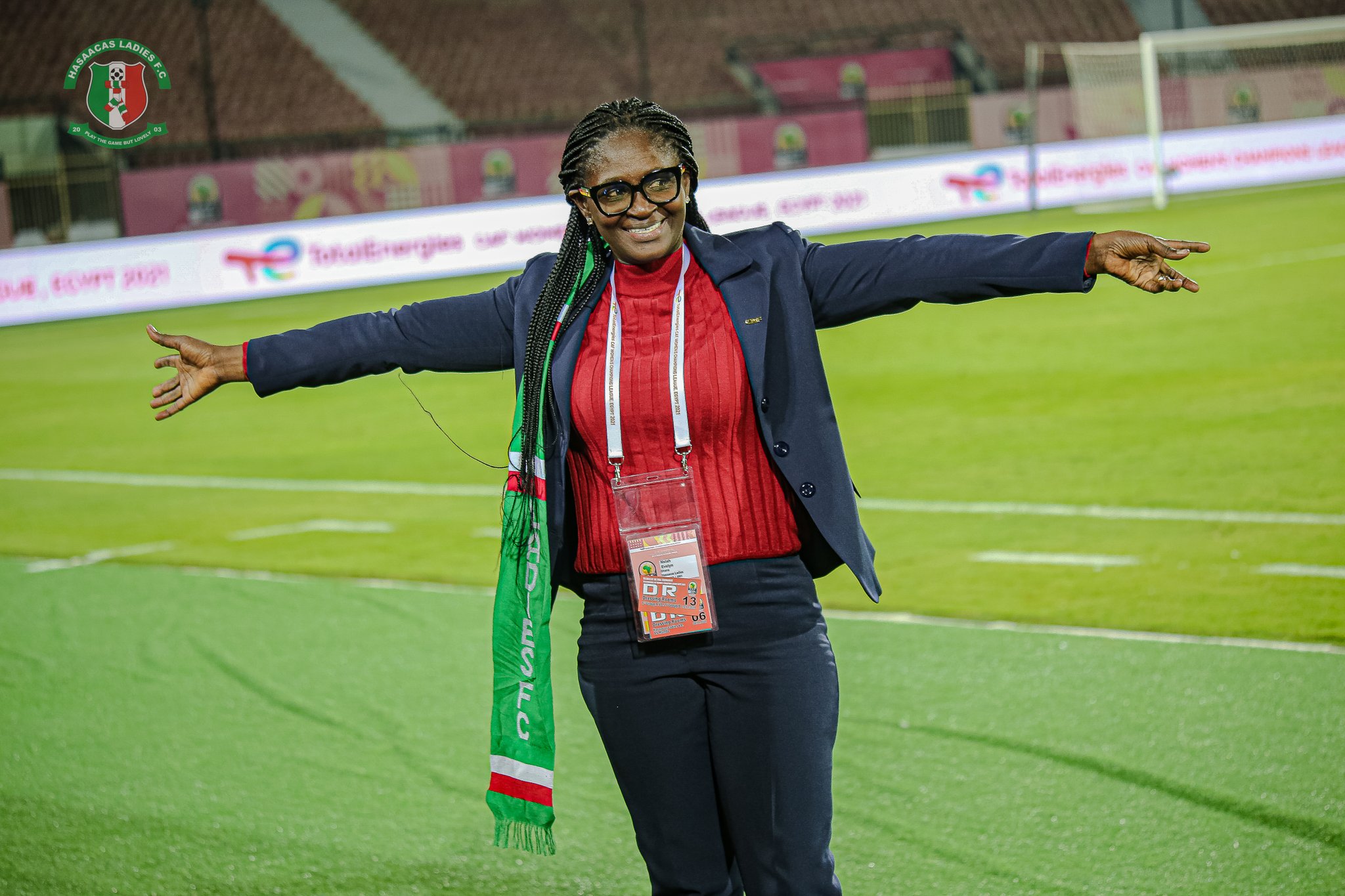 And yet Hasaacas, ironically, could have been denied all of this had they won the Champions League.
"The plan was to bow out of football, with the applause at its loudest, if we returned with the ultimate," Nsiah Asare reveals.
It would have been with pride that she quit the sport, had things worked out as she'd hoped, but also with no little disillusionment.
Only in the last few years has she been thrust into Ghanaian football's limelight, but Nsiah Asare's involvement in sports goes back many years — all the way to her very youth, in fact.
"I had always been interested in sporting activities, having been an athlete of some repute back in school, but it wasn't until 1999 when I enrolled at the University of Education, Winneba (UEW), that things got real. It was just around the time Ghana's Black Queens were preparing, at the nearby National Sports College, for an appearance at the 2003 FIFA Women's World Cup."
Nsiah Asare saw a chance and took it, accompanying the team, as an unofficial spokesperson, to the tournament in the USA, where the Queens memorably won — against Australia — a first-ever game at the finals. Her efforts, sincere and diligent, hadn't gone unnoticed.
"Not long after we returned to Ghana, the then GFA boss, Mr. Kwesi Nyantakyi, got in touch with me. He had observed me from afar, apparently, and had made enquiries about my educational background.
"Pleased with what he'd heard, Nyantakyi felt I'd be a good fit for a role in a new project that the FA was undertaking, in collaboration with the Ghana Education Service (GES) and under the auspices of FIFA. That was when the female national U-14 team, the Golden Damsels, was being formed, ahead of a seven-a-side tournament held as part of events surrounding the inauguration of FIFA's new Zurich facilities."
That team, under the oversight of Eyison and coached by Francis Oti-Akenteng, passed that test with flying colours, winning gold. As chaperone on that mission, Nsiah Asare's own stock soared along with the team's and, in the years that followed, her rise as an administrator would be rapid.
"Nyantakyi and Nanabayin nudged me in the direction of a coaching career, but I was more inclined towards administrative work, even though I did eventually take a course as a coaches' educator and another in sports medicine.
"I'd go on to serve on the management committees of the Black Maidens (U-17s) and Black Princesses (U-20s), before being appointed in 2017 as Welfare Officer of the Black Queens and also as a member of the Local Organising Committee (LOC) for the Africa Women's Cup of Nations (AWCON) that Ghana was due to host a year later."
Juggling all those duties and more — so numerous, in fact, that she has had to turn down more than a few — has required a great deal of sacrifice on Nsiah Asare's part. Her family, including three biological children, has held up well, with the help of Nsiah Asare's aged mother and — drumroll, please — her husband, Mr. Stephen Kwaku Owusu.
"Football does take me away from my family for long spells during the year, and so my husband's enduring support has been priceless. Besides, even with all that gets said about prominent ones in this industry, he is strong enough to shut out the noise when I'm in the firing line for one reason or the other.
"And that's only possible because, after 20 years of marriage — 28 since I first met him — he knows me better than anyone. Occasionally, he even offers me counsel with respect to how I should handle aspects of my work. Behind every successful man, they say, is a successful woman; in our case, the opposite is just as true."
Her family may be unscathed, but Nsiah Asare's professional life has suffered the brunt of her devotion to football. Her career in the classroom has stagnated, and it was a desire to make progress on that front — coupled with a perceived lack of appreciation for her long-standing record of outstanding service to Ghanaian football — that made Nsiah Asare ponder calling it quits this year.
Perhaps, with all that she still has to offer, it's not such a bad thing that Nsiah Asare — who turns 48 next year and is presently the only female Board member at Asante Kotoko, a leading Ghanaian men's club — is still in the industry.
***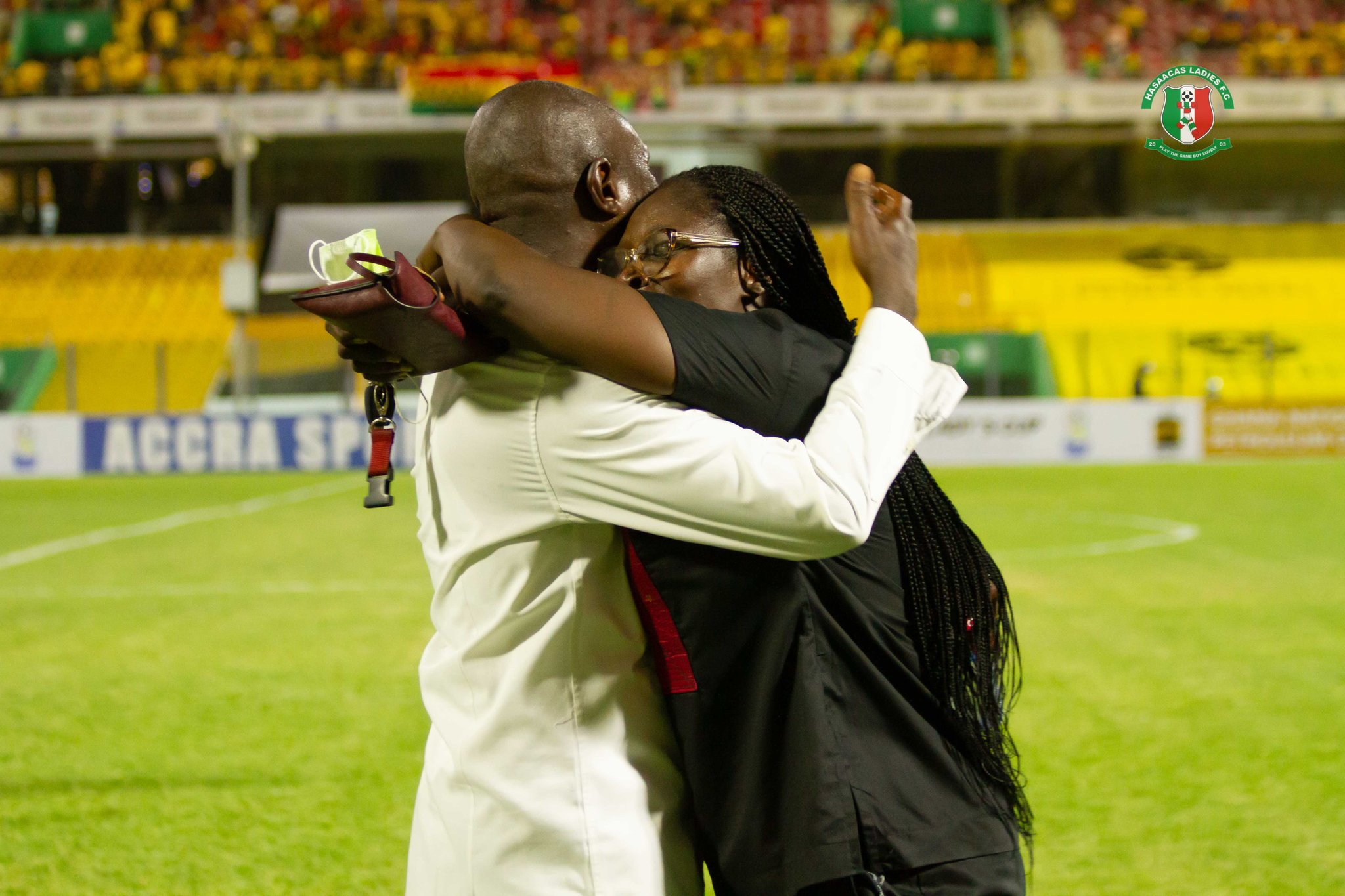 It was also during her time in Winneba that Nsiah Asare made a lifelong acquaintance, a man who has been integral to her success story at Hasaacas.
"I first encountered Yusif Basigi as a course-mate at UEW, and he came across as a very intelligent gentleman. Like me, he was already working as a trained teacher and, just as bright, his passion for football burned. Those were the building blocks of what has blossomed into a warm working relationship."
Basigi is currently head coach of Hasaacas Ladies, a job he has done with distinction — and with little in the way of financial gain, in fact — for the last 18 years.
And Nsiah Asare was there when it all started.
"That was in 2003, when the club was founded. I used to visit Sekondi with Basigi, just as he was beginning to obtain his professional coaching badges — which is how my own association with the club began."
More than anything Basigi has learned from any of those courses, though, Nsiah Asare argues that something else — a rare aptitude — has been the secret to his success.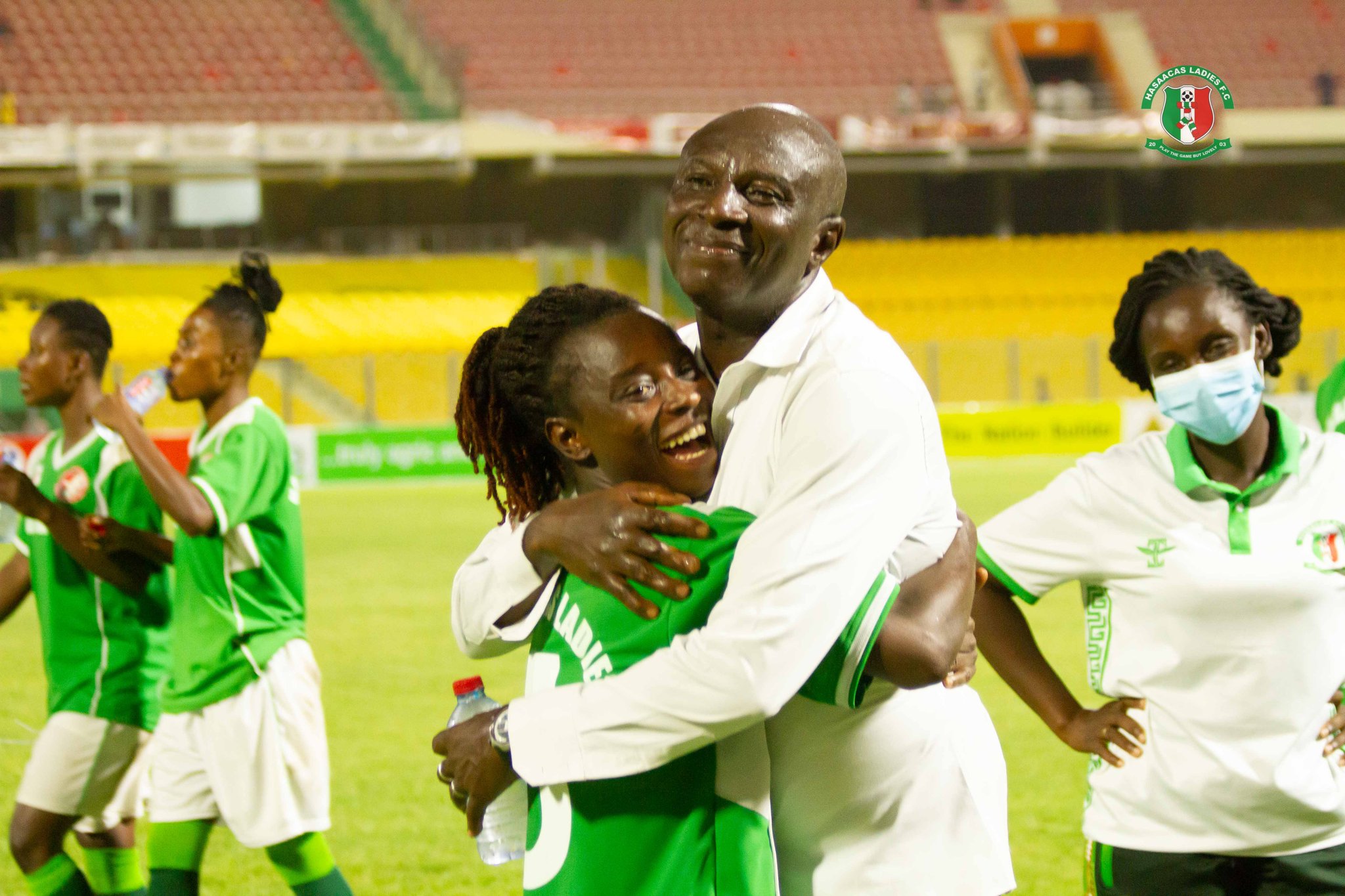 "You won't find many coaches in Ghana better-adapted to working with female teams, trust me, especially youthful sides. Basigi understands the unique psyche of women and knows how to deal with them. It's almost as though he is programmed to coach young girls, and maybe he is, given the nature of coaching education he has received.
"Even before getting his licenses, Basigi had benefited from opting for Coaching as one of his elective subjects at UEW. So he is actually trained to teach, and that is evident in how well he is able to relate to the girls and break down even the most complex tactical concepts for easy comprehension. It does help, too, that he is a good listener."
Doubtlessly, then, Basigi deserves all that has come his way — quite a haul of silverware, too — and he would have been just as worthy of the Champions League title, to crown what has been his annus mirabilis.
After a great run, though, his Hasaacas team came unstuck in the final against Sundowns. Was it, perhaps, down to Hasaacas being of inferior quality? Or, just maybe, a rare off-day for her old friend, Basigi?
"Well, perhaps, we were found out a bit, tactically," Nsiah Asare answers. "For reasons cited earlier, however, I'm of the conviction that diminished motivation had more to do with the loss. The girls were up against a side founded by the current president of the Confederation of African Football (CAF), who also happens to be one of the wealthiest men on the continent.
"When your opponents have been assured of a cash prize of $14,000 per player for winning, and your own national sporting authorities aren't even assuring you of per diem — and, mind, this was effectively a national assignment — it's hard to remain driven. Intrinsic motivation, which had empowered us until that point, could only get you so far.
"Remember, too, that Hasaacas had to punch well above their weight in the semi-final to beat Morocco's AS FAR — featuring several top Moroccan players, and even some expatriates, in what I'm not ashamed to describe as the competition's best-structured side — and, thus, the resulting tiredness might have weighed them down in the final."
But while Hasaacas didn't return with the trophy, they did pick up valuable experience that could come in handy as the team and the players kick on.
"In future assignments, whether with Hasaacas or the national teams, they would have no reason to feel inadequate. They made their mark in Egypt, against the best teams in Africa; that exposure alone should do wonders for their confidence."
Surely, Nsiah Asare learned a thing or two herself, no?
"Oh, yes, I did. In more ways than one, it was an eye-opener. At the various workshops we attended while there, ideas were exchanged, and I think my inter-personal and communication skills will be better for it.
"I must add, though, that I also had some lessons to share, with some of my fellow CEOs curious to know how we'd managed to get that far though operating on a shoe-string budget. They were impressed, very much so, and that just goes to prove what could be achieved if we had even more resources to work with."
***
Nsiah Asare admits it would be quite a stretch to claim credit for the idea that would become the CAF Women's Champions League. Even so, she isn't hesitant to reveal just what input she made to the process that culminated in the competition's birth.
"We had a meeting with CAF's officials just before the 2018 AWCON, during which we were invited to offer suggestions that could improve the women's game in Africa.
"In response, I pointed out just how odd it was that the men's CAF Champions League had long been in existence and was even expanding at the time while women's football didn't even have any competition of that kind. I have every reason to believe that concern didn't fall on deaf ears."
It was only fitting, then, that Hasaacas qualified for the very first edition, giving a good account of themselves — just as, Nsiah Asare opines, CAF also did.
"I'll score CAF top marks for how the competition was organised, as well as the level of publicity that came with it. Even now, weeks after the event ended, CAF still occasionally posts the best bits on social media."
Starring in some of those bits is Hasaacas' Evelyn Badu, top-scorer and overall best player at the finals. For a young girl from Seikwa, a town you'd have to travel many, many miles from the Ghanaian capital to reach, Badu's feat feels rather improbable. To those who know her best, however, not much of this is surprising.
"Evelyn's quality has never been in doubt," Nsiah Asare says about her namesake.
"We've known all along what she's capable of, and the club has actually been fielding calls about interest in her from foreign clubs for some time now.* The only wonder, perhaps, lies in the fact that she posted these numbers (five goals) from midfield."
Nsiah Asare is banking her hopes on Badu staying true to herself, predicting that the 19-year-old could become one of the finest Ghana has ever had.
"She is something of a celebrity now, widely feted, and how she manages this new-found fame would be key to her advancement. With a head screwed on right, the sky — or somewhere a little beyond — is her limit."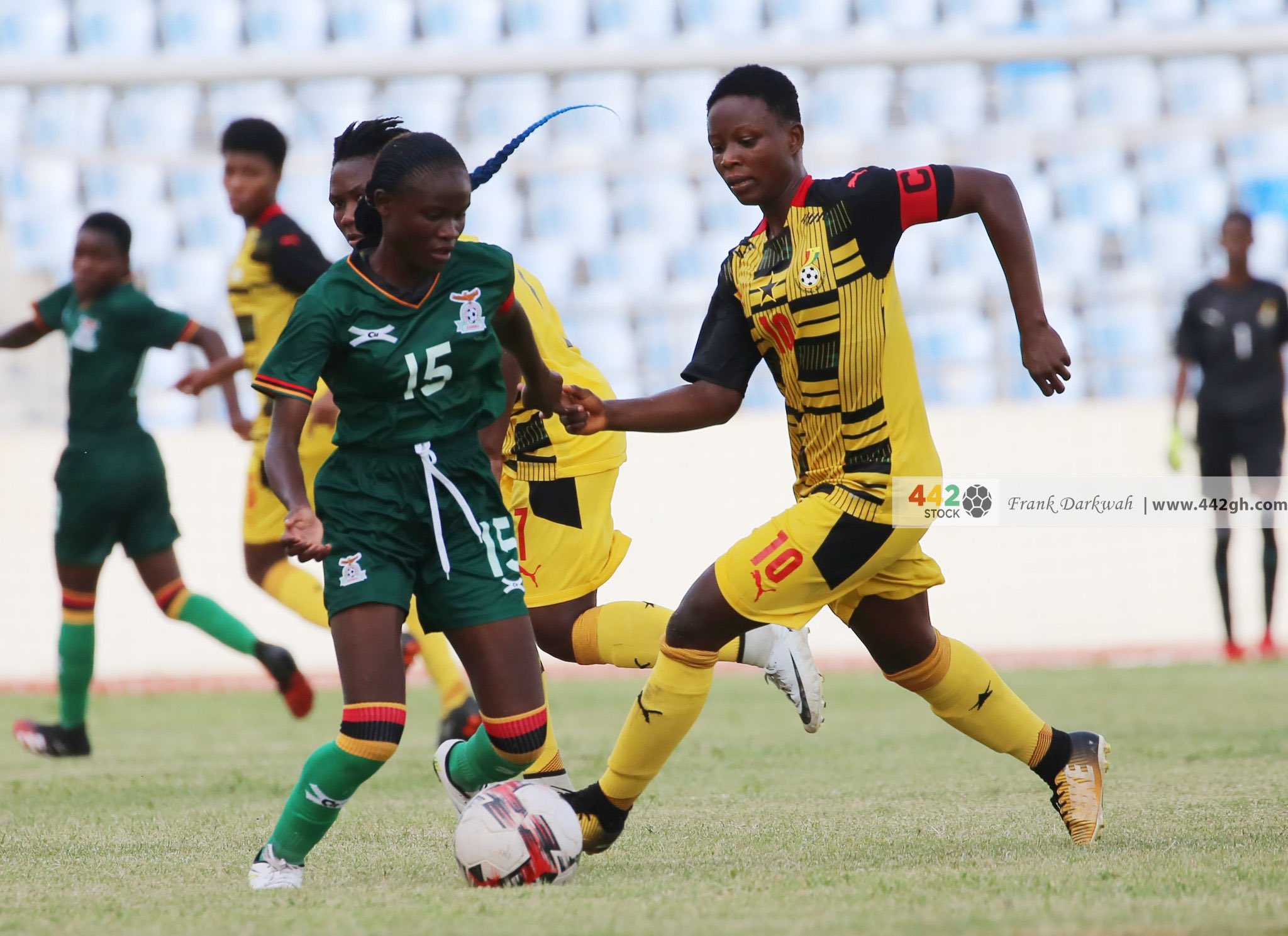 It's not just Badu that Hasaacas expect not to be able to retain — "no problem," Nsiah Asare says, "so long as we get good money for any sales" — and they'd have to find a way to replace them.
Fortunately, there is a plan in place, one that has already worked a treat.
"What we do is go into the hinterlands, scout for the best talent, put them in schools, pay their fees, and cater for their general upkeep. I also own a lower-tier side in Kumasi, Nana Afia Kobi Ladies, and we could tap into the pool of talent there — that, in fact, is where we got Doris Boaduwaa, our brilliant winger, from."
And when the time comes — whenever it comes — for that seemingly inevitable rebuild, Nsiah Asare hopes to be able to count on the wonderful staff she has been privileged to work with at Hasaacas.
"I have enjoyed unwavering support and loyalty in my time here. When I first arrived and attempted to steer the club in a direction that wasn't exactly in line with what had preceded my arrival, there was some initial inertia, but that wasn't unexpected. Before long, they came to appreciate what I brought to the table and we're moving very much in sync now. There is still a lot to accomplish, you know."
***
You can put 2021 down as a golden year for Ghanaian women's football, and not just because of Hasaacas' well-documented exploits.
This time last month, FIFA released its 11 nominees for the next Puskas Award, and among the lot was a jaw-dropping volley from far out by Supreme Ladies' Sandra Owusu-Ansah — only the fourth goal by a Ghanaian to make this short-list since the award's inception in 2009 — against Kumasi Sports Academy Ladies in the Women's Premier League.
The goal itself was a thing of beauty, but the pitch on which it was scored wasn't, with the state of the latter diminishing the glory of the former in the sense that a really bad frame might detract from a really good picture.
Nsiah Asare, unsurprisingly, concurs.
"The poor nature of the turf did take some of the shine off what was otherwise — and still is, don't get me wrong — a spectacular goal. It was, at once, both great and not-so-great to look at.
"But the GFA knows just what to do to rectify this worrying situation. Women's teams already struggle to raise funds, so it would only be reasonable to reduce — or scrap entirely, if possible — the fees that have to be paid in order for them to gain access to the country's best playing surfaces. Should that even mean that they play as curtain-raisers ahead of Ghana Premier League games, it does sound like a plan."
There is more to be done, though, if Ghana is to build on this increased visibility and upturn in fortunes while it lasts.
"Stakeholder engagement, with the clubs presenting a united front, is necessary if we are to catch up with our continental peers. We need to look at best practices elsewhere and see how we could adapt those to improve our own system here.
"How do we, for instance, ensure that we are adequately compensated for the export of players that we groom? And which other ways could be explored by clubs for the purpose of revenue generation? Let's strike while the iron is hot."
Well, one team that is anything but hot right now, striking and missing far too often in recent years, are the Black Queens. The senior national women's team crashed out of the last AWCON, are already out of contention for a ticket to the next one, and have qualified for just one World Cup (2007) since the edition at which Nsiah Asare took her first 'official' steps in women's football.
There is a way out of that, too, Nsiah Asare insists, only if the powers-that-be are willing to commit to it.
"A return to the basics, retracing our steps to those days when the GFA worked in sync with the GES to cultivate talent from the basic schools that later matured into a generation of quality players for the nation. We do have enough potential here to make it work once more."
"The other measure that could help spark a revival is handing contracts to the head coaches of the various national teams: long-term, well-paying projects based on a methodical process, not a trial-and-error approach that guarantees and yields very little.
"We need to be scientific about it all, rather than leave things to chance, in order to achieve the desired results. If the roots are firm, and the clubs are strong, the national team would be, too."
Hasaacas Ladies, certainly, have shown the way. Will we follow their lead?
*Badu, last week, joined Norwegian Toppserien side Avaldsnes IL, on a two-and-a-half year deal.