No season, since he joined Asante Kotoko as a free agent in 2016, has demanded more of Emmanuel Gyamfi than the current one.
Early in the term, injury to captain Felix Annan — and the goalkeeper's subsequent inability to reclaim his regular starting berth — intensified scrutiny of Gyamfi, as he made the sudden leap from Annan's deputy to stand-in skipper (on most matchdays, anyway).
Balancing the fresh challenge of wearing the armband with the burden of being an attacking livewire in this Kotoko team didn't prove easy, initially, as Gyamfi struggled to spark the Porcupine Warriors upfront. Rather than thrive in the increased spotlight, he appeared to wilt.
Then came other issues, notably the controversy and embarrassment that resulted from Gyamfi dragging around an 'inappropriate' trolley bag as Kotoko traveled for a continental game in January.
That wasn't good PR for the club, needless to say, but the consequences might have been far worse for Gyamfi whose reported misconduct in other matters all added up to cast doubts over whether Kotoko would renew the contract of his that was nearing expiry.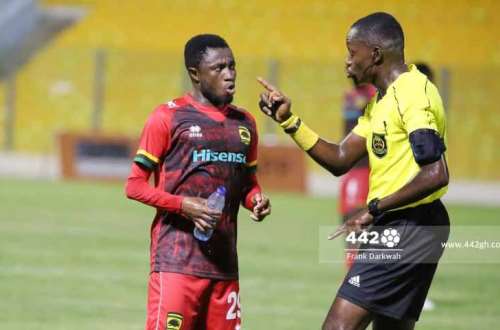 Gyamfi's performances certainly did little to cancel out his off-the-field indiscretions, for a while, and it seemed difficult to argue for his continued existence on Kotoko's roster.
By the time Gyamfi's deal was up, though, an argument against an extension was harder to make. Things had turned around significantly for Kotoko, with a hitherto stuttering campaign coming alive and gathering momentum.
Among the most improved performers was Gyamfi who, playing like a man reborn and on a mission, had channelled his energies into redeeming himself and leading the charge for the first league title of his Kotoko career.
His numbers have been impressive of late — a run of three goals in as many games in all competitions, sprinkled with some assists — but even more eye-catching has been Gyamfi's overall output and attitude.
The pace that has always been his biggest asset is as electric as ever, while the pieces of trickery come off much more frequently and effectively these days.
And at a point in the season when head coach Mariano Barreto demands that his players ooze class, confidence and composure, Gyamfi has put himself forward as a sterling example.
Take, for instance, his goal against Karela United last Wednesday that set Kotoko on their way to a 2-1 win. Slipped through by teammate Fabio Gama, Gyamfi raced onto the ball and into space.
Once in the box, it didn't matter that Gyamfi had two opponents threatening to crowd him out of room; no, not even a goalkeeper who spread himself into all sorts of shapes could put him off.
Gyamfi simply refused to be forced into taking his shot any sooner or less surely than he had determined, picking his spot and firing Kotoko ahead — as coolly and calmly as we've come to expect of him in recent weeks.
Quite a few players have stepped up offensively for Kotoko at this crucial stage of the season, and Gyamfi is certainly one of them. He still needs to work on his discipline — see his senseless stamp on Andy Okpe in the recent game against Inter Allies (when he scored and assisted), for which some kind of punishment awaits — and while it's a shame that this has to be said of a 24-year-old entrusted with leadership responsibilities, Gyamfi's net worth to Kotoko right now can't be debated.
With his future sorted — at least until this time next year — Gyamfi can focus on the present, as the club's hunt for league and cup glory heats up.
Yaw Frimpong — Ink & Kicks