Pitso 'Jingles' Mosimane, nine months ago, saw his Mamelodi Sundowns side bundled out of the Caf Champions League by Egypt's Al Ahly at the quarterfinal stage.
Last night, in Cairo, Mosimane won the same edition with, well… Ahly, beating domestic rivals Zamalek 2-1. It was, in fact, the first time two teams from the same country — never mind the same city — had contested the final of Africa's premier club competition.
Mosimane has beaten Zamalek before for the Champions League trophy, back in 2016. On that occasion, too, his path to the prize wasn't straightforward, twisting and turning a little before reaching those heights. In the final qualification round for the group stage, Mosimane's Sundowns were eliminated by Congolese club AS Vita, demoting them to the Confederation Cup, where Masandawana were promptly knocked out by Ghana's Medeama SC.
Vita, though, had fielded an ineligible player two rounds before facing Sundowns, and that offence was punished with a disqualification — however late — which allowed Sundowns a route back into the Champions League, and ultimately to glory. As some might have argued back then, it's easy to claim now that Mosimane doesn't deserve full credit for his latest continental conquest; he only had to play three games for it, right?
Well, yes, but such an argument doesn't take into account the might of the two clubs that were overcome in those concluding games. Semi-final opponents Wydad Athletic Club (WAC), from neighbouring Morocco, competed in three of the previous five Champions League finals. Next, Ahly had to outwit last season's Confederation Cup winners and eternal foes Zamalek — no mean task, obviously.
Consider, too, that Ahly, despite being record champions, haven't found Champions League finals very easy to win in recent years. They lost their last two, including one in 2017 to WAC, all of which has stretched their wait for a ninth triumph to eight years.
Rene Weiler, Mosimane's immediate predecessor, may well have been the man to end it — having won two trophies for the club already this season, prior to his departure a couple of months ago — but that responsibility, and the corresponding honour, fell to the man who came after him.
Come to think of it, though: and so what if Mosimane got this on a silver platter?
It's a luxury he has never really had, from those days when, toward the end of his playing career, Mosimane trained U-11 kids in Belgium, to driving the mini-bus that picked players up for training at Sundowns while he learned the ropes of coaching.
And even after he got to the top, in his role as the South African national team manager, there were still some tough moments; remember when his Bafana Bafana missed out on the 2012 Africa Cup of Nations only because they misread the rules and played for a draw — instead of a win — in the final qualifier against Sierra Leone?
Yea, that was embarrassing — but Mosimane has learned his lessons, some of which were handed down much earlier by a Dutch master of old, via the tutelage of one of the coaches the Soweto-bred former midfielder played under.
"My coach in Greece, Nikos Alefantos, who was a top coach, adored the 'total football' of Rinus Michels and the Dutch," Mosimane is quoted as saying by the BBC's Mark Gleeson.
"He was the only coach in Greece who could play that way. That is all he talked about all the time, 'Rinus Michel, Rinus Michels'."
Other aspects of his philosophy were inspired by the successes of another, relatively recent, Dutch managerial giant.
"My ideas on how to play the game came from watching Louis van Gaal and his Ajax Amsterdam team win the Champions League in the 90s," Mosimane further reveals about his football philosophy. I was playing in Europe in those days and I watched the way they played."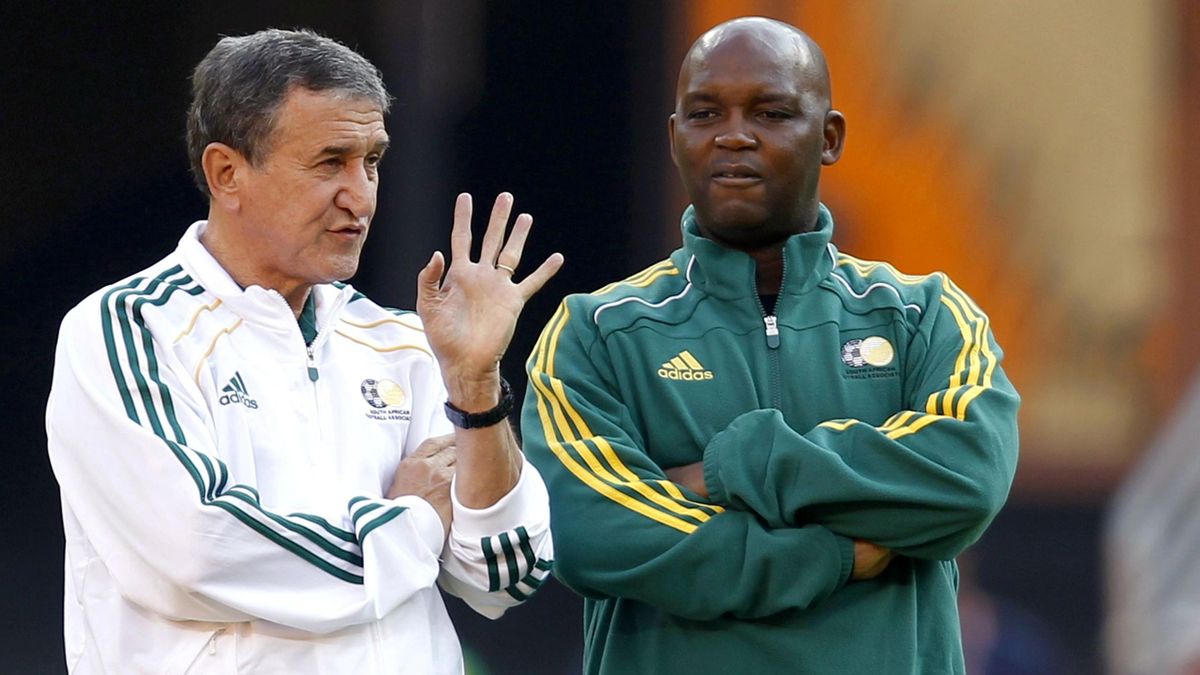 Mosimane studied the greats, clearly, and even assisted a Fifa World Cup-winning manager, the legendary Carlos Alberto Parreira, when South Africa hosted the Mundial in 2010. All of those experiences — the highs, the lows, and the lessons — have built him up into the most decorated coach in the South African top-flight's history (an unrivalled five titles with Sundowns). Today, in uncharted territory — Egypt, and the wider region of North Africa — for a black trainer, he continues to excel.
And these days, he plays for it all: a hat-trick of silverware already bagged in 2020 (including a league-and-cup double with Sundowns), with Ahly still in contention for a 37th Egypt Cup. The medals around Mosimane's neck, before the year ends, could jingle even louder.
NY Frimpong — Daily Mail GH