And so it comes down to this: Ghana in the last chance saloon, requiring a win if they are to stand a real chance of advancing to the next stage of the 2021 Africa Cup of Nations (AFCON).
Until the 87th minute of their second Group C game, against Gabon last Friday, it seemed as though the Black Stars were on course for their first points of the campaign, having been denied in their opening match against Morocco by a late Sofiane Boufal strike.
But that was just when Jim Allevinah — in controversial circumstances, no less — popped up, exploiting a lull to cancel out Andre Ayew's first-half strike and fetch Gabon a draw that places the Panthers in good stead to qualify.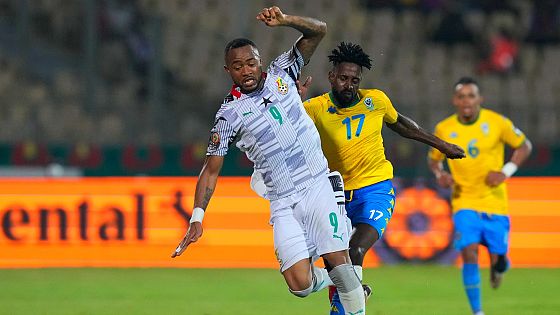 Those setbacks leave Milovan Rajevac and his Ghana team — third in Group C — with no option than to win their last group game; anything less would see them suffer the ignominy of a first-round exit, for the first time in 16 years.
Standing in Ghana's way are Amir Abdou's Comoros. The Coelacanths were unlikely to get much joy out of a difficult group, and having already lost to Gabon and Morocco, they will be looking to claim a big scalp and see where it eventually gets them.
Against opponents who have nothing to lose, the pressure will be on Ghana to deliver, as the shambolic nature of their displays in both previous games has been a source of much concern among the Ghanaian populace.
The Black Stars seem drained post-match, but they haven't looked any different during games. While there were initially few doubts about Rajevac's skill as a coach, it doesn't appear as though he's getting much more out of them than his predecessor, Charles Akonnor, did.
Tactically, the Black Stars aren't quite the same side they were under the dismissed Akonnor, but the difference in terms of motivation and commitment levels isn't very apparent.
And therein lies the problem: in spite of player turnover, this is still largely the same squad that fragmented and then crumbled under Akonnor, and it is now flirting with a similar fate under Rajevac.
The only way to avert that is to get a favourable result against Comoros, a team that the Black Stars have only played twice prior. Those games came seven years ago, in a pair of FIFA World Cup qualifiers that the Ghanaians won on aggregate but with little ease.
Whatever reserve of dedication and desire these players may — or may not — be holding back must be released on Tuesday, but Rajevac will also feel a responsibility to prove he's still worth his salt. A change — tactically, mentally, or both — is overdue, if the Black Stars' fortunes are to improve.
You get the sense that failure in this assignment could spell the end of the road for some of Ghana's players, and certainly for Rajevac. The date with Comoros wasn't supposed to be the hardest and most demanding of Ghana's three in the group stage; now, though, it is.
*TEAM NEWS: Ghana will be without four players: Benjamin Tetteh (suspended), Baba Iddrisu (hamstring injury), David Abagna (toe injury), Mubarak Wakaso (knee injury).