You've probably read a few reviews already on the latest match-week of the Ghana Premier League (GPL), and that's fine.
What, though, about a review that flips the script right over, revealing all those not-so-serious details you missed?
***
Going by the metric of goals scored alone, an argument could be advanced about why Kumasi King Faisal deserve to be a little higher on the league table.
Their 21-goal haul is, in fact, greater than the tallies of Legon Cities (20 goals; 16th), Liberty Professionals (18; 15th) and Techiman Eleven Wonders (18; 14th), but it's not hard to see why they're, instead, all the way down in 17th — just one place off the bottom.
Faisal have conceded a league-high 33 goals — same as Bechem United up in 7th, in fact, but Hafiz Konkoni and Co. compensate for that weakness with strengths Faisal don't have — and much of that has, of course, been down to terrible defending.
It's a headache that three head coaches and some mid-season reinforcements have, thus far, been unable to relieve. On Sunday, against Accra Hearts of Oak, Faisal served the latest exhibition of how not to defend, evident in how they allowed Daniel Afriyie Barnie and Salifu Ibrahim (more on him later) to easily carve out spaces for the hosts' opener.
It was, though, the second goal that really exposed Faisal's fatal flaws. A long ball played over the top dropped into the path of Ibrahim, and the speedy, silky forward quickly ate up the acres of lush real estate afforded him by Faisal's absurdly high backline.
By the time Ibrahim squared for Barnie, the one guy closest to the action not seeking to do Faisal any harm — aside, of course, hapless goalkeeper Danlad Ibrahim — was Maale Imgerde Imere, the referee, who had tracked the ball all the way from the half-way line.
Maale was, thus, in a great position to throw in a tackle in the visitors' behalf or, at least, hold up Hearts' attack until Faisal's defenders arrived on the scene to do their job.
He failed to, however, and Faisal might have reason to feel aggrieved. But, come to think of it, just why would they expect any favours from a man who had denied them a stonewall penalty only a little earlier?
***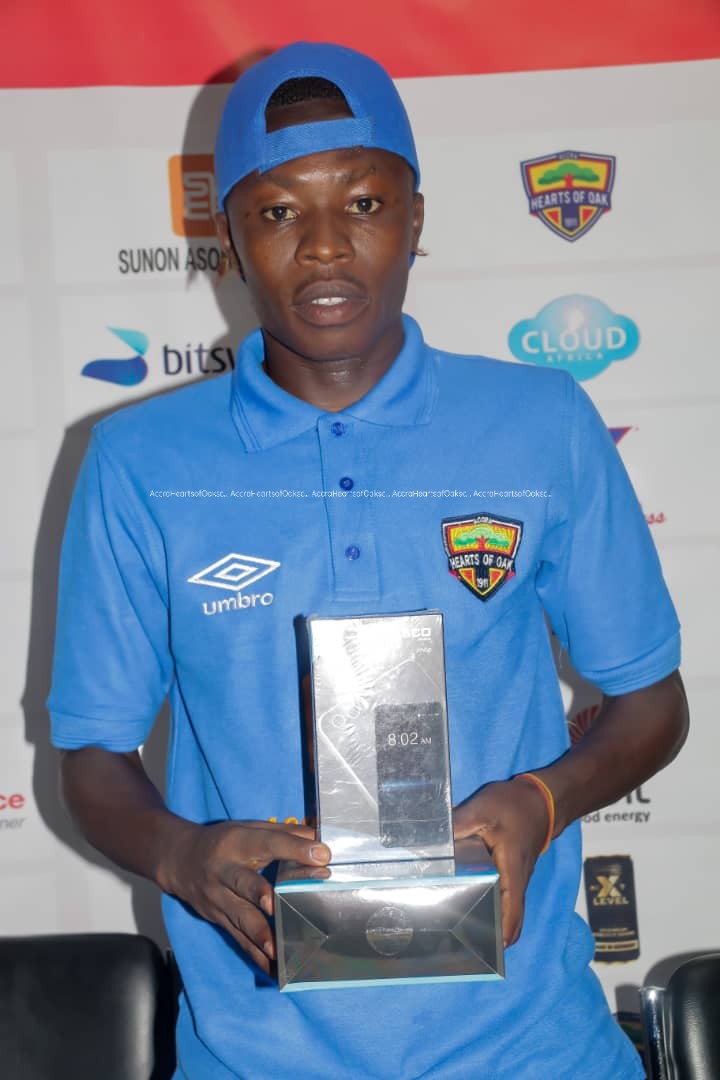 For his brilliance, Ibrahim (mentioned earlier) was named Man of the Match after Hearts prevailed over Faisal, picking his sixth such honour of the season, the most of any player.
His reward?
Same old: a sleek NASCO smartphone, and an electric shaving device by the same brand.
With half a dozen of each gadget now in his possession, it is our thoughtful suggestion that Ibrahim promptly puts them to work. And by that, we're not necessarily referring to a personal use of the items. There are, after all, only so many mobile devices that Ibrahim could carry along at a time, while he keeps hardly any facial hair.
We are, thus, thinking more along the lines of business. Now, while six phones might not be enough to start a phone-selling venture with, there is certainly a great deal of hair that six shaving machines — possibly more, given his superlative performances, as the season goes along — could clear in a shaving/barbering shop.
It could be his little way of creating employment opportunities for those seeking them… plus, everybody needs a side-hustle these days, right?
***
PICTURE OF THE WEEK
Yaw Frimpong — Ink & Kicks