When Legon Cities drew their first 2020/21 Ghana Premier League game, and lost their second by a humbling margin, the club's owners went into panic mode.
They'd invested too much in this project — rechristening, relocating, reinforcing, and rebranding Wa All Stars, the club whose reins they took over from Kwesi Nyantakyi, the former Ghana Football Association president, in 2019 — to be indifferent about Cities' stuttering, stumbling start to life.
Cities had/have only won three league games since that takeover — all coming last season — from 17, and the man who oversaw that slump, Bosnian-German trainer Goran Barjaktarević, was promptly fired. Bashir Hayford — one of the domestic game's finest brains — took charge as the new boss, but that technical switch has yielded little, two games in.
Cities still haven't won — one draw and a loss under Hayford — and are bottom of the table, despite playing the maximum number games thus far this season. They've conceded five times, but that isn't the problem, given that more than half of those came on one particularly miserable evening against Great Olympics, and that seven other clubs — some in fewer games, at the time of publication — have shipped as many goals or more.
Cities' real headache springs from how little they score, and that statistic doesn't really make for good reading. After the latest setback, a 1-0 loss to Asante Kotoko last Friday, Hayford arrived at a diagnosis — one we had all suspected.
"We were in the game right from the start to the end and we created many chances," he noted.
"This team is a good side; we just need to work and work. Scoring is a problem at the moment and that needs to change."
Hayford's concerns are legitimate. The Royals have only scored once, and even that was a converted penalty, against Berekum Chelsea on the opening matchday. Their forwards have underwhelmed, with recent signing Raphael Ocloo standing out for special criticism, following the defeat to Kotoko.
A combination of precision and sound judgment on at least two occasions could have reflected more favourably on the outcome, and few fans were sad to see him hauled off by Hayford. The man who came on for Ocloo, Asamoah Gyan, was expected to change the complexion of the game — of Cities' entire season, really — and rightly so.
Gyan is, as it happens, Ghana's all-time top-scorer, and a former national captain. Seventeen years ago, he exited the domestic scene as a teen, took on the world, and returned this season with a greater pedigree than any other striker in the league. His price tag — a poorly kept secret but, hey, you're free to guess since Cities deny the word on the street — and the public frenzy that met his arrival at Cities, after slipping through the grasp of Kotoko, further shrinks the list of excuses he has not to deliver.
So why isn't he yet among the goals, with his half-hour performance against the Porcupine Warriors but a shadow of the Gyan we've come to know and love?
Well, that's probably what months sans competitive football does to you. Gyan returned a little heavier, and has had to trim down courtesy a pretty intense regimen. But while he has managed to drop some pounds, the 35-year-old has failed to pick up something else, and his coach has a fair idea.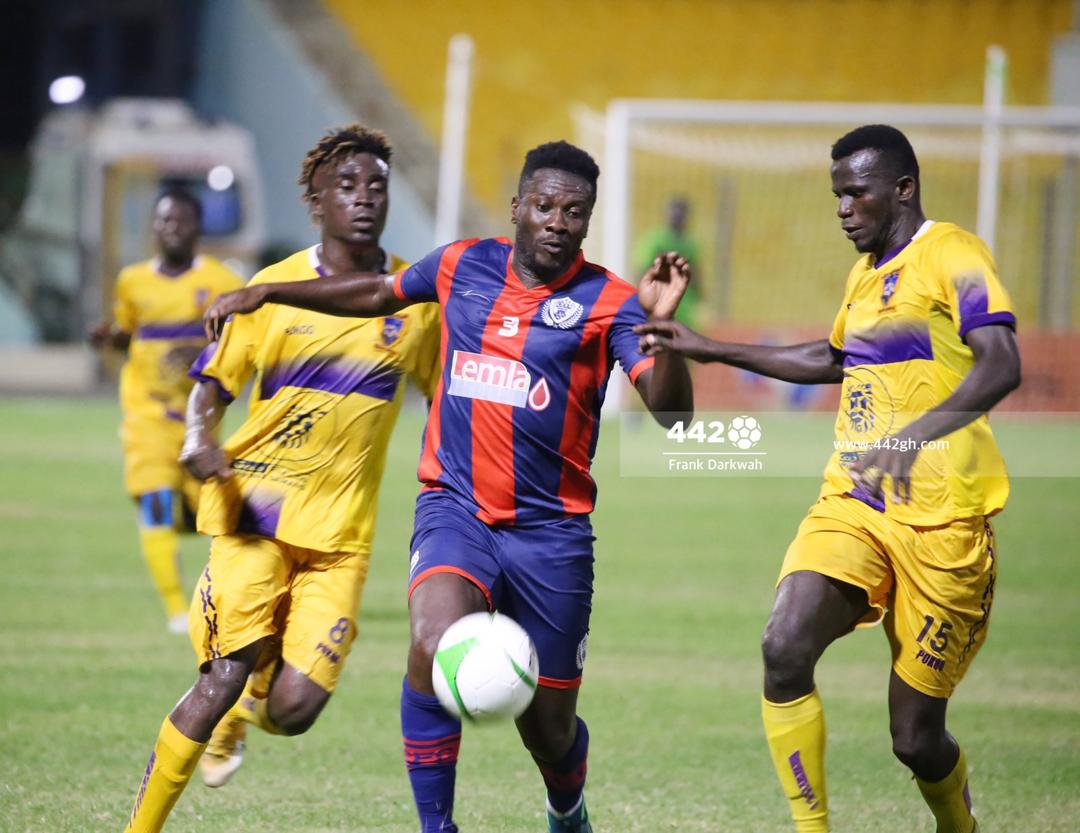 "Asamoah Gyan, if he even has 50 per cent of his form, it wouldn't have been a problem, but his form is completely down," Hayford said post-match.
"We have to work on him."
And Gyan, if it isn't obvious already, needs to work on himself some more. He isn't the only centre-forward Cities have, no, but he is, by far, the most reputable and bears more responsibility than the rest. Now that the noise has died down, and the honeymoon is approaching its end, Gyan's contribution must be measured in more than just his mere presence.
His club needs goals lots of goals and, right now, there is only one man they — and we all — would be looking to.
Enn Y. Frimpong — Ink & Kicks