And that's really what I don't like about watching football games at the stadium: you don't get to see any replays; blink, and you miss a big moment.
Only that, well, I wasn't blinking at all here. I couldn't afford to. Instead, with two minutes to the end of the 90, I had set off from the main stand of the Nana Agyeman Badu I (NAB 1) Park to the away end, where I anticipated that, for the very first time in the history of this fixture at this venue, the intoxication of triumph was going to be felt.
I certainly wasn't going to miss this — no, not for all the eggs in Dormaa-Ahenkro.
Even so, there was a risk, a real fear that it could all go up in smoke in those last few minutes. Kotoko had never won here since Aduana joined the top-flight ranks in the 2009/10 season, and with each passing year that saw the latter grow in strength and might, all the while cementing one of the league's best home records at the NAB 1, the Porcupine Warriors' hopes of breaking that jinx seemed to fade a little.
For every other club in Ghana, the chance to host Kotoko is an occasion to relish. The Kumasi-based outfit, unarguably the best-supported side in the country, draw the biggest crowds whenever they're in town, wherever that town is. As one who is into a fifth year as a resident in Dormaa-Ahenkro, though, take it from me: the people here seem to look forward to this fixture with a bit more excitement than you'd find elsewhere in the country, an appetite that almost matches that of Accra Hearts of Oak, Kotoko's arch-rivals.
Much of that passion is actually just an overflow of hostility that dates back to the 1600s, when the Ashanti (for whom Kotoko is a cherished symbol and then some) and the Dormaa (for whom Aduana is just as totemic) got embroiled in quite a few conflicts that, in more ways than one, helped shape the modern history of both ancient states.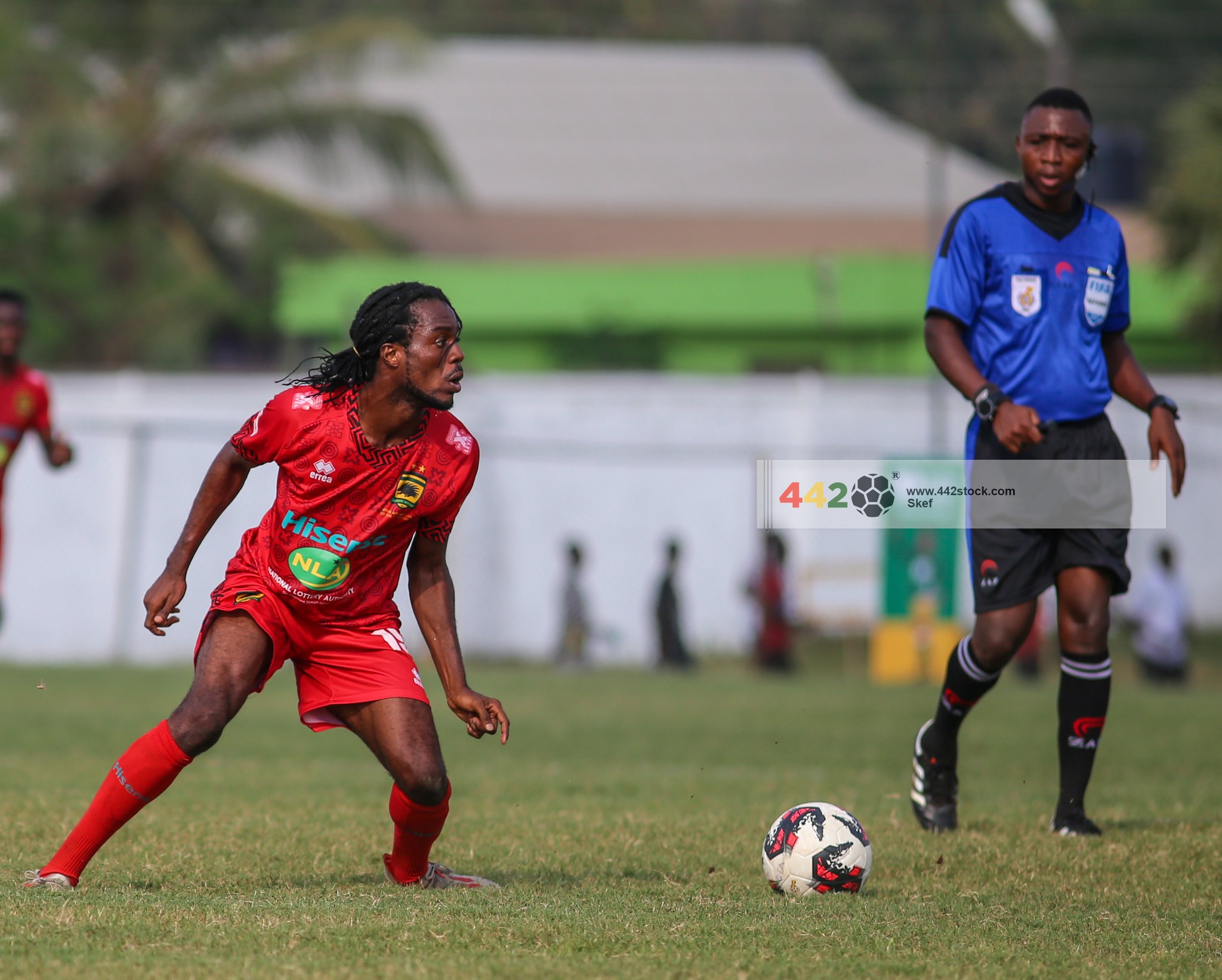 Comments by the Dormaahene concerning his people's version of events that took place in that distant past — deemed untruthful and disrespectful and incendiary by some Ashanti nationalists — sparked heated exchanges on social media in recent weeks, stoking a rivalry that was already burning strongly as Kotoko prepared to visit Dormaa-Ahenkro for the 12th time in the Ghana Premier League.
These days, of course, the Dormaa and the Ashanti cannot cross swords in the literal manner that they did all those centuries ago. The football pitch, however, presents the closest thing to a battleground that both nations can now be permitted to clash on, represented by the 'armies' of Aduana and Kotoko, and they've made the most of these feisty 'battles' over the years.
Aduana have never won in Kumasi as Kotoko's guests, and Kotoko hadn't even scored in a Premier League game in Dormaa-Ahenkro prior to this Gameweek 11 trip. Somehow, though, they led here, courtesy of a first-half header by Cameroonian forward Georges Mfegue.
The introduction of Samuel Bioh — matchwinner in two of the last three games between the sides, keen on reprising his role as Kotoko's tormentor-in-chief — and Yahaya Mohammed in the second half stirred up a hitherto lethargic Aduana attack, but as the game wore on and the equaliser wasn't forthcoming, there was a feeling that Kotoko — for once — might just run away with the spoils.
And they did, with the impressive Richmond Lamptey, rolling home a ball spilled by experienced Aduana goalkeeper Joseph Addo (one of seven former Kotoko players in action for Aduana on Saturday, so much for rivalry), making sure of that at the death. In a fixture that is usually decided by narrow margins of victory, this was the widest since Kotoko thrashed Aduana 4-0 at home in the 2014/15 season.
As the jubilant Kotoko players marched over to where their fans were, post-match, it was easy to forget that the two parties of celebrants were separated by a fence of firmly-welded, tightly-woven wire mesh. You could feel the embrace even though there was no room for physical contact, as the team responded to the chants by charging the fans to raise the volume still higher. The supporters struggled to meet those demands, but not for a lack of effort. Half of the voices, mine included, were already hoarse.
Yet, somehow, they weren't done. Several fans still found the energy to breach the inner perimeter, spilling onto the pitch, for a huddle and photographs with the players. I got a couple of shots myself, notably with young goalkeeper Danlad Ibrahim, who finally got to make his league debut for Kotoko and repaid the confidence of head coach Prosper Narteh Ogum; it's a milestone he'll never forget.
This was a win for the ages — timely, too, given how things had gone for Kotoko earlier in the week, when they got knocked out of contention for the FA Cup, following a second loss in a matter of weeks to city rivals King Faisal. Interestingly, Faisal are the only other team to win in Dormaa-Ahenkro in this season's league — the first, in fact, to do so in five years.
On this victory — inspired by the tireless midfield industry of Salifu Mudasiru (Man of the Match) and Richard Boadu — Ogum, who has only dropped two points on the road this season as Kotoko boss, would look to build; a corner — psychologically, at least, if not in any other sense — appears to have been turned.
Should top-of-the-table Kotoko end up with the league title at the end of the season — and, right now, it's all they've got to compete for — this historic triumph would go down as a reference point, the moment this fledgling team started to believe that anything is possible. But even if things don't quite work out that way, this feat — as exhilarating a start to the new year as Kotoko could have wished for — will still go down as something special.
Something really special.
Yaw Frimpong — Ink & Kicks