Callum Hudson-Odoi would have plenty to think about.
This was supposed to be the best summer of his 20-year-old life (it still is, by the way), even if he'd missed out on appearing at his first tournament as an English international.
Winning the UEFA Champions League was just about enough compensation for his exclusion from the two England squads — first provisional, then final — named by manager Gareth Southgate for the 2020 European Championship.
It didn't even matter that Hudson-Odoi was little more than a nervous, delighted observer as his team, Chelsea, beat English rivals Manchester City to win their second European crown.
He enjoyed it every bit as much as those 14 teammates of his that had a part on the pristine Porto pitch, but even as he reveled, Hudson-Odoi already had his holidays — the early part of it, at least — planned.
Three days later, Hudson-Odoi rolled into Accra, Ghana, the homeland of his parents, to a reception that got even better as the days went by, some of which was spent engaging a 'privileged' few in a kick-about somewhere in the capital.
Fans at the venue were thoroughly thrilled, feeling almost as though, for a night, they had been teleported to Chelsea's Stamford Bridge to watch Hudson-Odoi and Co.
He must have enjoyed the cheers, but Hudson-Odoi was treated to something even better — even louder — days later when he showed up at the Accra Sports Stadium to take in the latest installation of the 'Ga Mashie' Derby, between city rivals Great Olympics and Hearts of Oak, that was as great a showcase for the Ghana Premier League as any in recent memory.
Hudson-Odoi would have had an eye, especially, for one of the two competing sides. Growing up, he must have heard a lot about Hearts, the club with which his father made a name in the eighties before moving to England, where Hudson-Odoi was born.
"My dad, Bismark (Dad please don't get mad I used your first name!), was a midfielder in Ghana for a team called Hearts of Oak," he wrote for The Players' Tribune in May 2019, going on to detail all the ways in which his dad contributed to moulding his career.
Most likely, then, Hudson-Odoi would have been cheering for the Phobians all the way in a 1-1 draw that belied all the excitement served on the night; if, for some reason, he was still undecided about his allegiance even at full-time, Hearts fans made his choice easier with the post-match presentation of a customised jersey.
But Hudson-Odoi's biggest take-away from that game, aside the actual quality on the pitch, would be the sheer passion emanating from a not-quite-full stadium which rivals anything he has experienced at a Premier League game in England.
Within the next few days, Hudson-Odoi would get the chance to sample the other great love of Ghana football, the Black Stars. Okay, there might not be much love flowing from Ghanaians to the senior national team right now, but many still pay attention — even if they won't admit it so readily — when the Black Stars play.
Quite likely, Hudson-Odoi watched, too — although he might not have been present at either game, one as Morocco's guests and the other at home to the Ivory Coast — but possibly not just for the entertainment.
From his first day back in Ghana to his last (and even a good while afterwards), Hudson-Odoi couldn't have missed the many stories that sought to interpret his visit as a sign that he had intentions of taking advantage of the recent change to Fifa's nationality switch rules to swap life with England's Three Lions for the prospect of being a Black Star.
Before long, officials — both sporting and political — picked up on those rumours/hints and proposed that Hudson-Odoi, indeed, consider taking that path.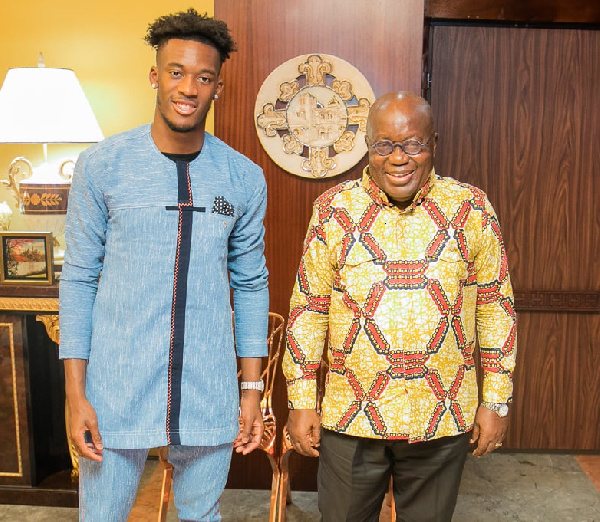 "On Monday, 7th June 2021, Ghanaian-born Chelsea footballer, Callum Hudson-Odoi, paid a courtesy call on me at Jubilee House, the seat of our nation's presidency," Ghana's head of state, Nana Addo Dankwa Akufo-Addo, posted on Facebook.
"Amongst others, I urged the Minister for Youth and Sports to explore the possibility of having Callum switch nationality, and play for the Black Stars."
Kurt Okraku, president of the Ghana Football Association (GFA), expressed a willingness — nay, eagerness — to keep the door open for Hudson-Odoi and any like him who'd want to nail their colours to Ghana's mast.
"We are looking forward to working with [Hudson-Odoi] and his family and many other players who are interested in representing their country," he said.
"We have a lot of them like that, we are talking to the technical team and the political authorities in getting them to play for Ghana."
Oh, Hudson-Odoi himself?
Well, he teased hope — even if just a sliver of it — wrapped in a giggle.
"England came and I said, 'yeah, let me go and play for my country'," he said at an event in Accra, before his departure. "But I said Ghana is my home as well, so we'll see, we'll see."
Should Hudson-Odoi eventually swap England for Ghana, it would be a rather stunning turnaround — it wasn't so long ago that he described his maiden England call-up as "a dream come true", was it? — but not so unreasonable.
Hudson-Odoi made a record-breaking start to his career as a senior English international, becoming the youngest-ever player to make his debut for the team in a competitive match, against Czech Republic, in March 2019; it got even better in his second game, a 5-1 win over Montenegro, which he started and marked with a fine assist.
One more game later, things have stalled for Hudson-Odoi. He isn't as prized anymore even at club level, with Chelsea's considerable financial outlay on attacking talent last year squeezing him out of opportunities.
He managed just 19 starts for the Blues all season, averaging roughly 50 minutes per game, and few would have been surprised that Southgate completely overlooked him in drafting a roster for the Euros.
Watching the tournament from home, Hudson-Odoi might feel even less confident of a promising future in an England shirt. Such is the surfeit of talent within the current group that some of the brightest young things have struggled for playing time at the ongoing finals.
Marcus Rashford has had just about an hour of football across all three group games. Bukayo Saka had to wait till the third match, against the Czechs last night, for a run. Borussia Dortmund pair Jude Bellingham and Jadon Sancho have enjoyed a combined 33 minutes (only seven of those, notably, for the latter).
Watching Ghana's friendlies, though, Hudson-Odoi would have realised how much the Black Stars' attack is crying out for the kind of creativity and spark that a player with his gifts can offer in spades.
He might also have noticed, in the aftermath of those games, just how harshly underperforming players can be criticised by Ghanaian fans/press (although the English probably do it worse) and just how highly excellent displays can be praised by Ghanaian fans/press (although the English probably do it better).
Both criticism and praise of such intensity spring from a fountain of passion so deep and wide that Hudson-Odoi, as highlighted earlier, couldn't have failed to notice and be overwhelmed at the Olympics-Hearts game.
All that, for Hudson-Odoi, constituted a crash course in what it means to play for Ghana, and he should now be well-informed enough — give or take a few details — to decide if this is the sort of package he wants to sign up for.
In any case, he doesn't have to decide too quickly. Fifa's new rules open up the window for a player to move to a new national team only if at least three years have passed since his last senior appearance for their previous team. Hudson-Odoi is only halfway through that period (he last played for England in November 2019), so there is plenty of time to weigh his options.
A fourth game for England would take him completely out of Ghana's reach and, given that such an invitation would be a natural reward for an improvement in Hudson-Odoi's club fortunes, one can only imagine what the prayer of many this side of the Atlantic would be.
Clasped hands. Crossed fingers. Bated breath.
Yaw Frimpong — Ink & Kicks