First, here's something to calm your nerves: the fact that the Ghanaian government and the Ghana Football Association (GFA) aren't on the same page — particularly when it comes to settling on the identity of a new trainer for the senior national team, the Black Stars — may not be ideal, but it's definitely not a new phenomenon.
We've been here before, and we'll be here again, but eventually some sort of 'compromise' will be reached. It might not seem so right now, yet the turf war over who becomes the next Ghana head coach — a straight showdown between ex-Premier League boss Chris Hughton (in the government's corner) and former Ghana international Otto Addo (the GFA's choice) at this point, it appears — won't be waged forever.
The ceasefire, that inevitable moment of truth, would come when both opponents — the financiers versus the 'experts' — realise that the true [common] enemy here is a Nigerian team which, like Ghana, has a limited time period within which to recover from wounds inflicted by an unusually early exit at the 2021 Africa Cup of Nations (AFCON).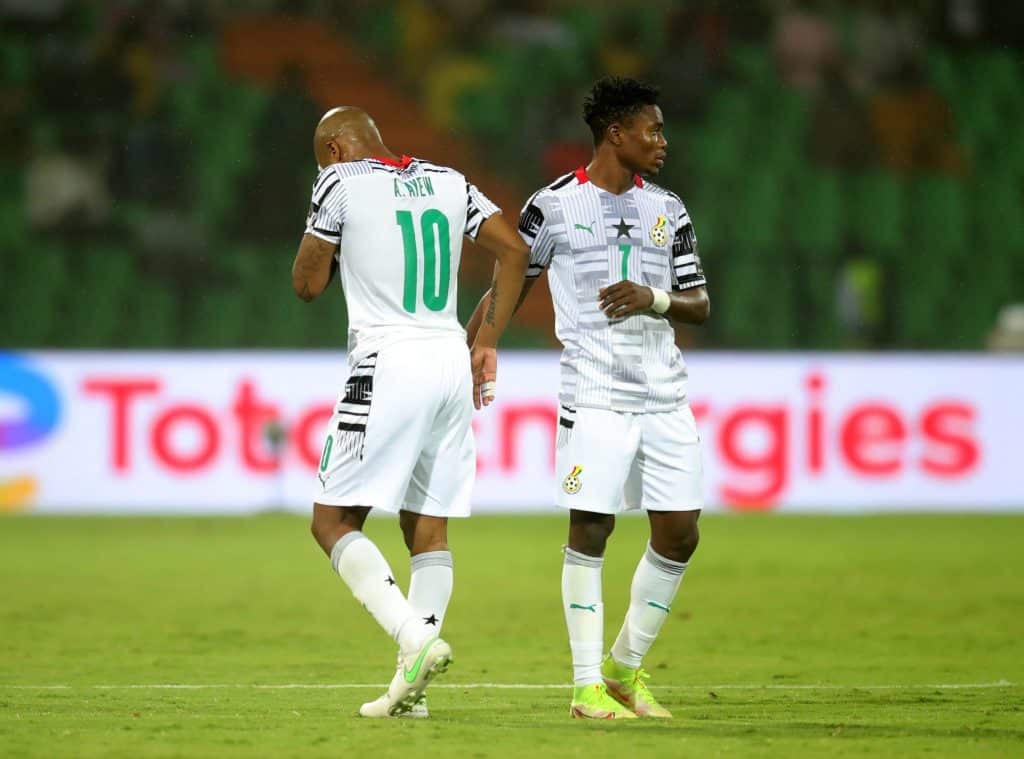 The Super Eagles are raring to swoop for that ticket to the 2022 FIFA World Cup which would be contested with arch-rivals Ghana in the March play-offs, and are in slightly better shape. Following the Black Stars' disastrous showing at the AFCON last month, there really is a lot of work to be done in ensuring Ghana are ready to compete when those games come around.
So seemingly herculean is the task at hand that it makes very little sense to spend an eternity wrangling about who'd be able to carry out that transformation in the shortest possible time, taking the Black Stars to Qatar and beyond. This debate, then, is an utterly needless one to have, whether in the corridors of power or in the public square.
Because, you see, maybe we don't need to choose between Hughton and Addo at all. Maybe we could have them both, complementing each other with their unique traits. Maybe that could be the perfect compromise the feuding parties, in the heat of battle, haven't thought about just yet.
Hughton, obviously, is the more experienced fella. He's not just 17 years older than Addo, the sexagenarian also has the more sparkling résumé; if the two are to strike up a partnership on the Ghana bench — which, to me, is a very appealing prospect, however unrealistic it may seem at present — rather than one being installed at the other's expense, Hughton is most assuredly going to call the shots.
But Hughton — son of a Ghanaian postman — would be modest enough to acknowledge and even seek out Addo's input. The latter has carved a niche for himself in the world of coaching, a role all of his own, that sees him give young players the helping hand they need to blossom and to flourish.
At Dortmund, Addo has done it for some of the best in the world, like Erling Haaland, Jadon Sancho, and Jude Bellingham; with Ghana, he could do same for the likes of Mohammed Kudus, Abdul Fatawu Issahaku, and Kamaldeen Sulemana.
Addo already has first-hand knowledge of just how much potential these boys possess, from his time as an assistant to the recently sacked Milovan Rajevac, and he could pick up from where he left off.
He could also be useful in Hughton's bid to bring in foreign-born players of Ghanaian descent who remain eligible for the Black Stars. Hughton has already met the family of Chelsea's Callum Hudson-Odoi, ostensibly for just that reason, and there could be a few more of those on his list.
Addo, himself born to Ghanaian parents in Germany, made such a switch in his playing days and knows very well just how tough the culture shock and adaptation process that follows could be; as Hughton's No.2, he could make that transition so much easier for those who'd yet choose to walk the same path.
Then there are the varying playing philosophies of the two coaches which, though not quite convergent, could blend to produce a solid formula.
Hughton likes to ensure, primarily, that his teams are set up to defend well, so much so that critics have labelled his approach as 'negative' — rather unfairly, it must be said, considering the overall outlook of his career thus far.
Addo, at the other end of the tactical spectrum, is a key figure at a Borussia Dortmund side that encourages self-expression and fluidity of movement, the completely uninhibited attacking freedom that has brought the best out of the Haalands, Sanchos, and Bellinghams.
Merge the merits of both belief systems and you're likely to have a Ghana team that excels at both ends of the pitch.
Having Hughton as the face of this project — thus the boss — would be a no-brainer, as he is better-suited to the hot-seat and the pressures that come with it.
At Newcastle United, following the Magpies' relegation in 2009, he took on what appeared an impossible job — Mike Ashley was never the most pleasant employer to work under, and the St. James' Park atmosphere during that time was especially volatile, if not totally toxic — and thrived.
The dynamics might be a little different in what would be his first national team assignment as head coach (he had, in the early to mid-noughties, a three-year spell as assistant manager for the Republic of Ireland, his mother's homeland), but Hughton wouldn't find the spotlight any less glaring here — all of which should leave Addo comfortably in the background, doing what he does best.
These are two men who love to keep their egos firmly tucked into their back-pockets — even if the principal lobbyists arguing their respective cases aren't quite as level-headed — and who, working in an atmosphere of mutual respect and cooperation, should find enough value in each other for the greater good.
We really don't have to choose, do we?