Ahead of Asante Kotoko's opening Ghana Premier League game this season, at home to Techiman XI Wonders, Rashid Mohammed, a defender for the traveling side, predicted that his team would get "at least a draw."
They did – even deserving of a win they almost snatched — but Mohammed was wrong about something else he had vowed his team he skippered would achieve.
"I have heard about him, and watched him during his days at Nkoranza Warriors and some of his matches at Kotoko, but he can't score against us," Mohammed said of Kotoko striker Kwame Opoku.
"He should forget about opening his season's goal account against us because I will not allow him."
To their credit, Mohammed and the rest of Wonders' backline had Opoku's number for much of the game. He wouldn't be kept entirely quiet, though, and Opoku managed to carve out a chance for himself, doing damage with it.
Successfully hunting an under-hit pass early in the second half, and despite being surrounded, Opoku exploited a momentary defensive lapse to score Kotoko's only goal. For some fans, that was the first taste of what the 21-year-old brings to their team.
He had been recruited early last year, as the 2019/20 season approached its halfway point and Kotoko sought to lighten a goalscoring burden that was about to get heavier with the imminent exit of Yacouba Songne, their want-away Burkinabe import.
Opoku arrived with a reputation — having scored 10 goals for his previous employers in 2019's Normalization Committee Special Competition (Tier 2) — that was quickly burnished by a five-goal display in Kotoko's 'friendly' 11-3 drubbing of lower-tier opposition not long after he had joined.
And, while the COVID-19 pandemic prematurely ended that campaign to delay Opoku's competitive start to life as a Kotoko player, he has loudly announced his presence this season, starting with the goal against Wonders.
Opoku would score another in Berekum a week later — sweeping the ball over the line from close range, amid a cloud of dust — followed by a fine third when Kotoko visited Medeama in the club's final game of 2020.
For sheer aesthetic and match-winning value, though, none of those goals matched the pair with which Opoku began the new year, against Liberty Professionals a week ago. Kotoko chased only their third victory of the season, their first by a margin of more than one goal, and Opoku delivered in style.
A deflection — however slight — helped the first one in, but Opoku's second goal owed nothing to chance: a chip so crisp that you'd want to dip into some drippin' hot sauce.
Like the opener, it involved Opoku's use of his broad chest to receive a lofted pass — dropped from deep by the impressive Fabio Gama — with his back to goal and a marker in tow.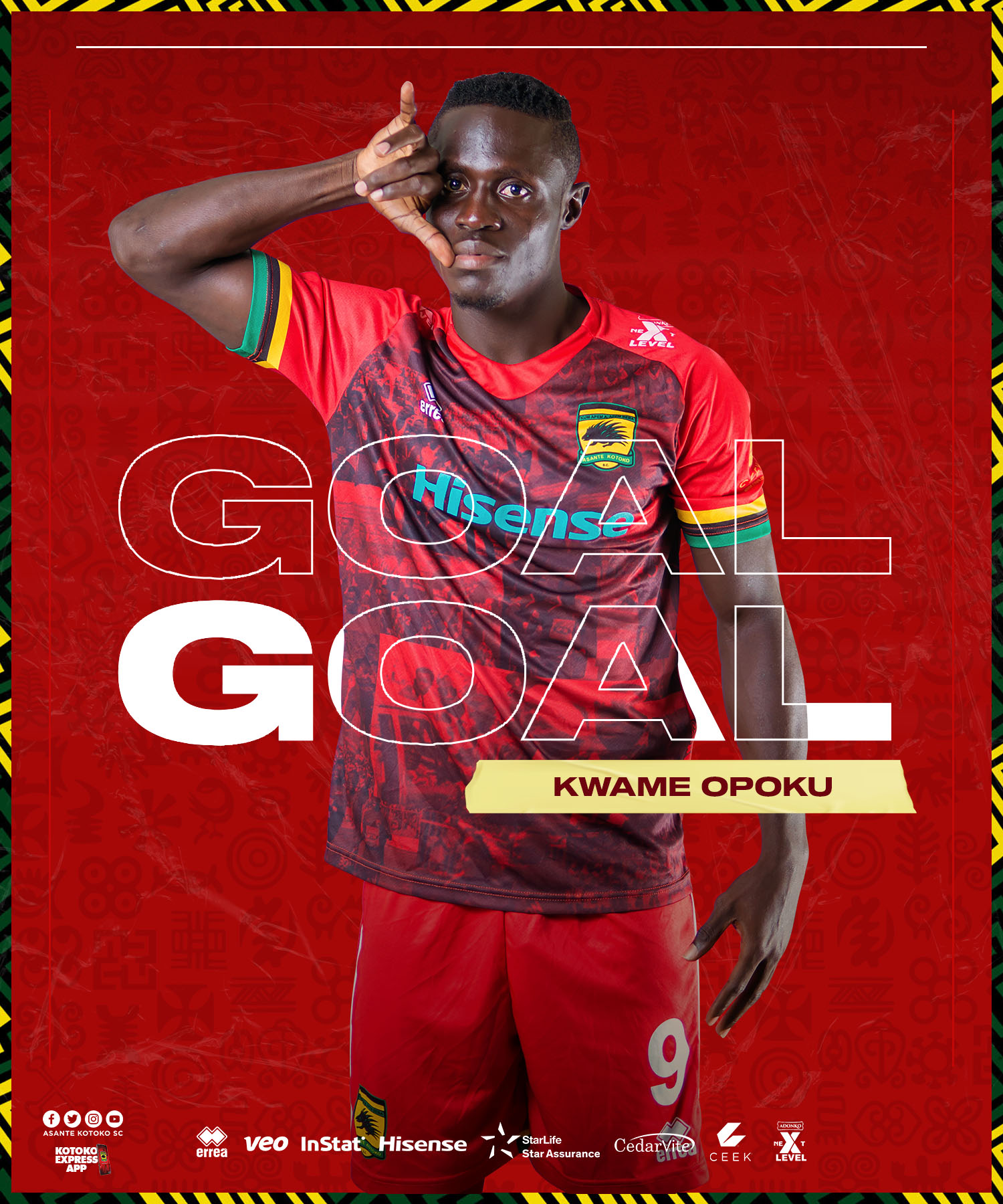 In one swift turn, he nullified both challenges, stole half-a-yard, before sprinting off to serve the aforementioned sauce-worthy, delicious, delicate chip.
His goal on Sunday, at WAFA, didn't require nearly as much skill — a distinction claimed by in-form Daniel Lomotey's sublime finish for the hosts — but it was worth one more point (Opoku has now fetched Kotoko seven), tucked away neatly and celebrated à la Mo Farah Memphis Depay.
Opoku has shown, thus far, that he is capable of all sorts of goals — from the pretty straightforward to the truly spectacular — and parallels are already being drawn with Eric Bekoe, Kotoko's last great striker.
To reach those lofty heights, though, Opoku would have to carry on consistently, and expand his range of strikes; adding headed goals to the collection, for instance, is a no-brainer, given his considerable height.
In a season where he would likely be Kotoko's go-to-guy for goals, and in which the likes of Lomotey (mentioned earlier) and Diawisie Taylor are already accelerating in the top-scoring charts, Opoku needs to keep the numbers up.
With service rolling off the boots of Gama, Emmanuel Gyamfi, and incoming creator Zakaria Mumuni, we should be seeing more of the Mobot from a man who, per the early signals, is shaping up to be quite a machine in front of goal.
Enn Y. Frimpong — Ink & Kicks