It's a shame, really.
For all the fuel Accra Hearts of Oak and Kumasi Asante Kotoko have poured into this season's breathless Ghana Premier League title race, with unrelenting determination and consistent quality, it's a big shame that neither party stands the best chance of drawing the most eyeballs during their crunch meeting on Sunday.
That distinction would likely belong to a third party, Daniel Laryea, the man on whose decisions many suspect the outcome of this game is likely to hinge, rather than on the dazzling array of talent that both sides would field.
To be fair, though, Laryea is a star in his own realm.
When, in June 2018, journalist Anas Aremeyaw Anas' seismic corruption and bribery exposé (Number 12) rocked the Ghanaian game and dragged some of the country's best referees from their lofty places into disrepute, Laryea — from a family with a rich history and deep roots in the refereeing business — was among a handful of big names who emerged unscathed and untainted.
But even he ended that year with a sense of disappointment.
You see, Laryea had long hoped that 2018 would prove his annus mirabilis, should he have the opportunity to officiate at the Fifa World Cup in Russia. That wish failed to materialise, ultimately, but Laryea still had plenty to look forward to.
With most of the refereeing luminaries falling all around him, the stage was set for Laryea's light to shine brighter than ever, four years after he earned his FIFA badge.
And, boy, has he shone!
Laryea's place as the finest referee in the land is already secure, and he is now focused on establishing himself as one of Africa's best. In that regard, Laryea has already made considerable strides. The 33-year-old is yet to appear at an edition of the Africa Cup of Nations (he has been to the last few CHAN tournaments, though), but that debut shouldn't be long in coming.
His inclusion in a list of 18 elite male referees named by the Confederation of African Football (CAF) late last year has certainly placed him on a pedestal. Thus far in 2021, Laryea has handled games that have featured some of the biggest clubs on the continent, like Egyptian giants Al Ahly and Zamalek.
But none of those games — or any other game — Laryea has taken charge of could have prepared him for the test that awaits this weekend, when Kotoko and Hearts, the biggest clubs in his own country, do battle.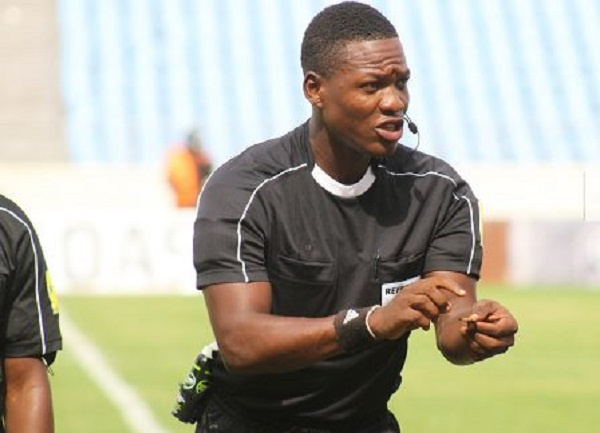 There hasn't been a more fevered build-up to a 'Super Clash' (as this fixture has been branded) in recent memory, and some even called for the appointment of a foreign referee, but the Ghana Football Association (GFA) has opted to hand the whistle to a local official — and who better than Laryea, the primus inter pares?
It has been suggested that the GFA has wrapped Laryea in cotton wool over the years, steering the 'golden boy' clear of the blots that could potentially stain his largely spotless copybook if assigned the most intense match-ups on the domestic calendar.
Now that he has been unwrapped and exposed to the 'elements', though, how would he fare?
Well, a referee with Laryea's résumé shouldn't be daunted by the sheer weight of this game and the thousands of eyes that would scrutinise his every decision. Actually, it does appear as though Laryea relishes the spotlight.
He is probably the only referee in the world who wears his name on his back (but not his heart on his sleeve, thankfully!), and, while that makes him more conspicuous than the average referee, Laryea's matchday outfit is probably inspired more by the desire to stand proud than to stand out.
"Many of the supporters of clubs in Ghana respect referees who are nicely dressed during games," he told Goal in a four-year-old interview.
"When the decisions are not going their way, they complain but at times your appearance [dressing] will either deter them from beating and humiliating you or sell you out as they spark their anger on you."
Nice, but should he have a bad day on Sunday, a customised shirt might not do too good a job of shielding him from inevitable backlash.
For much of the season's second round, as the title challenge has intensified and narrowed to a showdown between Hearts and Kotoko (tied at the top on 56 points each, with four games to go), seemingly controversial refereeing decisions in games involving either team have been hotly debated, with the loudest voices coming from Kumasi.
Rumour is rife, in the Kotoko camp, about a perceived conspiracy by the powers-that-be to aid their archrivals, Accra-based Hearts, in bagging a first league crown in over a decade.
Their arsenal is already stocked and their guns cocked, in anticipation of instances on Sunday that might just give them license to go fully ballistic; Hearts fans, on the other hand, would have their own reasons for keeping a close watch on proceedings.
Hopefully, Laryea — an accountant, away from the pitch — would give a good account of himself, forging his solid reputation some more by passing this ultimate test of how far he has come.
Yaw Frimpong — Ink & Kicks