As Cameroon, his country, kicked off the first edition of the Africa Cup of Nations (AFCON) on its soil in five decades, earlier this year, Franck Etouga was not watching.
Of course, the patriot in him would have loved to see that tournament-opener against Burkina Faso live, but Etouga himself had a game of his own to focus his attention and energies on – one he'd actually play in.
A few months earlier, Etouga had left his homeland, in the company of compatriot Georges Mfegue, to join Asante Kotoko, Ghana's biggest club.
Pre-season work was almost over for the Kumasi-based outfit – which, at the time, was camping in Dubai – and it would take a while for the attacking duo to settle in their new environs.
That meant adapting to life in a culture wholly different to theirs, complete with a foreign language, all the while developing an understanding with new teammates and getting to grips with the pressure of playing for a club as demanding as Kotoko.
Eventually, though, they got through all that and finally laced their boots for action.
Mfegue was the first to get off the mark, absolutely flying late last year against neighbours King Faisal with a brace of goals that, though remarkable, wasn't enough to help Kotoko avoid a first defeat of the season. Faisal won 3-2, and Mfegue's double dissolved in the ensuing misery.
But Kotoko picked themselves up, resuming what had been a fine start to the Ghana Premier League campaign. They won six – and lost none – of their next eight games, thanks in no small part to Cameroonian contributions.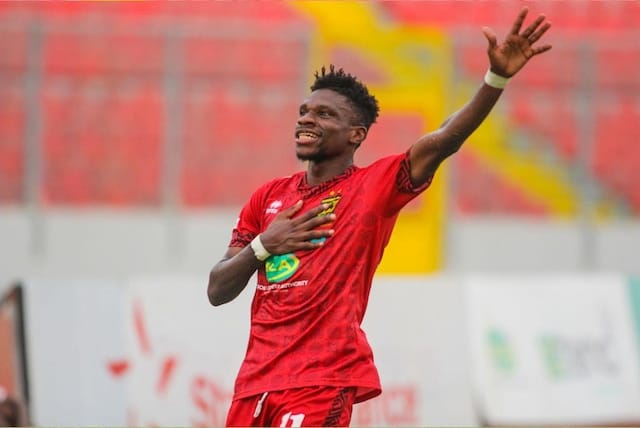 It wasn't just Mfegue anymore, though.
Running the show was Etouga, the younger forward, who had claimed the baton and was now doing more of the scoring. The 20-year-old got eight goals in that streak – just two for Mfegue, albeit of no less importance – with three of those coming in the game mentioned at the outset of this write-up, against regional rivals Ashantigold.
Just about the time Cameroon were battling for goals, in a frantic first-half, to overcome an early setback inflicted by the brave Burkinabe, Etouga was putting Kotoko's visitors to the sword and putting on a fine exhibition of top-class finishing.
He'd have been delighted to find out later that evening that the Indomitable Lions had been bailed out by captain and frontman Vincent Aboubakar's two strikes just before recess – and maybe, by virtue of the fact that the Kotoko game kicked off a full hour earlier, he'd have caught parts of the scoreless second half, too.
What Etouga couldn't have imagined back then, though, was that he'd be mentioned in the same breath as Aboubakar and Co. anytime soon. The prospect of such a hitherto unlikelihood has, however, now become reality, following his continued brilliance in front of goal for the Porcupine Warriors.
Since that January 9 afternoon against Ashgold (who, incidentally, Kotoko face in their next league game), when he properly announced his arrival on the domestic scene, Etouga's confidence and scoring rate has only soared, propelling Kotoko to within touching distance of a league title that has been beyond their reach for some eight years now.
He has now scored 11 more goals, including a second hat-trick, against Accra Lions, and – but for a couple of missed spot-kicks – nearly a third when Aduana came to town last week.
The failure, on the latter occasion, to take his league goal tally to 21 – just one shy of the Ghanaian top-flight's professional-era record mark, but still on course to become the league's first-ever import to be crowned topscorer – left Etouga as gutted as all the Kotoko fans willing him on to make some more history, but the news that came through only a few days later would prove more than enough consolation.
Cameroon legend Rigobert Song, who took charge of the national team after the disappointment of the aforementioned AFCON, is keen to upgrade the material already at his disposal ahead of the 2022 FIFA World Cup they qualified for courtesy of March's aggregate victory over Algeria.
In doing so, Song has looked far and wide for fresh faces, players who could seize the opportunity and stake a claim for places in the Qatar-bound contingent.
That preparation starts with next month's AFCON 2023 qualifiers, for which he has provisionally invited 34 players. Etouga, whose exploits in Ghana is already making the headlines back home, is among 11 forwards named, alongside the likes of Aboubakar and Karl Toko-Ekambi.
Whether or not Etouga makes the final cut is beside the point, although his inclusion would be an even bigger confirmation of how far he has come.
Not many Africa-based footballers make the Cameroon senior squad, regardless of how many are called at a time; of those on the latest roster, Etouga is only one of two (the other, goalkeeper Simon Omossola, plays for Congolese club AS Vita).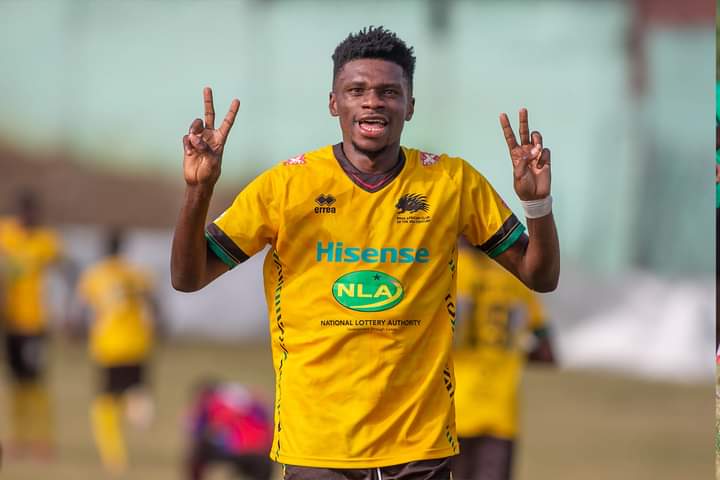 This, then, is certainly worth celebrating, as much by Etouga and the Kotoko family as by the entire Premier League. Most players only need that first national call-up to kick on and attempt establishing themselves in there, anyway, but even if that is a bridge too far right now for Etouga, there is still a quite bright future immediately ahead.
Top European clubs, according to reports, are circling for a chance to swoop for his services, with a seven-figure sum already being whispered. He may not spend much more time in the Ghanaian elite division, but Etouga could well spend many years in the Cameroonian national set-up if he continues on this track.
And if all that comes to pass, surely, he wouldn't forget where things really took off for him, would he?