It's been three months since Jordan Ayew last scored a goal for Crystal Palace, his club — and that, in a pre-season game against Reading, was his first since a November 7 defeat of Leeds United last season.
It was his only goal in all of 2020/21, quite a drop from the nine that made him the London outfit's top-scorer in the previous campaign. The hope had been that Ayew would pick up his scoring form after Palace's appointment of France great Patrick Vieira, the new manager who already has the team's attacking juices flowing.
Collectively, Palace operate with greater bite now — definitely more than they ever did at any point under predecessor Roy Hodgson — but Ayew hasn't yet caught the bug. Eight games into the new season — seven in the league, one in the Carabao Cup — he has failed to add to his goal tally for Palace, despite the faith reposed in him by Vieira.
True, Ayew has only been played out wide, and he won't be getting many opportunities to feature as a centre-forward following the signing of Odsonne Edouard, but the Ghanaian hasn't done himself too many favours when in scoring positions.
The most glaring instance — the one everyone remembers — came in last week's home league game against archrivals Brighton & Hove Albion, when Ayew missed a sitter at a time when Palace were just a goal ahead and needed another to wrap up only a second victory of the season.
The gravity of Ayew's miss, after Neal Maupay leveled late for the Seagulls, only greatly increased. And the feedback hasn't been very positive, unsurprisingly, with Thierry Henry — one of the Premier League's greatest goalscorers ever and Vieira's former colleague — proving particularly scathing in his remarks.
"If you don't score" — and this is Henry putting himself in the boots of Christian Benteke, who was in a better position to score had Ayew chose to pass on the chance he'd go on to spectacularly botch — "I would have killed you."
Ayew would be relieved, then, that he was never Henry's teammate, but even more relieved that his boss, Vieira, has come up with a diagnosis of his problem and has an idea about just what to do to get the player back on his horse.
"Obviously, Jordan missing the chance was important but when he doesn't score, especially as a forward, here is a lack of confidence and self-belief," Vieira said. "It is my responsibility to bring him back to what he can do and scoring goals."
The burden of getting Ayew firing again, though, isn't just the Palace manager's. It's an arguably bigger problem for newly reappointed Ghana head coach, Milovan Rajevac, one that he has quickly identified the need to help resolve.
Ghana counts more on Ayew for goals than Palace do, yet he hasn't scored for the national team since March, and Rajevac — who, during his first stint, gave Ayew his international debut a decade ago — knows there is more to the 30-year-old than the struggling mess he currently is.
The early signs, during the Black Stars' training friendly game against lower-tier side Soccer Intellectuals on Wednesday, haven't been very encouraging. Rajevac's team handed out an 8-0 thrashing, unsurprisingly, with the goals coming from some of the relatively new faces in the squad.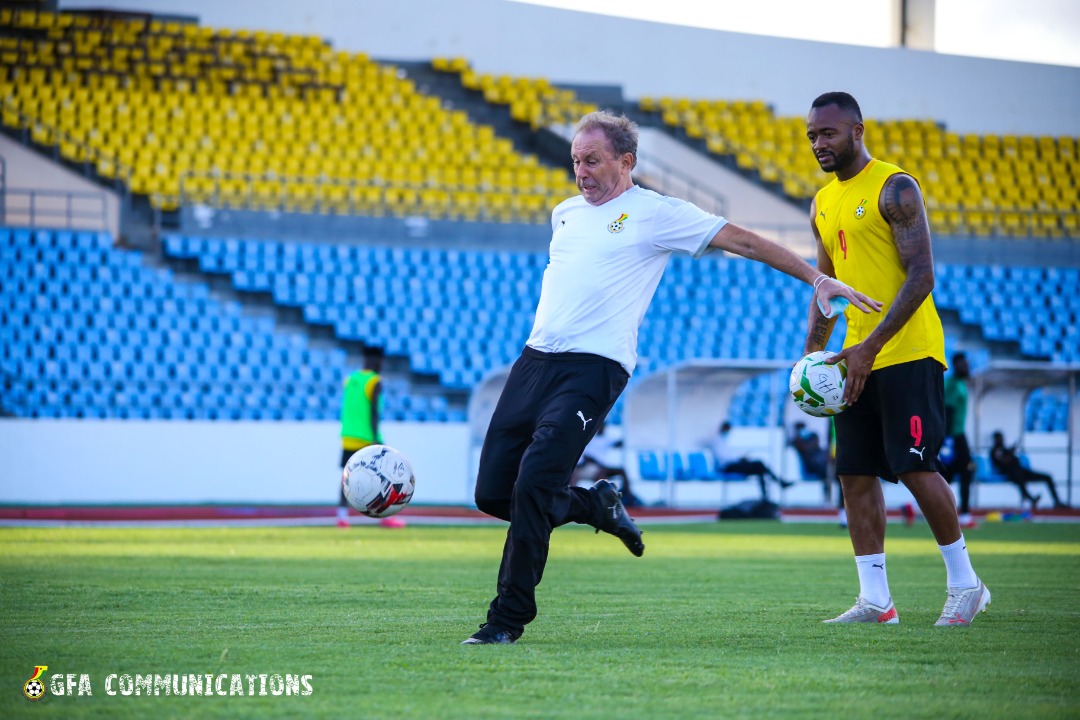 Ayew had a shot, literally, at getting his name on the score-sheet, but fluffed his lines — again — from the spot, giving observers further cause for worry. Missing a sitter against a Premier League side is one thing; failing to convert a penalty against a Ghanaian third-tier side, even in an inconsequential game, is another.
If this game was intended to boost the confidence of the Black Stars ahead of the pair of 2022 FIFA World Cup qualifiers against Zimbabwe — and, surely, it would have had that effect on the collective — Ayew's own self-belief, already sinking (in Vieira's esteemed opinion), could be rock-bottom now.
Ayew, of course, is a top professional and knows phases like these aren't uncommon in the life of a forward. Besides, it only takes that one goal to dispel all talk of a crisis, and it could well come against Zimbabwe at some point in the upcoming double-header.
But, yes, the question you have in mind — well, what if he doesn't? — is still very valid, and probably burning a hole in Ayew's own mind right now.
Yaw Frimpong — Ink & Kicks