Aduana are yet to win a game at the Baba Yara Sports Stadium as guests of sworn rivals Asante Kotoko, a dozen or so years after gaining admission to the Ghana Premier League, but after Bright Adjei nodded in the late leveller on Sunday, you could pardon them for believing – for a moment – that the long-standing jinx had been broken.
Certainly broken, though, were the hearts of the Kotoko fans present, some of whom remained transfixed and immobilised long after the game had ended, gutted by how an afternoon that promised so much had yielded so little.
And from the way the Aduana players and their own small band of supporters celebrated, you wouldn't have known this was their eighth consecutive failed attempt to win a league game this season, their sixth draw in that miserable run.
It felt like victory – heck, it felt like more – even if they had failed to avenge a first-ever home loss to Kotoko in the reverse at the start of the year. Aduana had, at least, stopped the Porcupine Warriors from doing the double over them, a matter of pride if of nothing else.
Their hosts, needless to say, were distraught. Kotoko had had more than enough openings to put the game to bed, to not just win but to do so comfortably.
Cameroonians Georges Mfegue and Franck Etouga combined brilliantly for the latter to offer yet another exhibition of his best-in-the-land goalscoring expertise, firing past a hapless Joseph Addo from just outside the box to give Kotoko the lead.
It was a goal that had spectators enchanted, the guys in the plastic seats as well as those in the plush ones. Among the latter, in the VIP area of the stadium, was Kotoko CEO Nana Yaw Amponsah, hands on his head and lips parted in awe at what he'd just seen. 
Chances came and went, but none as clear-cut as the penalty Kotoko were awarded just after an hour of action had passed.
Etouga, this season, has been as much a guarantee from 12 yards as any player in the league; he'd only missed one of eight, acquitting himself so well in such situations that his detractors have claimed – rather unfairly, certainly foolishly – that he's good at little else.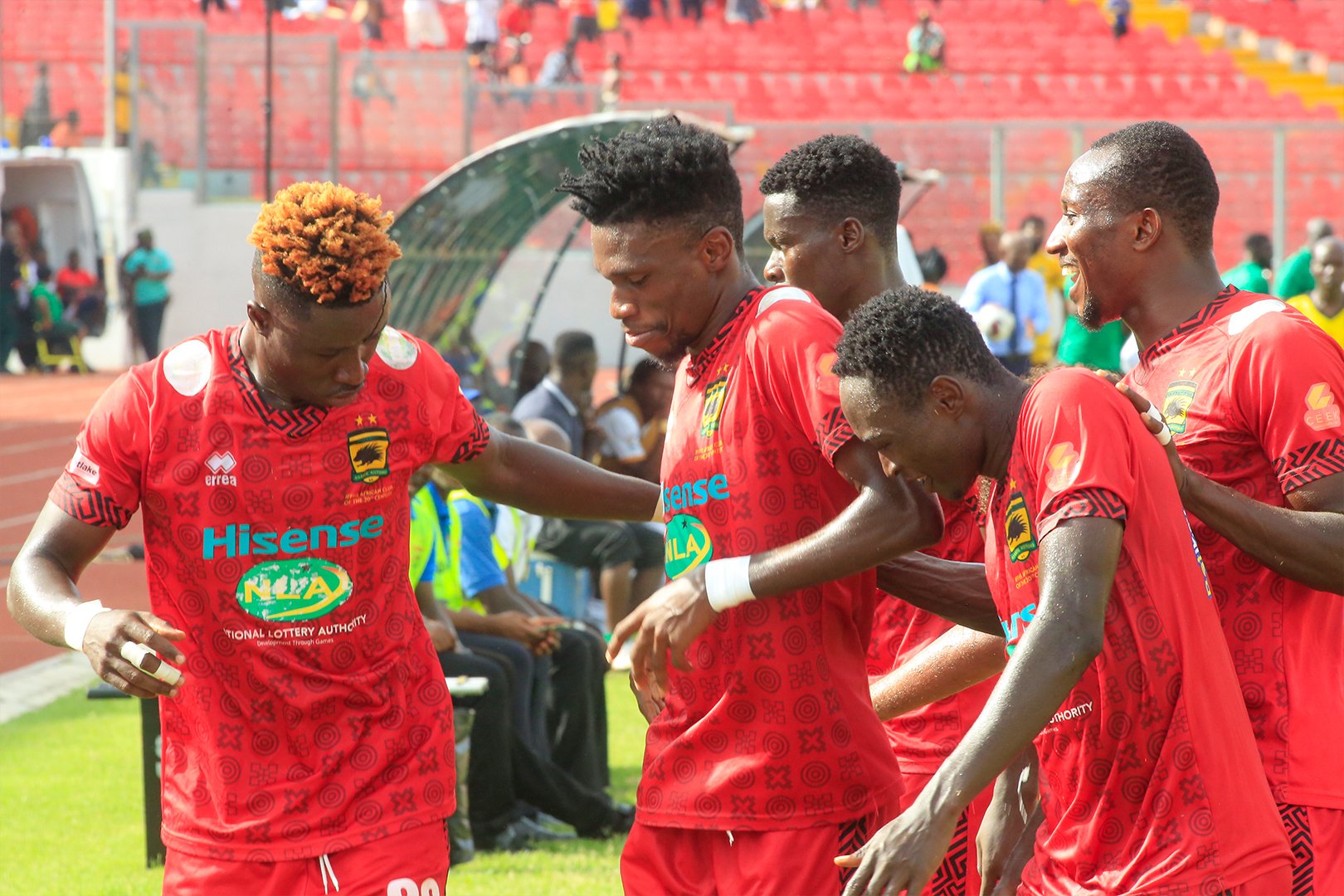 When he stepped up for this one, then, the goal seemed as good as scored – only that it wasn't, with Addo diving right and thwarting Etouga's effort. Some 20 minutes later, a second spot-kick awarded to Kotoko would afford Etouga another chance to finish Aduana off, also to atone for the previously wasted opportunity.
But that, too, was missed.
Confidently, Etouga went the same way he did the first time; and just as confidently, Addo did as he had also done. The goalkeeper couldn't stretch far enough on this occasion, but the intervention of the post – a result of the penalty being dragged an inch too wide – kept the ball out, anyway.
Etouga slumped, unsurprisingly, and the collective body language of his teammates wasn't any more positive. Even so, belief remained firm that Kotoko would emerge victorious by that admittedly slender, precarious thread of an advantage.
Aduana, though, were encouraged in their push for a point, eventually snatching it at the death through the enterprising Adjei.
The final outcome, 1-1, kept Kotoko from tearing away any farther at the top of the league, for now, and even if they're no closer to being caught by their closest pursuers than they were going into the matchday, the march to the title isn't yet the procession that it had threatened to be.
For Etouga, his quest to equal – and break – Ishmael Addo's professional-era record of 22 top-flight goals continues. Had he grabbed the hat-trick he appeared so well-placed for against Aduana, he would have been within just one goal of matching Addo's long-standing mark, but now he remains three goals shy.
There are, of course, enough games for both Etouga and his club to secure their respective targets. The forward will continue to take penalties for Kotoko – head coach Dr. Prosper Narteh Ogum was quick to cast a post-match vote of confidence – and the league leaders will, barring some spectacular implosion, complete their triumph with enough breathing space.
Still, both would feel this was a chance missed to make the rest of their work easier. The result, and especially the nature of it, will hurt. And with Kotoko now having won just one of their last four fixtures – albeit an unprecedented victory in Sogakope standing out as the exception – this wouldn't be shrugged off easily.