Week after week, in the current Ghana Premier League (GPL) season, fans of Asante Kotoko are left wondering what has become of Emmanuel Gyamfi, a player they have come to love ever since he joined the Porcupine Warriors in 2016.
His arrival at Kotoko, following a short stint in Armenia, was unheralded, yet he rose to become the toast of Kotoko's fiercely loyal faithful. 'Pajero', they called — and still call — him with affection, as a nod to Gyamfi's special blend of finesse, speed, technique, and natural skill.
His low center of gravity lends Gyamfi greater agility, allowing him to change direction quickly and evade markers with as much ease. Then there is the burst of pace which grips you with excitement, the sublime trickery capable of keeping you on the edge of your seat all-game, and that magical right foot which triggers an adrenaline rush with every move.
Watching Gyamfi, it doesn't take long to realize that he has potential to be one of the greats, and Kotoko fans have celebrated enough of those over the years to know when they see one. In this bold young man who breathed life anew into a side that felt increasingly jaded and demotivated at the time, the supporters were convinced their club had in its ranks another of that rare breed — a star in the making — and so they fell in love, head over heels.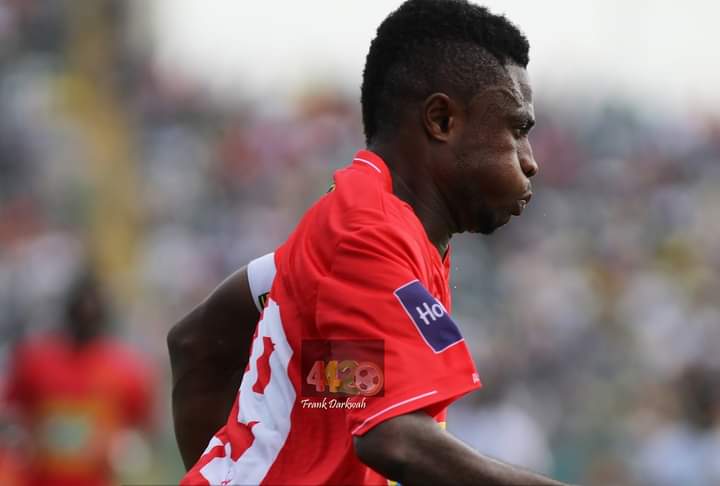 The romance is still alive, but it doesn't burn quite as strongly these days, given how much Gyamfi appears to have declined. The return of league football this season has offered a chance to savour Gyamfi's glorious talents once more, but his failure to meet those lofty standards hasn't gone down well with expectant fans who, rightfully, demand so much of their vice-captain. The criticism is a little premature — the season is only a few weeks old, after all — but there's no denying that Gyamfi hasn't been himself thus far.
When all eyes are on you — literally — there are only two ways things could go: all the way up, or inexorably downhill. Unfortunately for Gyamfi, he's falling into that second category right now. He seems sluggish and off the pace, and doesn't exactly look in the best physical shape. When your entire game relies on agility and acceleration, losing those traits stings badly, and that is Gyamfi's painful present reality, even though — turning 26 in two days — he is only just entering his prime years.
There is an argument in his favour, however, that persistent injuries have been the reason for his stagnating — even regressing — career. It's a risk all footballers run, especially those whose modus operandi tends to draw brutal tackles out of opponents, but Gyamfi bears the added burden of dealing with all that while trying to justify his leadership role in the team.
The pressure is building, and until he gets back to peak levels of fitness and form, disproving the critics — who, sooner or later, would be back in the stands to thrust the full force of their irritation at poor Gyamfi — will be nearly impossible.
Godfred Budu Yeboah — Ink & Kicks GH