It's easy to forget that there was a time when Asante Kotoko could hold on to its best players for years — even up to an entire decade.
These days, top performers do well to last a full season on Kotoko's books, and, for a fact, striker Kwame Opoku won't be reckoned among those exceptions.
Opoku, if you've been paying attention to the news over the last few days, is on his way to Algerian club USM Alger, for a deal that rewards him and Kotoko handsomely.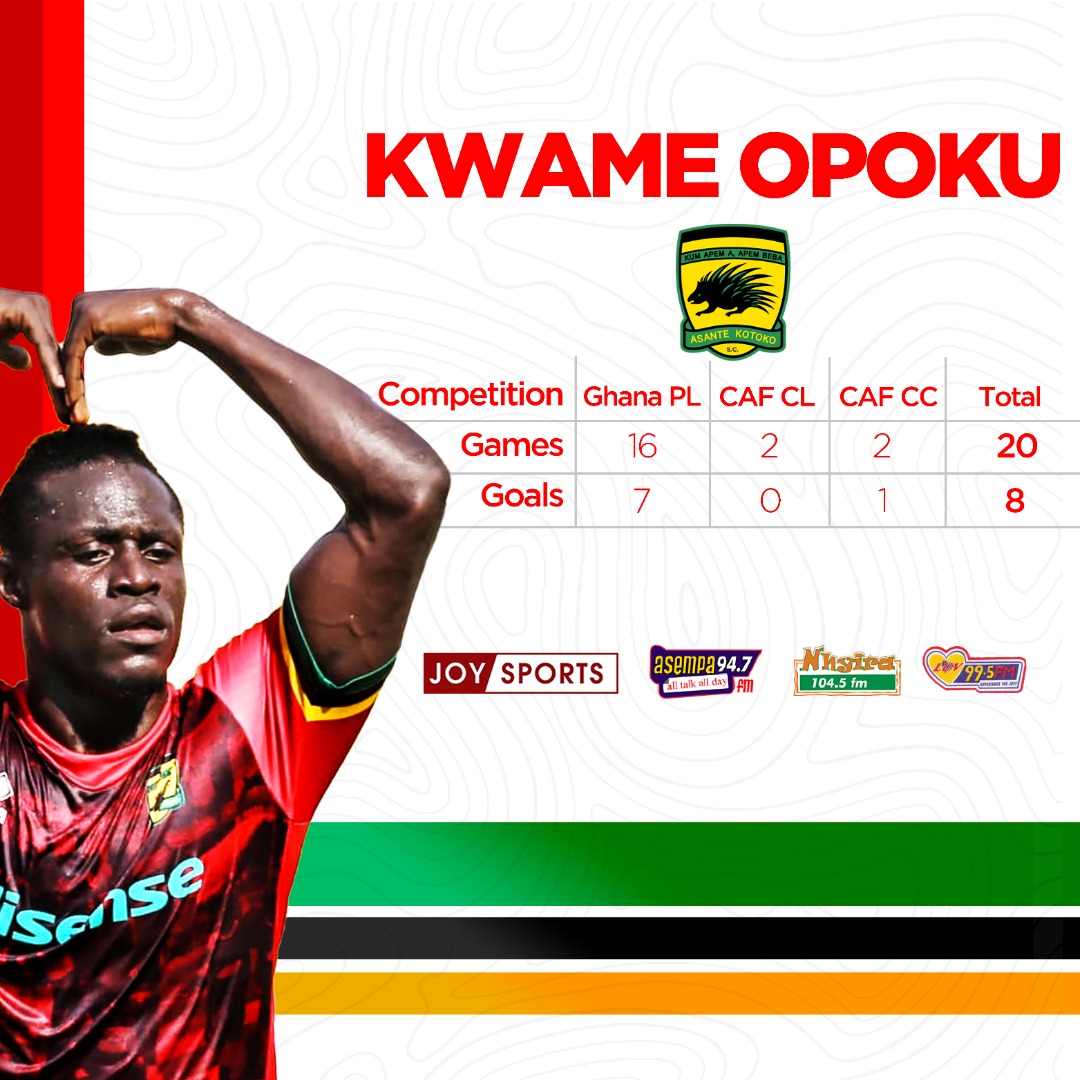 The decision to head to North Africa, however, doesn't appear to be Opoku's. Kotoko, a club drowning in overwhelming financial commitments, saw the chance to make a healthy profit on a player recruited for far less only about a year ago, and jumped at the offer.
Financially, Opoku's departure should pay off pretty well. Kotoko, it would seem, has hit the jackpot, raking in money it could certainly make use of right now. From a purely footballing perspective, though, the vacuum created is the last thing Kotoko needs.
See, Kotoko's fourth spot on this season's Ghana Premier League table rests on two pillars: the division's best defence, and Opoku's finishing. The latter has accounted for over half of Kotoko's 13 league goals; the next player on that chart, on two strikes, is a rather adventurous left-back.
On that front, then, Kotoko is struggling to compete with the rest of the field; only Inter Allies (bottom) and Liberty Professionals (next to bottom), enduring truly wretched campaigns, have scored less.
Opoku was arguably the most valuable attacker Kotoko had — the goose that lay the golden eggs, if you like — but Kotoko have cashed in on it, leaving the team a little lean upfront.
There is hope that young Osman Ibrahim can take up that leading role, but he is only just returning from injury, and hasn't yet settled in fully at the club (having spent much of the period since his 2018 arrival on loan).
Kotoko could also look to Naby Keita, whose winner against King Faisal last Wednesday — in what was almost certainly Opoku's farewell game — seemed to make a case for him as a viable alternative.
The Guinean import, though, can only be trusted to score with any regularity from 12 yards, yet even that reputation appears to have been dented somewhat by a costly failure to convert a penalty in Kotoko's most recent continental tie.
Oh, Evans Adomako?
Well, let's just say Kotoko would be better off looking elsewhere for answers.
Hitting the market with good money to spend could open up other options, but that guarantees very little. There aren't, after all, many in the top-flight capable of matching — let alone exceeding — Opoku's standards.
Of the handful who tick that box, Kotoko would have a hard time prising any away from their current employers — most of whom might actually consider Kotoko a direct title rival — halfway through this keenly contested season.
Kotoko might find a more willing seller among lower-tier clubs — from where it dug up Opoku's special gifts — but, even there, the Porcupine Warriors could run into a brick wall in pursuit of the player rumoured to be their priority target, Bofoakwa Tano's nine-goal striker Welbeck Takyi.
The Sunyani-based Division One League club's hierarchy doesn't appear too keen on doing business with Kotoko, and the record Premier League champions might want to quickly refocus on more realistic prospects, given that the mid-season transfer window closes in — *checks calendar* — exactly four days.
A failure to find some sort of solution to this headache, from within or without, could leave lots of cash in Kotoko's hands — and lots of egg on its face.
Enn Y. Frimpong — Ink & Kicks