Years after he retired from football, there is still a very strong case to be made for Abedi 'Pele' Ayew as, arguably, the finest footballer Ghana has ever seen.
He remains, after all, the only Ghanaian to win the African Footballer of the Year award more than once (thrice, in fact); and the first to win the Uefa Champions League, memorably contributing a match-winning shift to Olympique Marseille's 1993 final victory over AC Milan.
For the national team, the Black Stars, Pele was just as talismanic. An early highlight came in 1982 when — aged only 17 — he helped Ghana win its 4th, and most recent, Africa Cup of Nations title. In the 16 years between that triumph and his international retirement, Pele and his colleagues tried to replicate it — often finding himself at the fore — but the closest they ever got was in 1992 when, in a final that he missed, Ghana lost on penalties to neighbouring Ivory Coast.
Another 16 years later, one of Pele's sons, Andre 'Dede' Ayew, made his tournament debut for Ghana. Two more of the Ayew footballing stock, Rahim and Jordan, have also represented the Stars, but Dede has done the most in attempting to match the heights the older Ayew reached for the country; there is, actually, basis to believe that — even if his club career hasn't been as spectacular as his dad's — Dede is already on par with him.
His 91 caps are more than Pele racked up for the Stars, and Dede could well end up in triple digits — a realm only Asamoah Gyan (109), who Ayew succeeded as captain last year, currently occupies. And while Dede may never reach, or surpass, Gyan's record goal tally of 51, he is now Pele's equal on that count — two goals when Ghana hosted Sudan in last week's 2022 Afcon qualifier, both stunning, ensure that.
Those strikes, his 18th and 19th for Ghana, has the nation within touching distance of another Afcon appearance — Dede's seventh, potentially, and two more than Pele managed. He's yet to win it, yes, but he makes up for that with his presence at the Fifa World Cup: the one hole burning through Pele's rather glowing résumé.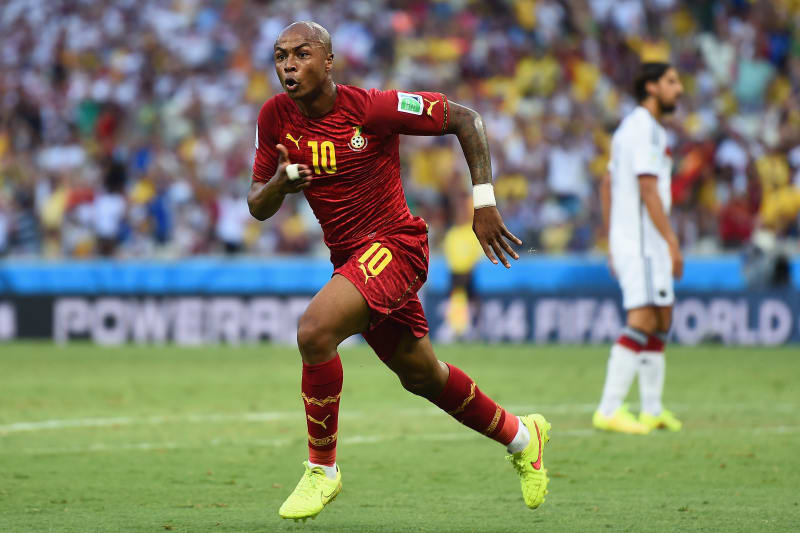 That's a career regret Dede certainly won't have, having appeared at two editions of the Mundial and scoring twice. He's even won a World Cup — if the U-20 title he skippered the Black Satellites to in 2009 counts. It's far more than could be said for the impact Pele made in Ghana's colours on the global stage; at the very least, it offsets Dede's deficit of having not yet conquered his continent at senior level.
Ghana's seemingly imminent qualification for Cameroon 2022 offers Dede a chance to definitely erase that disadvantage in this father-versus-son match-up, and if he does — as captain, no less — he will certainly edge past Pele.
For now, they're just about level.