It hasn't been so long, you know, since Mathew Anim Cudjoe was considered the hottest property in the Ghana Premier League.
The talented young forward, on loan at domestic giants Asante Kotoko from lower-tier Young Apostles, emerged as the revelation of the short-lived 2019/20 top-flight campaign, performing to the delight of the Porcupine Warriors.
Cudjoe's burst of pace gripped fans with excitement, and his sublime skills kept them on the edge of their seats. There was an adrenaline rush anytime he had the ball tightly glued to that magical left foot of his, flaunting his skills with flamboyance.
No platform was too big and no opponent too daunting for Cudjoe, as he demonstrated with aplomb when Kotoko took on archrivals Accra Hearts of Oak in January 2020, showcasing his rich talents as a second-half substitute. Whoever watched him — Kotoko supporter or not — couldn't help but do so in awe.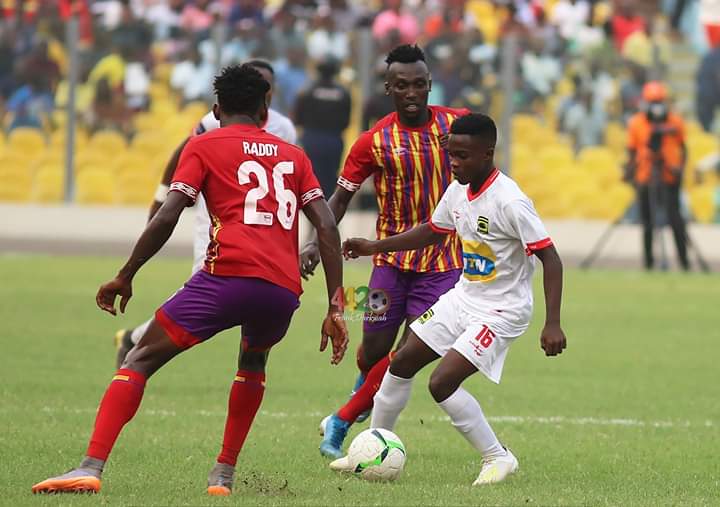 This was a player blessed with the special gifts of finesse, speed, superb technique and more — all at the tender age of 16. A low centre of gravity lent Cudjoe greater mobility and agility, allowing him to change direction quickly and evade opposing tackles with ease.
He hasn't suddenly lost all of that, following a permanent move to Legon Cities ahead of the current campaign, but Cudjoe's development has clearly stagnated. His start to life in the capital hasn't gone according to plan, failing to match the standards he set at the dawn of his career.
Cutting through the mass of hype that trailed his first few steps into professional football hasn't been easy, and Cudjoe appears entangled and going through the motions. He knows what he should be doing — or, at least, what he could do previously — but the ability to make that happen, to change a game, seems to have deserted him.
It's unfair to point the finger squarely at Cudjoe here, of course. A fact that easily gets forgotten, in the sea of sentiment stirred up by his glorious introduction, is the fact that Cudjoe is still a teenager.
Again, he hasn't been helped by Cities' present circumstances, with the team's poor standards — the reason why they have been battling the prospect of relegation all season — bogging him down. Cudjoe has, in fact, struggled no more than his teammates (most of whom are much more experienced) have.
It is hoped that once these guys — a prime example being Asamoah Gyan, Cudjoe's mentor and Cities' marquee signing — step up their own game, the young man would be dragged along, and his contribution to Ghana's recent U-20 successes suggests a stronger collective could work to his advantage.
Aided by the right factors — stability, care, and good health — Cudjoe could still flourish and fulfill the 'prophecies' he inspired only last year.
Godfred Budu Yeboah — Ink & Kicks