Some of the most defining moments in history, for better or for worse, couldn't have been foreseen.
Like the bad winds that aided 'little' England's destruction of the mighty Spanish Armada.
Like the United States of America dropping a pair of atomic bombs on Japan during World War II.
Like Alexander Fleming's accidental discovery of penicillin.
And like the events of May 9, 2001, when Asante Kotoko and Hearts of Oak — Ghana's biggest clubs — crossed swords for the umpteenth time.
For the best part of that game's duration, both sides had reason to cheer. Kotoko went a goal up on their opponent's turf, the Accra Sports Stadium, but Hearts — Africa's best team at the time — staged a late rally to lead 2-1.
And then, on this wet Wednesday night, all of it — the football, the fun, and human lives — was snuffed out, almost suddenly. Or maybe, as history suggests, it really wasn't so sudden after all.
SETTING THE STAGE
Kotoko's very birth was inspired by Hearts' brilliance. The Phobians, as Hearts are nicknamed, sparkled in their rainbow-patterned strips — first ordered from Manchester, England — and played football that was every bit as stunning during the sport's early years in Ghana (the Gold Coast, as it was then known).
In a 1924 game against city rivals Accra Standfast, Hearts excelled again and lighted up the eyes of spectators present. Two of those belonged to Kwasi Kuma, a young man who had come to see the game with the colonial army officer he chauffeured. Kuma left the venue as entertained as all else, but he walked away with much more: an idea, plucked from Hearts' 'oak' tree and nursed in his own homeland, Ashanti, later that year.
Kotoko — first known as Kumasi Rainbow (a not-so-subtle nod to Hearts) — was formed in Kumasi, a city that had always presented an anti-establishment front — first against British rule, and later in opposition to Ghana's immediate post-Independence government (both based in Accra).
You could say, then, that the two clubs were always on a collision course — a bit in the same way Spanish sides Real Madrid and Barcelona are. But it wasn't until much later, when Kotoko finally found a lasting identity after having shed their skin quite a few times, that Hearts drew into sharp focus as a rival. The final name adopted, that which they currently bear, came with royal patronage and prestige: Asante Kotoko, blessed by the powerful Ashanti monarchy and the porcupine that is its awe-inspiring symbol. Hearts, Accra's eminent club and Ghana's oldest, quickly took position as the enemy.
TROUBLED BEGINNINGS
Their very first league meeting, in August 1958, ended prematurely when hosts Kotoko seemed condemned to a 4-3 defeat, their fans 'saving' the day with a violent interruption. They couldn't save Kotoko from losing the replay in November of that year, however, but there was cause for celebration in the reverse: 4-2 to Kotoko, yet even that high-scoring encounter was post-scripted by another display of unbridled aggression.
Quite early on, then, the battle lines were drawn, and a 1978 game in Kumasi would provide a fatal illustration of how violence had become a signature of this rather remarkable fixture. Hearts had scored first through Bismark Odoi — long before he left for London and birthed to the world a certain Callum Hudson-Odoi — but Kotoko got a second-half leveler in a manner which so displeased the visitors. Hearts lost two men in the heat of the moment, but still braved the odds to secure a late winner. Even so, post-match happenings managed to reduce the result to a footnote, as a stampede broke out and left 16 dead. Twenty-three years and six days later, in Accra, similar circumstances would result in a much higher body count.
RACE FOR LIFE, RUN TO DEATH
In the period leading up to the ill-fated May 9 clash, tensions had been simmering, as Kotoko labored for the sort of success that Hearts heartily gorged themselves on, including four league titles on the bounce. And, as reigning CAF Champions League winners, Hearts were also booked to participate at the FIFA Club World Championship to be held later that year (the competition would be canceled on May 18, 2001), a platform Kotoko — twice African champions themselves, but never since 1983 — hadn't yet had a sniff of.
Even worse, only a year prior, Hearts had inflicted a humiliating 4-0 defeat on their archrivals, and Kotoko were losing it — literally. A mixture of desperation, contempt, and envy — quite an explosive cocktail — spilled over where healthy rivalry once bubbled up, and it all came to a head on this day, exactly two decades ago, with another defeat to their nemesis seemingly inevitable.
Africa had already seen some terrible stadium disasters. Overcrowding during South Africa's 'Soweto Derby', contested between Orlando Pirates and Kaizer Chiefs just a month earlier, had killed 43. Contributing, too, were poor methods of crowd control employed by the security personnel on duty at Ellis Park, as would happen in the Ghanaian episode, albeit on a much larger — and sadder — scale.
Ghana's would, in fact, go on record as the worst in the continent's history. Fans hurled chunks of plastic, ripped off the terraces' seats, onto the pitch in protesting against perceived biased officiating; the police, in response, fired tear-gas — lots of it — the other way. The ensuing race for dear life, for many, only proved a run to death.
It was a difficult night, soaked with rain and with blood, as anxious family and friends besieged the Ghanaian capital's major hospitals to find out which of the unconscious bodies — dead or alive — deposited there from the stadium were of a loved one.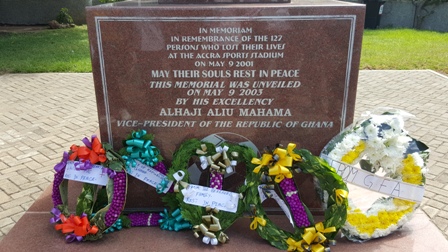 Abdul Mohammed was one of those victims, seemingly lifeless and strewn across the floor of one such morgue, moments away from being officially reckoned among the dead. At first glance, he did look the part — until someone, thankfully and unwittingly, stepped on Mohammed's foot to trigger a 'resurrection'.
"A lot of people were on top of me that night," Mohammed, ten years later, related to Goal.
"Blood was all over as people were crushed to death. I tried to force myself out, but my strength had gone. I didn't know how I passed out."
Not many were so fortunate; some 127 certainly weren't.
And not many were held responsible, either; only six, all police officers, were. In the end, after two years of standing on trial in a courtroom, these were acquitted and discharged.
"The fact that 127 people perished, grievous as that is, would not have been made any better if the senior police officers were unjustly punished for these deaths," defence lawyer Yoni Kulendi, now one of the justices of Ghana's apex court, told the BBC after a seven-member jury delivered the ruling.
A MISSING SOUL
Some of the best football, around the world, is played at night-time, and there had been a fair few Kotoko-Hearts games of that sort until the fateful incident; there hasn't been another since. It's a craving of fans on both sides, even neutrals, but — in the larger picture — that only seems a small luxury lost, for far greater costs have been incurred.
See, it wasn't just human souls that perished that day; the very soul of the rivalry did, too, never to burn as brightly again. In the ensuing 20 years, the two clubs have clashed on many occasions — including keenly contested domestic and continental cup finals — and some have been pretty intense, but there has always been a missing element, one that clearly didn't survive the horrors of May 9.
127, huh?
Make that 128.
Yaw Frimpong — Ink & Kicks