Even in a time of so little clarity about the future and what it holds, Ajax Amsterdam goalkeeper Andre Onana has a fair idea of how the next 12 months would play out.
But that's just the sort of certainty the Cameroonian would wish he didn't have, following news last week that Uefa's disciplinary body has banned him from playing for a year after failing an out-of-competition doping test conducted in October 2020.
It hurts, especially because — as Onana has explained and Uefa has acknowledged — the error that resulted in the offence was entirely accidental.
"I just want to clarify that everything was the result of human mistake," Onana wrote in a statement shared on Twitter.
"I mistook a medicine containing a substance banned by WADA for a simple aspirin. The medicine prescribed to my girlfriend and I mistakenly took it for an aspirin because the packaging was almost identical, which I deeply regret."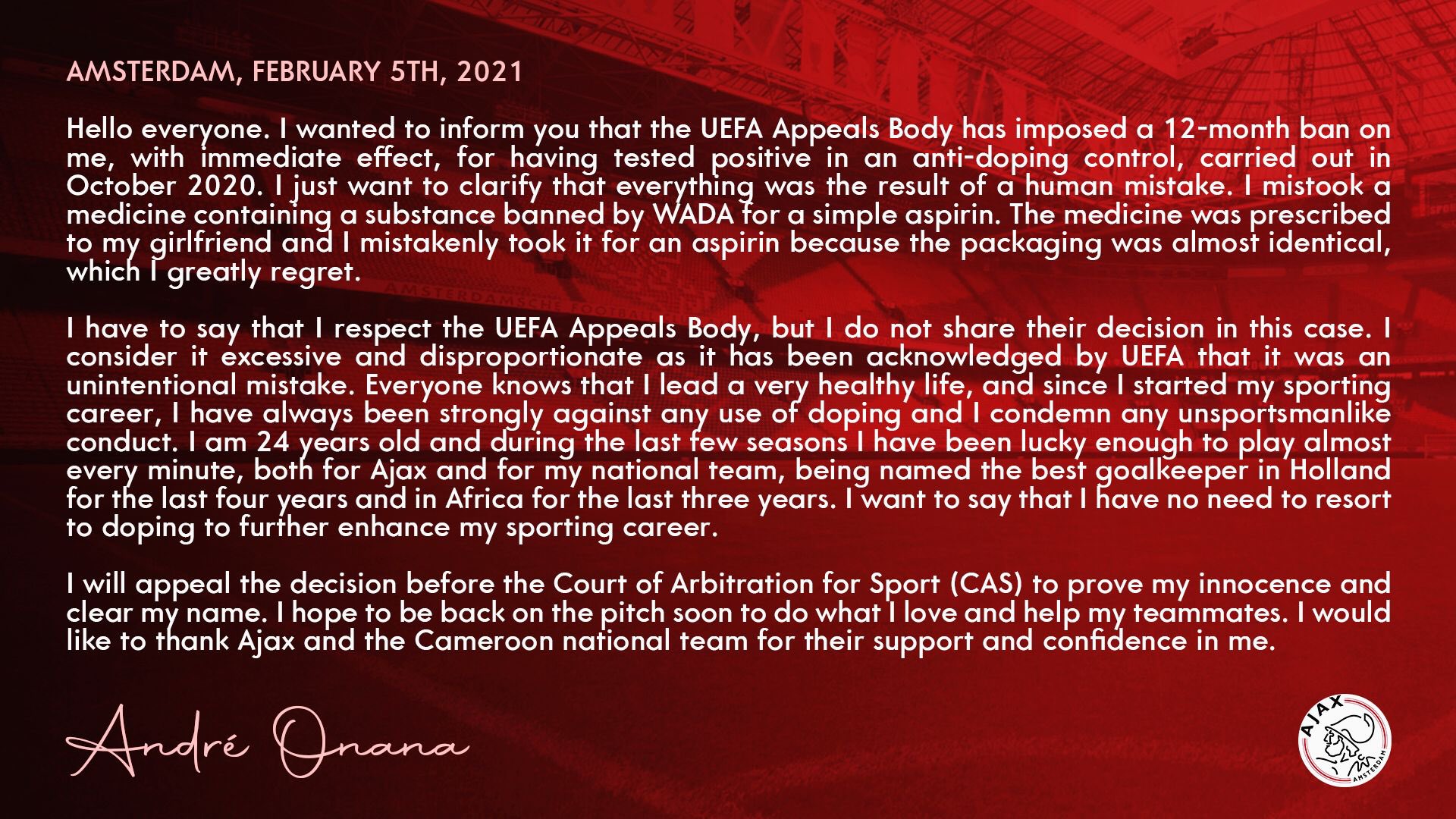 His club, too, lamented the development in a separate release.
"This is a terrible setback, for Andre himself but certainly also for us as a club," said Edwin van der Sar, a former Ajax goalkeeper himself and now the club's managing director. "Andre is a top goalkeeper, who has proven his worth for Ajax for years and is very popular with the fans."
Onana, aged just 24 and entering his best years, will feel this punch in his gut. Only last year was he eyeing a move from Ajax to one of Europe's bigger clubs; for a top goalkeeper like Onana — certainly the best in the Netherlands — those ambitions aren't misplaced.
An appeal at the Court of Arbitration for Sport (CAS) would, hopefully, be favorably heard; surely, intent — or lack thereof — should factor in determining what punishment is fitting, given the context.
But while the ban — however long it lasts — would set Onana's career back, and probably also stain his hitherto fine reputation, the young man isn't the biggest victim here; spare your deepest sympathies, instead, for the cause Onana has spent much of his time in Europe fighting for.
"We don't have a lot of black goalkeepers at the top and people already have in their mind that black goalkeepers are not confident or they make too many mistakes," Onana told BBC Sport in 2019, just around the time Ajax got unbelievably close to a first Uefa Champions League final in over two decades.
"It's something we have to change."
And that's just what Onana has been trying to do, with his impressive performances for I Lancieri. True, he isn't the only black guy minding goal for a major European club right now — Edouard Mendy at England's Chelsea is another, for instance — but Onana remains the race's, and his continent's, leading light; a light that is, for now, extinguished dimmed.
Over to you, Mendy and Co.
Enn Y. Frimpong — Ink & Kicks