There is a small, exclusive club — of players to have won the competition's Golden Ball and Golden Boot at a single edition — in the annals of the FIFA U-20 World Cup. Half of its members are Argentines you've probably heard of: Javier Saviola (2001), Lionel Messi (2005) and Sergio Aguero (2007).
Of the other three, one name you might readily recognize is Dominic Adiyiah.
Memories of Adiyiah, and his starring role in that great Ghana class of 2009, remain fond. Even in a side that had no shortage of glowing talent, Adiyiah shone brightest, not least because of the goals he scored with such mastery and regularity.
It's why, though not many from that Black Satellites side amounted to much in their later years, Adiyiah's failure to match that early hype – while not necessarily inexplicable — is so hard to fathom.
For many, though, Adiyiah's isn't the bitterest failed-to-make-it tale among his batch of ultimately underwhelming world-beaters. That distinction — however unpleasant, however arguable — goes to Ransford Osei, Adiyiah's teammate and strike partner.
Going into that tournament, Osei was — to the rest of the world, and certainly to Ghanaians — the more known quantity. Aged just 16, Osei had excelled at the 2007 FIFA U-17 World Cup for Ghana, and the quality of his output over those three weeks was captured in a picture taken on that final day in Korea.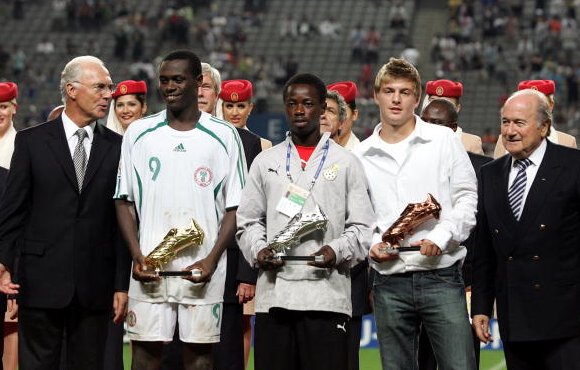 Smack-bang in the middle of that image – featuring a five-man line-up book-ended by German legend Franz Beckenbauer and FIFA president Sepp Blatter — is Osei, clutching a silver boot awarded him as the second highest scorer; right to his left stood a smartly dressed guy who looks a lot like Toni Kroos, a future winner of the FIFA World Cup proper and multiple UEFA Champions League titles.
Yep, that's the air — refined and rarefied – which Osei once breathed. He was, in fact, the only Ghanaian player who returned with any laurel from a competition where the Black Starlets finished just short of the podium.
Two years later, under the same head coach, Sellas Tetteh, Ghana would claim U-20 World Cup gold. Adiyiah, as mentioned at the outset, stole the show and swept the top individual honours, but Osei was no mere happy side-kick.
He got four goals of his own, had a hand in some of Adiyiah's eight, and was — to many keen, trained eyes — the better [and younger] striker, all-round.
Those who knew Osei were surprised that he finished as the less prolific of Ghana's young attacking duo (at the continental finals, only months prior, he had top-scored); those who really knew him weren't, because he was so much more than just a good finisher.
Doors, after the mist of confetti and champagne had cleared up, opened for the freshly minted champions. Both Adiyiah and Osei were already owned by European clubs — Fredrikstad (Norway) and Maccabi Haifa (Israel), respectively — but the former would experience the more spectacular leap, joining European giants AC Milan.
Osei's chances to play at a similar level had come much earlier, in the immediate aftermath of his U-17 exploits, and he tells the story — almost wistfully — of how he nearly ended up on the books of, first, Real Madrid (alongside fellow World Cup winner Daniel Opare, who actually secured the deal), then Manchester City (in the very year Emirati owners arrived).
Still, Osei wouldn't remain in his homeland much longer, after receiving a call that had the potential to open new doors. It was from Pini Zahavi, the [in]famous football super-agent, who was interested in having the young man as a client, and in bringing him to Haifa, a club Zahavi had close ties with.
Given that it was Zahavi who brought Nigerian Yakubu Aiyegbeni to England's Premier League, via a similar route, Osei might have harboured reasonably high hopes of getting to the top someday — even to Chelsea, a club taken over and transformed by Russian oligarch Roman Abramovich, with no little assistance from Zahavi.
Instead, months later, Osei was sent on loan to Dutch side FC Twente — just around the time they were enjoying a purple patch, becoming Eredivisie kings under Englishman Steve McClaren — and, from there, everything headed pretty much in the same direction as for Adiyiah: tragically, irreversibly south.
Osei, like most of football's lost boys, became a wanderer, joining any side anywhere in the world willing to offer him a stint on the basis of what he had once been: Granada (Spain), Bloemfontein Celtic and Polokwane City (South Africa), Asante Kotoko (Ghana), RoPs (Finland), and FK Palanga (Lithuania).
Those moves were interspersed with spells of clublessness, and Osei had been unattached since 2018 (Adiyiah, at least, still has a job playing in Thailand's second-tier).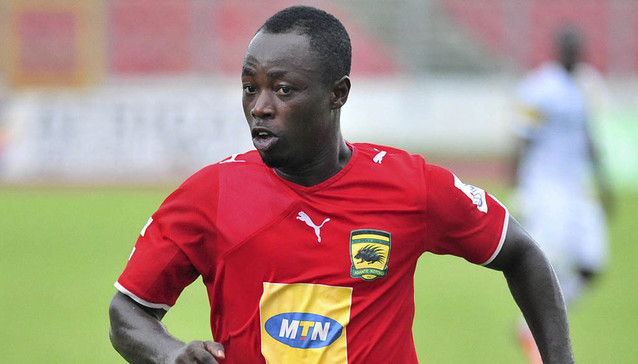 This week, it all came to an end – officially – for Osei.
His is a career that could have been far more special, but for injuries and "personal issues" and what he perceives as unfair treatment by Ghanaian football authorities — for which reason(s) not many of his countrymen would even recall ever seeing him play for the senior national team (he did, actually, but only briefly).
Ghana hasn't produced many extraordinarily gifted forwards — on these streets gritty defenders and witty midfielders are far more indigenous species — and Osei (to an extent, too, Adiyiah, but his own 'obituary' would be penned later) appeared to be of that rare breed.
Somehow, though, he thoroughly under-delivered on that promise — to his own disappointment, surely, and also to ours.
Enn Y. Frimpong — Ink & Kicks