Winning, like love, covers a multitude of 'sins', and it is generally accepted wisdom in football — unless you really care about the aesthetics of the sport — that securing a result is worth far more than the means of doing so.
It's why Ghanaians were urged to get over the fact that the senior national team's display last Friday against Ethiopia in their opening group game of the Qatar 2022 qualifiers was so abject that the lone-goal victory achieved felt lamentable.
"The great teams in history are remembered for winning, not playing well," Richard Ofori, the Black Stars' regular goalkeeper and one of the team's captains, reminded us all at the press conference that preceded the next qualifier, away to South Africa three days later.
But, you see, there's another thing that history doesn't very easily forget: goalkeepers who put in a stinker — never mind on a pitch, and against players, they should be accustomed to.
Ofori's hands have largely held firm, to be fair, since he rose from Ghana's Afcon 2017 ruins to grab the starting berth in goal, but he didn't exactly cover himself in glory on Monday at the FNB Stadium.
Twenty-five minutes in, the 27-year-old attempted to punch clear a Percy Tau freekick but only managed to knock out a teammate, having failed to communicate his arrival on the scene as well as a top goalkeeper should.
Not very long thereafter, what — minus a little bounce just in front of him — should have been an effortless catch from another freekick was botched, the ball cannoning off Ofori's hand into the path of a Bafana Bafana player who failed to take advantage of the rebound.
And then came the real clanger of the evening, shortly after recess. Ofori saw a cross come all the way towards him and positioned himself for an easy catch — only to have the ball slip cleanly through his arms and legs.
Had Baroka striker Evidence Makgopa, to whose feet the ball then fell, managed to steer it over the line rather than just wide, South Africa-based Ofori wouldn't have enjoyed his sleep last night.
In any case, he must have gone home with some discomfort, having picked up a knock with a quarter of an hour to go, and was subbed off; his first-choice back-up, Lawrence Ati-Zigi, came on and had the misfortune of conceding the only goal of the match late on.
With no victory — or draw, which might have been acceptable in the circumstances — to mask all that was atrocious about the performance, Ghana's 'sins' were laid bare, and those seeking a boost in Johannesburg after the previous game's mediocre showing would only have been left more deflated.
Even in a game that had few clear-cut chances, and which saw both teams display the sort of attacking cluelessness that shouldn't be endured at this level of international football, Ghana's ineptitude further up the pitch was still rather shocking — but, perhaps, only to those who hadn't yet seen the team play under current head coach Charles Akonnor.
Push to one side the 5-1 mauling of Qatar in only his second game at the helm, and to the other side the hardly meaningful defeat of Sao Tome and Principe in a dead rubber at the back-end of Ghana's Afcon 2021 qualifying run, and what remains of Akonnor's work doesn't look too good.
Heck, even the arguments that might have been made in Akonnor's defence don't seem so valid anymore: the claim that the COVID-19 pandemic severely limited the former Ghana captain's business in his first few months at post gets nullified by the fact that he's now had a much longer period to make an impact (and made precisely none); that he's not had key players like Thomas Partey and Mohammed Kudus for some games is rubbished by how little he's managed to accomplish when he's had them.
The public outcry isn't necessarily over the fact that Akonnor's Ghana tends to grind out results. We've been through a phase like this in the not-too-distant past, after all, when Milovan Rajevac's team of the late noughties — the 2010 vintage, notably — made a habit of operating along very fine margins.
And yet Ghanaians still look back on those days with much fondness, holding dear memories of a team that so very often won narrowly yet excited very much with football that made you want to pay attention for 90 minutes (or more, if required).
That, if it's not clear to Ofori and Co., is the problem here: they neither excite us nor grab our attention.
The typical Ghanaian football fan is a connoisseur (or so he likes to think), with an appetite for a sumptuous dish based on a recipe learnt from the Brazilian masters of old and spiced with a distinct local flavour: you could call it 'Agoro-ball', the very thing Akonnor promised us when he first took charge but has failed to deliver.
He has succeeded in shaping the team's defensive identity to an appreciable extent, yes, but everything else appears to have been left to chance, in a manner that often reflects poorly on the players. Even worse, when the admittedly depleted side he put out against South Africa failed to bag the solitary point it seemed constructed for, Akonnor appeared to pin the responsibility solely on the players.
"Today, I must say I am a little bit disappointed," he said afterwards. "I don't want to be hard on them, but those who were given the chance didn't really take it and it somehow affected our play."
Here he was, singing Shaggy's It Wasn't Me — rather than the more fitting Sorry, Blame It on Me by Akon.
What Akonnor conveniently left out — not that I was expecting him to admit it, anyway — was the fact that some of those players had been thrown in at the deep end, handed maiden competitive starts against such a high-profile opponent, and/or been played out of position (again).
With a heavy heart, then, it has to be conceded at this point — even by those, like myself, who once believed in Akonnor's abilities — that this project isn't working, and that any who still expect it to yield worthwhile returns would be better off hoping that the legendary Komfo Anokye returns with the long-sought key to immortality.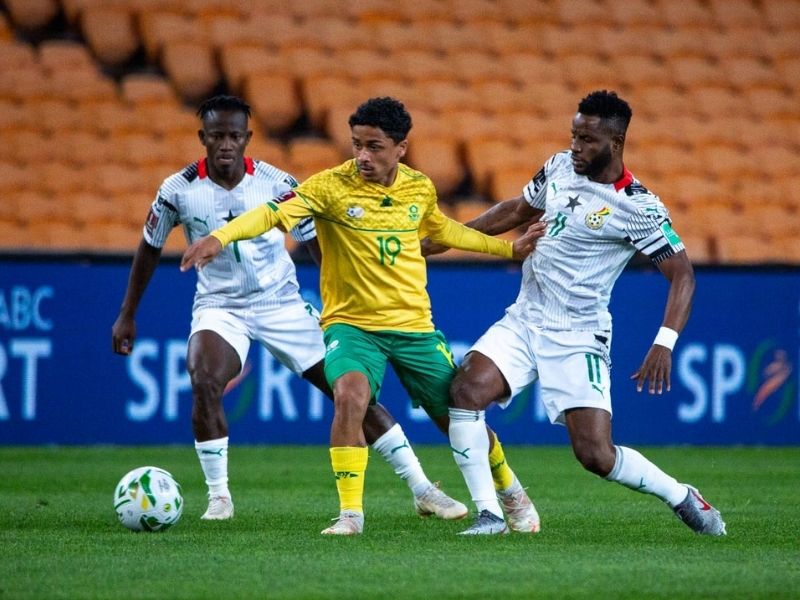 The next five months would be decisive for the Black Stars and their fans, and Akonnor's continued stay would likely only result in an extension of the wait for a fourth Fifa World Cup appearance (to 12 years) and for a fifth Afcon crown (to 41 years).
The sensible move now would be to hand the reins to someone more capable while there is still something to salvage — Ghana are currently second in Group G, a point behind South Africa, but could rank lower by the end of Tuesday — and possibly before next month's World Cup qualifiers kick in.
It's a risk record African champions Egypt have dared to run this week, following the disappointing home draw with Gabon on Sunday. Hossam El Badry got fired after just 10 games — same number as Akonnor thus far, but with a better win percentage and fewer (zero) losses — having left fans and the Egyptian FA unconvinced by the quality of his post-Afcon 2019 rebuild.
It's that boldness the Ghana Football Association (GFA) must emulate, if the Black Stars are to stand a chance of achieving their short- and long-term goals. Akonnor's team now runs on fumes and hope, leaving Ghanaians fuming and running out of hope.
It's time to make that call.
Yaw Frimpong — Ink & Kicks