From the very start, Ghana and South Africa only had eyes for each other.
Ethiopia and Zimbabwe were the other teams in Group G of Africa's 2022 FIFA World Cup qualification series, but both would have admitted that the pair mentioned in the first sentence of this article had the best chances of advancing.
That script is playing out quite accurately thus far. Any fanciful hopes that Ethiopia and Zimbabwe might have entertained of pulling off a shock have faded and, even with the end of the group phase still a couple of games away, neither is in contention to make any further progress.
South Africa, leaders, and Ghana are separated by just a point, having quickly gone from sizing up each other from afar and craving an embrace to the old flames not being able to get their hands off each other — ugh, everyone seemed to say, get a room, guys.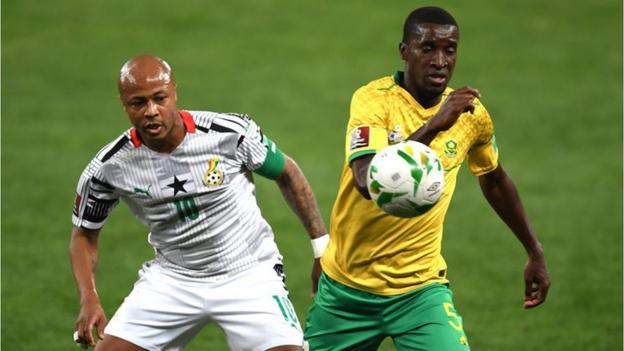 They've booked one for November 14, and things are expected to get quite steamy and intense in an encounter that — with all the makings of an epic — would determine which team ultimately makes it out unscathed, while promising a treat for neutrals.
Unless…
Well, unless that potentially decisive game has its juice drained, reduced to a dead rubber, by results in the penultimate round of fixtures. The key to doing so would be in the hands of third-placed Ethiopia, when they host Ghana on Thursday.
You'd think Ethiopia have already done enough. The country has stoked, even if unwittingly, the fire between Ghana and South Africa by choosing the latter as venue for their last 'home' game. Now, though, they could quench that blaze before it really flares up.
That would require, first, that Ethiopia beat Ghana in Johannesburg, followed by a South Africa victory over neighbours Zimbabwe six hours later and some ten minutes away. Those complementary outcomes would leave the Black Stars, even if they triumph on the final matchday, a point short of their target.
Should Ghana take anything off Ethiopia, however, South Africa would certainly be within reach; a win for Ghana and a loss for Bafana Bafana would, in fact, see Milovac Rajevac's team go top, holding all the aces ahead of that anticipated grand climax.
To Ghana's advantage, they have Ethiopia's number — victory in every competitive game between the countries at senior level, without conceding, a record that goes back to their first-ever meeting in 1963 — and, with two wins from their two games under Rajevac, are on a good run.
Still, it is the Walias that have nothing to lose. And it is they that, with just their second win in the group, could take South Africa tantalisingly close to the finish line and halt Ghana's charge.