Gabon and Ghana had just played out a draw in their second Group C game at the ongoing Africa Cup of Nations (AFCON), 1-1 the score, but most observers wouldn't have known it. One team and their spectators were jubilant; the other set was dejected, even furious.
And Ghana, the camp with fewer reasons to smile, saw their bitter emotions spill over into something unseemly, sparking a scuffle that would see striker Benjamin Tetteh get sent off in absentia, having excused himself in the immediate aftermath of the offence, long before referee Lahlou Benbraham could identify the culprit and deliver the verdict.
It was Tetteh's singular act of note after coming on as one of head coach Milovan Rajevac's late substitutes; with so little time to make his presence felt in what remained of the game following his introduction, the Yeni Malatyaspor man released all that pent-up energy post-match, square in the face of Aaron Boupendza (Gabon's match-winning hero in their opening game).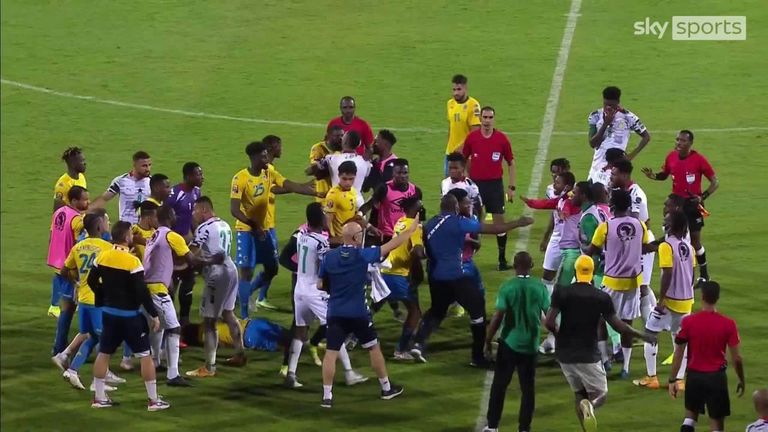 You could be almost certain that the conversations that would follow in the dressing room, continuing in the team bus and in hotel suites, wouldn't be carried out merrily. Ghana's contingent would be quite upset with their opponents and, if they're really honest, also with themselves for losing their grip.
The mood couldn't have been more different at half-time, when the Black Stars led by a spectacular — say that twice, slowly — goal by veteran Andre Ayew, who seized yet another chance to underscore his relevance in this very youthful set-up.
Gabon, denied the gifts of Pierre-Emerick Aubameyang and Mario Lemina by after-effects of COVID-19 infections, seemed as ordinary as they were in their opener, and looked like they were there for the taking. Ghana had the ammunition, and also the momentum, to secure the result in the first half, but there was every confidence that they could yet do so after recess.
Again, though, we saw what we've already seen in quite a few games during Rajevac's second coming: Ghana going in front but, rather than pressing forward to squeeze the life out of relatively weaker opponents, opting to see out victory by such slender margins.
That level of urgency, diminished and then drained, was the reason why Ethiopia managed to hold Ghana in the penultimate Qatar 2022 group stage qualifier back in November; a sharper, more clinical South Africa might have been able to do same in Ghana's very next game. In earlier fixtures, against Zimbabwe, Rajevac's team had gotten away with an identical tactic.
Gabon, on Friday night, ensured that the Black Stars weren't so fortunate again, with Jim Allevinah snatching a late leveler — albeit under circumstances that got the Ghanaian team incensed enough to provoke the melee described at the outset.
What ultimately saw Ghana come unstuck, though, wasn't Gabon's apparent preference for gamesmanship over sportsmanship, or the individual errors on Ghana's part that saw chances to widen the lead spurned, or even the momentary lapse in concentration during that late passage of play which allowed Allevinah to drive a dagger through Ghanaian hearts.
It was, instead, Rajevac ceding the initiative in an attempt to maintain control and, in the end, losing even the latter. A similar narrative played out in Ghana's opening group game, when a hesitance to push for more saw the Black Stars lose — courtesy of another late goal — to Morocco.
Rajevac may be no vampire, but an appetite for fresh blood — and he had lots of that on the bench, in the likes of Abdul Fatawu Issahaku and Maxwell Abbey-Quaye — never ruined any coach's plans, especially when there were wearied legs and minds all over the pitch begging to be relieved.
For the second consecutive game, anyone could see that Ghana was in need of a change or two, mainly in attack where the team's bite had gone blunt; heck, even the commentator was concerned enough to throw in a hint at some point.
Perhaps, though, Rajevac wasn't getting such wise counsel from his supporting technical staff; or perhaps he was, but he may not have been — for reasons best known to himself — so inclined to pay heed, eventually leaving Ghana with just one more game with which to attempt sparing themselves a first first-round exit since 2006.
That last chance saloon would come against a Comoros team that has battled bravely, even if vainly, in its first two group games. Gabon only beat them by the odd goal, while resolute defending — especially by goalkeeper Salim Ben Boina — limited Morocco to just the two scored earlier on Friday.
It is telling, though, that even for an assignment against a side that has already been eliminated, Black Stars captain Andre isn't exactly looking to Ghana's technical leadership for inspiration.
"We are Ghana," a visibly upset Andre said after the defeat. "We are going to win the last game and go through, Insha Allah."
Yep, you heard right: Ghana would be counting on a combination of its waning reputation and divine providence to overcome an opponent so lowly. That, from the Al Sadd man, was anything but the rousing talk you'd have expected from the leader of the pack. 
It sounded, for want of a more appropriate word, hopeful.
Still, that hope would hinge to a significant extent on Rajevac doing what he's paid to do, or at least showing some willingness to do just that. If his latest response to the why-hold-your-cards-till-it's-too-late question is anything to go by, though, don't hold your breath.
Losing to Morocco wasn't the end of the world, you see, and neither is this equally deflating draw with Gabon. But failing to deliver what is required against Comoros — three points that would give Ghana a fighting chance of keeping their campaign alive for, say, one more round? — would be as close to doomsday as the Black Stars would ever come.
And for Rajevac, particularly, that would almost certainly spell the end of his association with Ghana. It's a personal — and national — disaster the Serbian could well avert, but only if he wants to.
Does he?
Yaw Frimpong — Ink & Kicks