On November 11, Ethiopia take in their penultimate Group G qualifier in the race to reach the 2022 FIFA World Cup. The Walias are already out of that race, however, and they'll be only as familiar with the designated venue — the Orlando Stadium in Johannesburg, South Africa — as their 'guests', Ghana.
Ethiopia have been banned from playing international games at their preferred grounds, the Bahir Dar Stadium, and the location of the new venue has stirred up no little controversy.
The Ghana Football Association (GFA) insists that the choice made would play right into the hands of South Africa, a country with which Ghana is now in direct competition for the right to progress. But South Africa insist that the opposite is, in fact, true: Ghana, at least per the reasoning of Bafana Bafana coach Hugo Broos, would have any advantage that might be had.
Here at Ink & Kicks, we found the debate too tempting to resist, and so two of our writers jump on it below.
ADVANTAGE SOUTH AFRICA
Any benefits that Ghana might derive from playing Ethiopia on the Orlando Stadium's fine playing surface is likely outweighed by the advantage that the hosts — South Africa, that is — stand to gain.
Bafana Bafana might be engrossed in their own battle with neighbours Zimbabwe on the same day Ghana take on Ethiopia, but they'd want to monitor proceedings in the other game — not a very difficult task, is it, now that both matches are being held in Johannesburg?
And maybe they'd be tempted to do more than merely 'monitor'. This, after all, is African football and, unless we want to pretend, it is a well-known fact that visiting sides — especially those perceived as a particularly dangerous threat — are often subjected to underhanded, frustrating tactics by their hosts.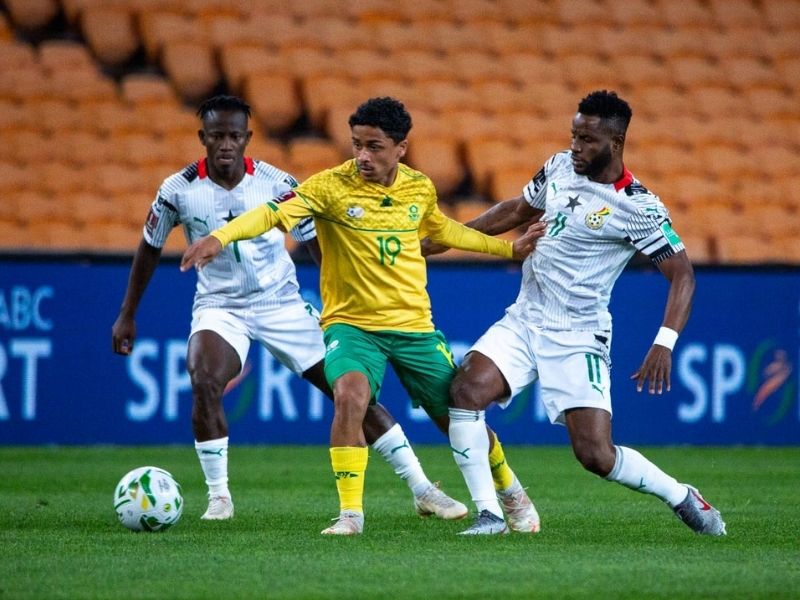 Speaking of threats, there is none more dangerous to South Africa's chances of reaching Qatar 2022 right now than Ghana, with the two teams set to go head-to-head on the final matchday just days later, as the battle for Group G's single qualifying slot heats up.
With so much at stake, then, it wouldn't be beyond South Africa to try to exploit the opportunity unwittingly handed them by Ethiopia, even on what is supposed to be neutral territory; how they might seek to do that is anyone's guess. In the end, South Africa — not Ghana or even Ethiopia — could be the big winners here.
GHANA'S GAIN
Away games in African football are daunting assignments, even in these times when there aren't many — or, in some cases, any — fans to create the usual hostile and intimidating atmosphere.
For a national team like South Africa, accustomed to playing in world-class stadia and on pristine pitches, such trips — to countries that often don't offer anything remotely close to such standards — are hardly fun, posing a challenge difficult/impossible to overcome.
It was that bad when they visited Ethiopia early last month for a third group game in the Qatar 2022 qualification series. Bafana Bafana found the Bahir Dar Stadium's pitch far from ideal, but still managed to grind out an impressive 3-1 win.
It would have been interesting — never mind fair — to see how Ghana fare in such challenging circumstances, but with Ethiopia moving the game to South Africa — where the turf is terrific, not terrible, and the football consequently tends to be more fluid — the Black Stars would be spared that particular trouble.
That provides no guarantee of victory, of course, and the western African country's football authorities don't even think it is any gain at all, but this much is certain: Ghana do have a better chance now, however marginal, of beating Ethiopia than the South Africans did.
Victory, if achieved, would bring its own psychological boost ahead of the final, decisive match. It's very much a win-win situation for Ghana, should trainer Milovan Rajevac make the most of it.
Source: Ink & Kicks