The list of potential winners of the 2021 Ballon d'Or is still officially 30 men-long, but there are no prizes for guessing which players will be at the forefront of the minds of those who'd have a say in picking the eventual winner.
For most of these, the hype trains are already at work and in motion, advancing their respective cases. It goes without saying that such publicity — often orchestrated — does go a long way in the final analysis, regardless of the magnitude and magnificence of a player's body of work in the year under review.
If there is any contender whose achievements aren't being trumpeted or amplified enough, though, it's Liverpool's Mohamed Salah. The Egyptian is as underrated as elite footballers come, despite all that he has achieved since his arrival on Merseyside in summer of 2017.
It was in that first season at Liverpool that Salah first courted global recognition, breaking the record for most goals in a 38-game Premier League season (32) and returning Egypt to the FIFA World Cup stage for the first time in nearly three decades.
But Liverpool's failure to secure a major trophy that year — despite reaching the UEFA Champions League final — and Egypt's sub-par performance at Russia 2018 weeks later meant that Salah, despite tallying over 50 goals for club and country up until the year's Ballon d'Or was handed out, missed out.
It didn't quite explain how he only finished an outrageous sixth, though, and the hope was that Salah would get closer to the gleaming prize the next year. He did, moving up to fifth (but still behind Liverpool teammates Virgil van Dijk and Sadio Mane), as Jurgen Klopp's team atoned for the previous campaign's anti-climax and won a sixth European title in Madrid.
True, his numbers weren't as spectacular as the previous season's, and Liverpool had a couple more stand-out players, but Salah's standards remained reasonably high. That much stayed true in the following season, when Salah's 22 goals helped inspire Liverpool to end a long wait for Premier League glory.
Where that feat might have elevated him to with respect to the Ballon d'Or, well, we'll never really know as the COVID-punctuated season across Europe saw the award scrapped for 2020 — even if there was a general consensus that Robert Lewandowski's stellar year for Bayern Munich would have made him a shoo-in.
Which brings us to 2021, when Lewandowski is still firing for fun, Chelsea have a double European champion in Jorginho, Karim Benzema continues to carry Madrid's goalscoring burden so admirably, while usual customers Cristiano Ronaldo and Lionel Messi hope to kick on with their domestic top-scoring feats from last season — in Italy and Spain, respectively — and keep their wheels going despite stuttering starts at their new clubs, Manchester United and Paris Saint-Germain.
And yet, amid all that, Salah shines.
In the absence of any significant PR work on his behalf — his club manager and teammates are doing what they can, but what's that compared to the well-engineered press machinery at some other clubs? — Salah's feet have done the talking quite loudly, given the flying start he has had to 2021/22.
Salah has topped his 31 goals from Liverpool's underwhelming 2020/21 with 15 from 12 games in all competitions this season — sprinkled with five assists — and, even in a campaign still so young, broken some records already.
He's now Africa's all-time top-scorer in Premier League history, Liverpool's all-time Champions League top-scorer, and his run of netting in all of Liverpool's last 10 games — also a club record — was achieved with a hat-trick in Sunday's historic mauling of archrivals United at Old Trafford, the first visiting player to do so since two-time Ballon d'Or winner Ronaldo (who also happens to be on the Benzema hype train). He outscored three Premier League clubs in his maiden season as a Red; this term, he's outscoring seven, with Arsenal — on 10 goals, like Salah — labouring to keep up.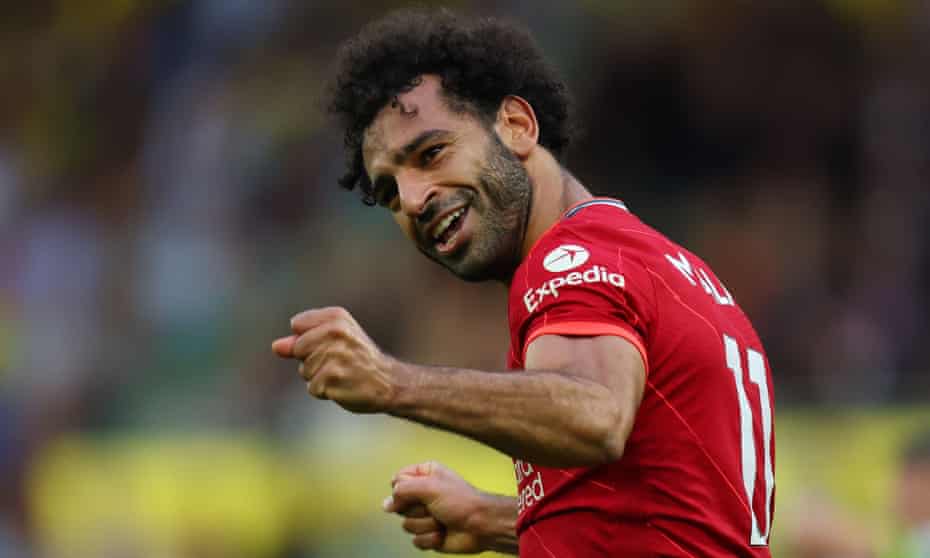 Of course, it is not an easy thing to win the Ballon d'Or without having some piece of silverware to boost your argument; the last man to do so was Ronaldo, back in 2013, and quite a few eyes were rolled on that occasion. Per that criterion, then, Messi (Copa del Rey, Copa America), Benzema (UEFA Nations League), Lewandowski (Bundesliga and, if you feel so inclined as to add it, last year's Sextuple), and Ronaldo (Coppa Italia), Jorginho (Champions League and European Championship) all have such leverage.
What Salah has on them — save, perhaps, Lewandowski — is recency bias (and there is no shame in that when pretty much every other bias counts in the favour of the other leading contenders), as he's stepping up and shifting up through the gears as the November 29 date draws near. The stunning goals against Manchester City and Watford are all fresh in the memory, as is the red-hot form that currently has Salah as the toast of the world.
Even in a league that supplies almost half of this year's candidates, including a five-time winner, there can't be any doubt about who the Premier League's best chance of a Ballon d'Or winner — potentially the first to win it while playing exclusively in the division since Michael Owen (2001), the first Liverpool recipient in two decades, and the first African after the legendary George Weah (1995) — is at the moment.
If anyone is short on confidence, it definitely isn't the man himself.
"You can still win the Ballon d'Or in your 30s," Salah said after the United game, "hopefully this season I can win it."
And if he does, some seven months before he turns 30, not many voices would be raised in dissent.
P.S.: Ballon d'Or voting, according to a GFFN tweet, ended on Monday, October 25.
Yaw Frimpong — Ink & Kicks