Milovan Rajevac won't forget his first Ghana debut, back in August 2008.
It was just a friendly, and against a Tanzanian national team that has never been considered an African giant, but neither fact could erase the lasting memories Rajevac would have of that game.
An outing intended to afford Rajevac a first glance at some of the materials at his disposal saw Ghana forced to claw back a late equaliser, secured by the unlikeliest of its players on foreign ground.
With less than 10 minutes to go, the Black Stars, desperate to ensure their new Serbian trainer's tenure didn't start on a losing note, were awarded a freekick in their hosts' half.
And as Laryea Kingston, as close to a set-piece expert as Ghana had at the time, prepped himself to take it, he saw his elder brother, goalkeeper Richard Kingson — then unattached, after being released by freshly relegated Birmingham City, but soon to be signed by Wigan Athletic — run up from his box towards Tanzania's.
There was, as always in such situations, the risk that Kingson wouldn't be able to get back fast enough to protect his goal if his — and Ghana's — bid to score from that freekick failed and backfired, but there really wasn't much to lose here.
Just a friendly, right?
So Kingson picked a spot in the 'D', slowly drifting into the box itself as Kingston floated the ball in a direction this very familiar yet very unusual target could have a chance of connecting with.
And Kingson did connect, precisely and powerfully enough to give his opposite number little chance of keeping it out; the celebrations that followed, needless to say, was a bit wilder than you'd ordinarily expect — this, after all, was no ordinary goal.
We didn't know it then, but grinding out results like that or doing just enough to get the job done — the one-goal project, they called it — would define Rajevac's two-year reign, albeit with the goals often coming from less surprising sources.
But while that approach was risky, almost as though Ghana walked a tightrope in one game too many, Ghanaians gradually bought into the idea. It helped that, for all the narrow margins and directness Rajevac's team regularly operated with, the football was cooked with a flavour that was distinctly Ghanaian.
***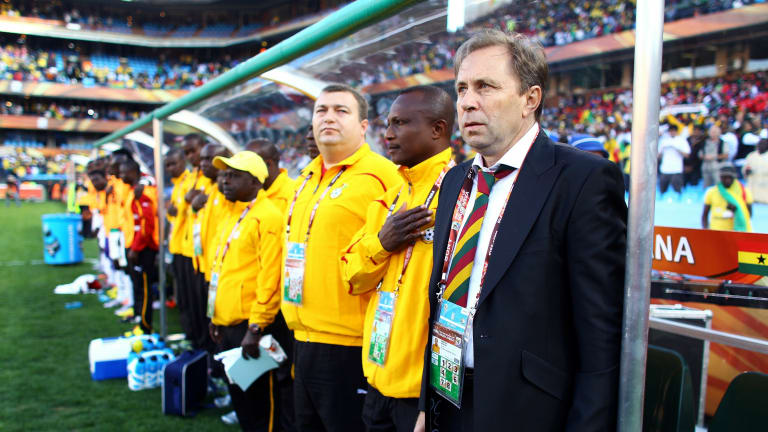 Rajevac had taken charge of the Black Stars as the country sought to recover from the heartbreak of failing to win an elusive fifth Africa Cup of Nations title, in 2008, despite hosting the competition.
They'd come agonisingly close under Frenchman Claude Le Roy, but only had bronze from a hard-fought third-place game to show for their lofty ambitions and intense exertions. The less heralded Rajevac came in, picked up the pieces, and transformed Ghana into the envy of its continental peers and the toast of the world.
He impressed by qualifying Ghana for the Nations Cup and the FIFA World Cup of 2010, but it was at those tournaments that Rajevac's finest work was done, in what would amount to the best seven months in the Black Stars' modern history.
Rajevac rallied a Ghana team shorn of some of its biggest names, but brimming with youth and potential, to the country's first AFCON final since 1992 and lost only narrowly to record champions Egypt, at the beginning of 2010.
By the middle of the year, at the World Cup in South Africa, the Black Stars had been elevated to a much higher plane — cloud nine, or thereabouts — and were cruising en route to making unprecedented history.
Four years prior, Ghana had made a big splash on its World Cup debut, under the technical leadership of Ratomir Dujkovic, Rajevac's compatriot. The Black Stars reached the Round of 16, quite impressively, but anyone could see that they were capable of more — so much more.
That was delivered at the 2010 edition by Rajevac. The Black Stars went a round farther, and could well have gone all the way, but for an incredulous set of circumstances that bookended their fateful quarter-final clash with Uruguay.
When the gloom of that dark night in Johannesburg cleared — and, oh, it did take a while — the popular belief was that this team, exuberant and captivating, still had a ceiling to reach.
***
Rajevac, though, wanted no more part in that ascent.
His work here, he believed, was done. After blending the best parts of Ghana's old guard with the 2009 class of U-20 world champions, creating something quite special in the process, Rajevac felt he had taken the team as far as he could — or, rather, that his talents deserved to be rewarded more handsomely.
His stock had risen considerably — crowned Coach of the Year by the Serbian FA and the Confederation of African Football (CAF) — and Rajevac found the temptation to move on irresistible, certainly not with all the Gulf money being thrown his way. His relationship with Ghana was over, even if the love still ran deep, and Rajevac refused to extend his contract.
A day after leaving, he took up an appointment with Saudi Arabian club Al-Ahli, before changing jobs again in February 2011. Remaining in the region, Rajevac was assigned oversight of the Qatari national team, as the country began to build its footballing profile ahead of the 2022 World Cup it is due to host.
But Rajevac was out by August of the same year, and his next job didn't come until another five years had passed, when Slovenian side Rudar Velenje offered him a managerial position. He accepted it, only to vacate the seat less than a fortnight later, after Algeria wooed and whisked him away to handle its national team.
Yet even there, Rajevac could find neither stability nor success, quitting just two games into his stint. A return to Asia, this time in the Far East, as head coach of Thailand's national team, followed in April 2017.
Here, our old friend settled quite a bit, but eventually suffered the ignominy of being sacked during a major tournament, in the immediate aftermath of a heavy Thai loss to India in their 2019 AFC Asian Cup opener.
It must have become apparent to Rajevac by then, surely, that his divorce from Ghana hadn't at all been for the better. Unsurprisingly, he maintained a keen interest in the affairs of the Black Stars and was linked to a return in some capacity at one point or the other.
***
After the team's unspectacular showing at the 2014 World Cup in Brazil, Rajevac was reportedly close to being appointed technical advisor to guide his former protégé, and then Ghana head coach, Kwasi Appiah, but the move never materialised.
And as recently as June 2020, following Appiah's exit and the appointment of Charles Akonnor as successor, Rajevac expressed an interest in a future reunion with the country where he produced his managerial career's only sparkling highlight.
"Of course, I will be interested [if offered the opportunity to coach Ghana again]," Rajevac told Kumasi FM.
"It will be very difficult to reject it because of my feelings for Ghanaians. Of course, Ghana is my second country, and the success I achieved there and how I felt cannot be compared to anything in this world."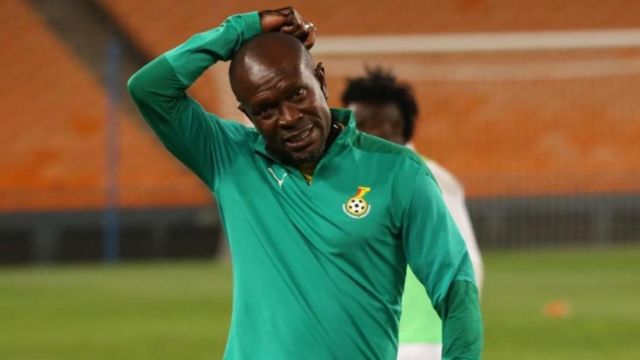 In recent weeks, increasingly exasperated by Akonnor's seeming incompetence, some Ghanaians indeed pined for the sort of football Rajevac served — efficient and exciting, even if not garnished with too many goals — and for the principles — firm and unbending — he stood for.
Last week's sacking of Akonnor, after a loss to South Africa in Ghana's second 2022 World Cup qualifier, offered the Ghana Football Association (GFA) a chance to reset the team and move it forward, and it has been decided that the best way to do so is to hand the reins to the man credited with the Black Stars' last truly great run.
Since the news broke of the decision to reinstate Rajevac — first as rife speculation, before being confirmed on Friday — tales, factual and apocryphal (hard to tell the difference really), of his brilliant first spell have filled the frenzied Ghanaian media space.
For many, though, it's the future, not the past, that matters: what does he bring to the table now?
***
There is, for now, no definitive answer. While many undeniably wish for the kind of team and performances Rajevac was once hailed for, the yearning isn't necessarily for the man himself.
If you've followed the timeline of his career in the intervening period, it's apparent that the 67-year-old isn't quite what he used to be. Besides, the conditions that helped make Rajevac such a success last time out do not really exist now.
The team he inherits, for one, is nothing like the one he bequeathed; of the squad that lit up South Africa 2010, only Andre Ayew and Jonathan Mensah are anywhere close to the Black Stars set-up at present, neither of whom is particularly capable of the full-blooded shifts their younger bodies permitted them to put in all those years ago.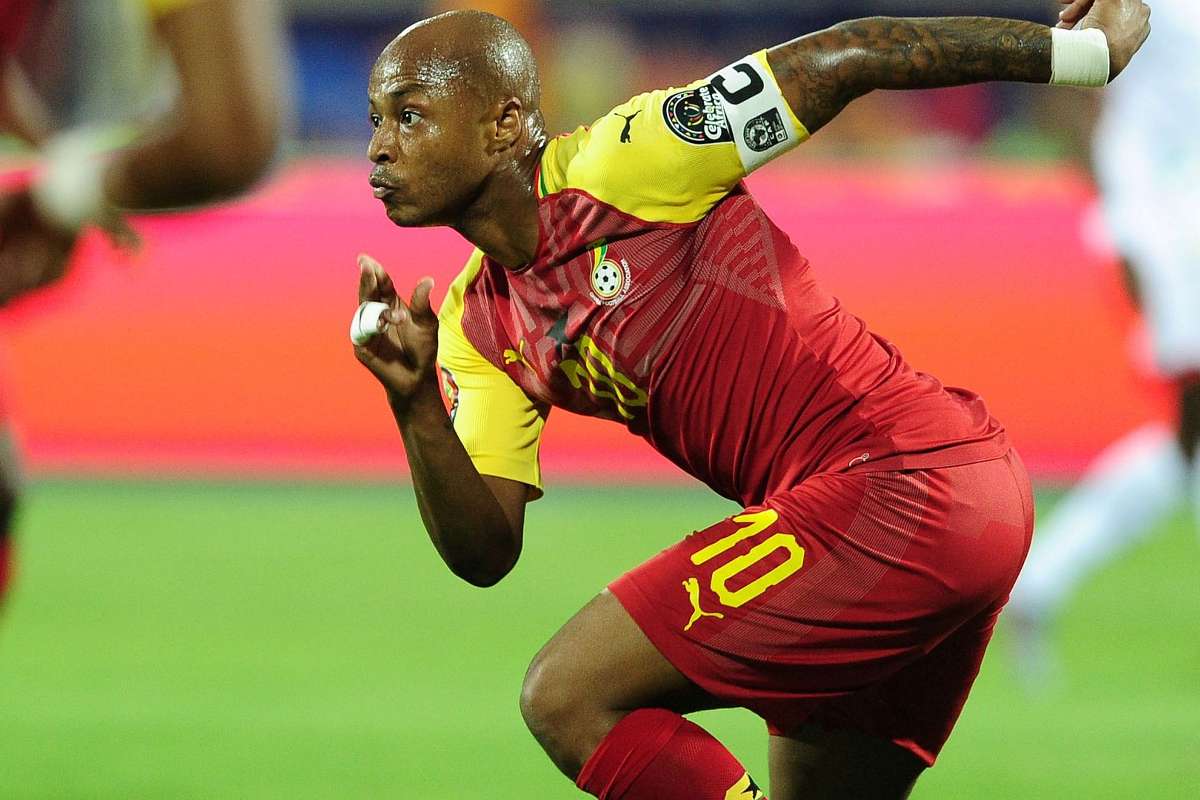 Even worse, there's no rich pool of world-beating youngsters to draw from — although the likes of Kamal Sowah, Kudus Mohammed, Abdul Fatawu Issahaku and Kamaldeen Sulemana could be moulded to fit into that bracket — to replenish the existing ageing stock, and an effective scouting system would be required to compensate for that handicap.
The Black Stars are a less appealing prospect right now then they were when Rajevac first found them, but the opposite is just as true. To Rajevac's advantage, however, he does understand the Ghanaian football culture and shouldn't take too long to get the lay of the land.
With less than a month to go before Ghana's next set of World Cup qualifiers, he would appear a very convenient plug-and-play option.
***
Still, Rajevac's second debut would be a far more keenly contested affair than his first was and he'd have to hit the ground running, without enjoying much of a honeymoon. It would come in the race to reach Qatar 2022, which is still only gathering speed, as part of an October double-header against Group G bottom side Zimbabwe.
Any sort of win — yes, even one delivered late by a goalkeeper inspired to take a punt at the other end of the pitch — will do, as Ghana's need to overtake leaders South Africa overrides any need for an immediate switch-up in playing style.
There'd always be time to fine-tune and really mould this team into the shape it is supposed to take during the next year or so under Rajevac — caution: he averages just under a year in each job — between the end of the World Cup qualifiers later this year and the start of next year's AFCON.
Manage your expectations, however. Managerial comebacks could go horribly wrong at times (see Luiz Felipe Scolari's second Brazil stint), underwhelm somewhat (Zinedine Zidane back at Real Madrid), or prove a resounding success (Jupp Heynckes & Bayern Munich).
They rarely turn out as well as both parties hope, though, especially when triggered by little more than nostalgia. For all the sweet romance of the past Ghana and Rajevac so fondly recall — so much that they've decided to pursue the love affair once more — both would need to offer more if this remarriage is to work and prove just as blissful.
Yaw Frimpong — Ink & Kicks