Even in a season when Asante Kotoko have functioned well as a collective — the Porcupine Warriors are top of the Ghana Premier League table, two points clear, for a reason — there is room for individuals to shine through, and quite a few players have taken advantage of it.
Best of the bunch?
Ismail Abdul Ganiu.
An ever-present, Ganiu has featured in game after game — 24 of the 25 played thus far in the league — and many, if not all, of his performances have caught the eye.
Ghana head coach Charles Akonnor was impressed enough to hand Ganiu an invitation to the Black Stars, and the former Karela United man walked straight in to grab a starting berth.
Ganiu lasted the entire duration of his first two Ghana games — March's pair of Africa Cup of Nations qualifiers — and has now also been called up for the country's next international dates, friendlies against Ivory Coast and Morocco.
He has been the backbone of Kotoko's backline, serving a reminder of that when his club visited Liberty Professionals on the Premier League's latest matchday.
Kotoko were holding on for a draw, with the hosts desperate for a winner that would boost their survival hopes. The last clear-cut chance for Liberty to do so fell to Adamu Amadu, who, in one deft move, collected a square-pass, slipped past left-back Ibrahim Imoro, and set himself up for a one-on-one with Kotoko goalkeeper Razak Abalora.
The latter's expertise in showdowns of that sort stood him in good stead to come up tops, but Ganiu was taking no chances. Skipper for the day, he flew in to knock the ball out of Amadu's crosshairs, just before the trigger could be pulled.
That intervention, though, wasn't the only major contribution from Ganiu in a man-of-the-match display that ensured Kotoko left Sogakope with something to show for an afternoon's hard labour. Only minutes before that game-saving clearance, Ganiu had soared at the other end to connect productively with a freekick from Ibrahim, canceling out Liberty's first-half lead.
And it's not the first time Ganiu has registered on the scoresheet for Kotoko this season. Since selling chief goal-getter Kwame Opoku for some much-needed cash mid-term, Kotoko have had to spread the goals around, with six players sharing the 15 goals scored in that period.
Ganiu, remarkably, has got a fifth of those — joint-highest, in fact — opening his account from a distant freekick, teed up by teammate Fabio Gama, to kick-start a 4-0 rout of Bechem United. A month later, with Kotoko tied 1-1 at home to Dreams FC, Ganiu converted a penalty that set his team on its way to a fine 3-1 victory.
In a sport where players are no longer measured merely by the metrics of their traditional positions on the pitch, the modern centre-back isn't content with just putting in a great shift at the back.
Many have had to adjust their game to fulfil newer obligations, like pushing forward and offering a helping hand upfront. The archetypal example of this latter-day breed of centre-back, unarguably, is Real Madrid's Sergio Ramos, renowned for scoring as masterfully as he defends, all the while leading and infusing the team's veins with his own brand of fire and ice.
Ganiu operates in that Ramos-esque frame of mind these days, albeit with a little less intensity than the feisty Spain captain usually oozes, and embodies all that is well and good with this Kotoko side, namely, defensive discipline and attacking appetite.
Interestingly — but, perhaps, not so incidentally — it is under new Kotoko trainer Mariano Barreto that Ganiu's offensive juices have truly flowed, and there is probably a good reason.
"He understands our individual capabilities and makes it easier for players to understand what he wants," Ganiu says of Barreto's hands-on approach.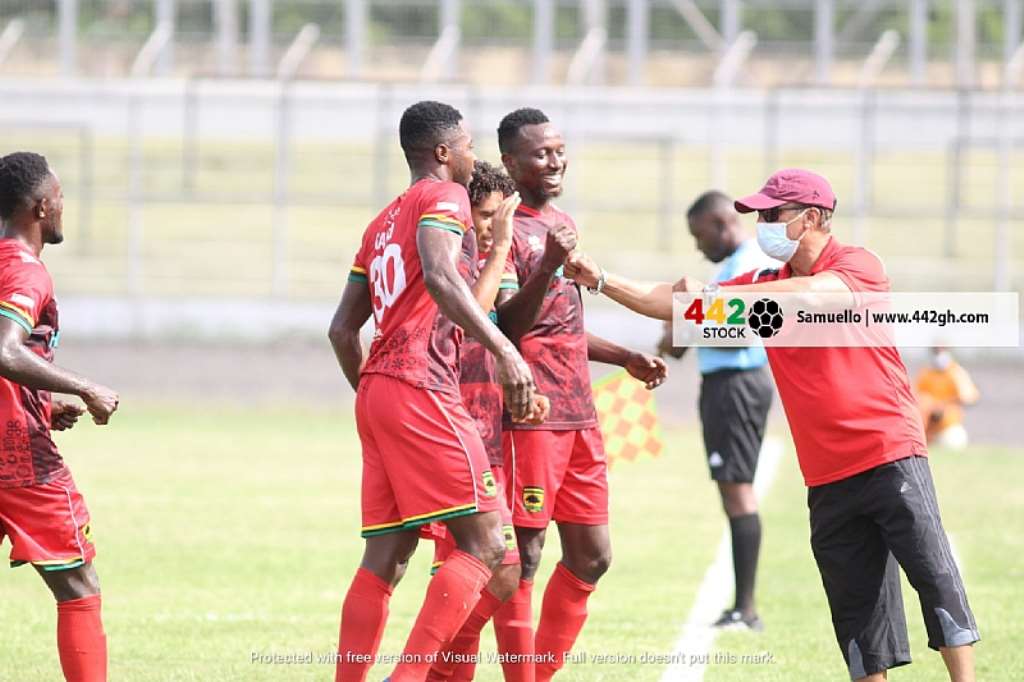 "He knows what each and every player can do so he tries to just add a little bit to it to give you the confidence to give your best."
It is noteworthy, then, that Ganiu ran off to salute Barreto in the immediate aftermath of his first two goals of the season. He probably would have done the same after his third, on Sunday, but there was a game to be won.
Kotoko failed to get that done, but the point earned keeps them at the summit, with just enough breathing space. Even more assuring, however, is the fact that Ganiu's gains haven't turned his head in the direction of greener pastures, having indicated recently that he'd be "more than happy to sign [a contract extension] and continue to serve the team."
Should he live up to his word, and Kotoko meet his needs half-way, the continued presence of Ganiu — a player so valuable and so reliable — on the roster could be a real asset in the short- and long-term, especially given how quickly he is also blossoming into a leader.
Every team needs a Ramos Ganiu, don't you think?
Yaw Frimpong — Ink & Kicks