A lot will weigh on tonight's Premier League game between Leicester City and Chelsea, with the winner — if one emerges — taking another step in their title-chasing quest.
And, while many Ghanaians will catch that game between the former league champions — Chelsea, especially, enjoy a huge following in these parts – live, another English fixture, albeit of a lower profile, would fetch some attention, too.
Fifteen minutes before those two clubs do battle in the heart of England, Southampton, their top-tier peers, host Shrewsbury Town — rooted deep in the lower half of the League One table — in a third-round FA Cup tie on the country's south coast.
Earlier on Tuesday, news broke of a partnership between Southampton — tied on Premier League points with Chelsea, and within six points of Leicester — and Asante Kotoko, Ghana's most successful side.
"This partnership enables us to plug Asante Kotoko into Southampton in such a way that Kotoko functions like Southampton," Nana Yaw Amponsah, Kotoko's Chief Executive Officer, commented. "Kotoko would have everything Southampton has but to a level that reflects our different budgets."
Of the deals that Amponsah has reeled in since his August appointment, this grabs, by far, the biggest headlines. It was secured, according to Kotoko's statement, with the assistance of CEEK VR, one of the partners Amponsah brought on board a little earlier. We had heard the rumours months ago, but only recently did confirmation and an announcement seem imminent.
Now, it's here.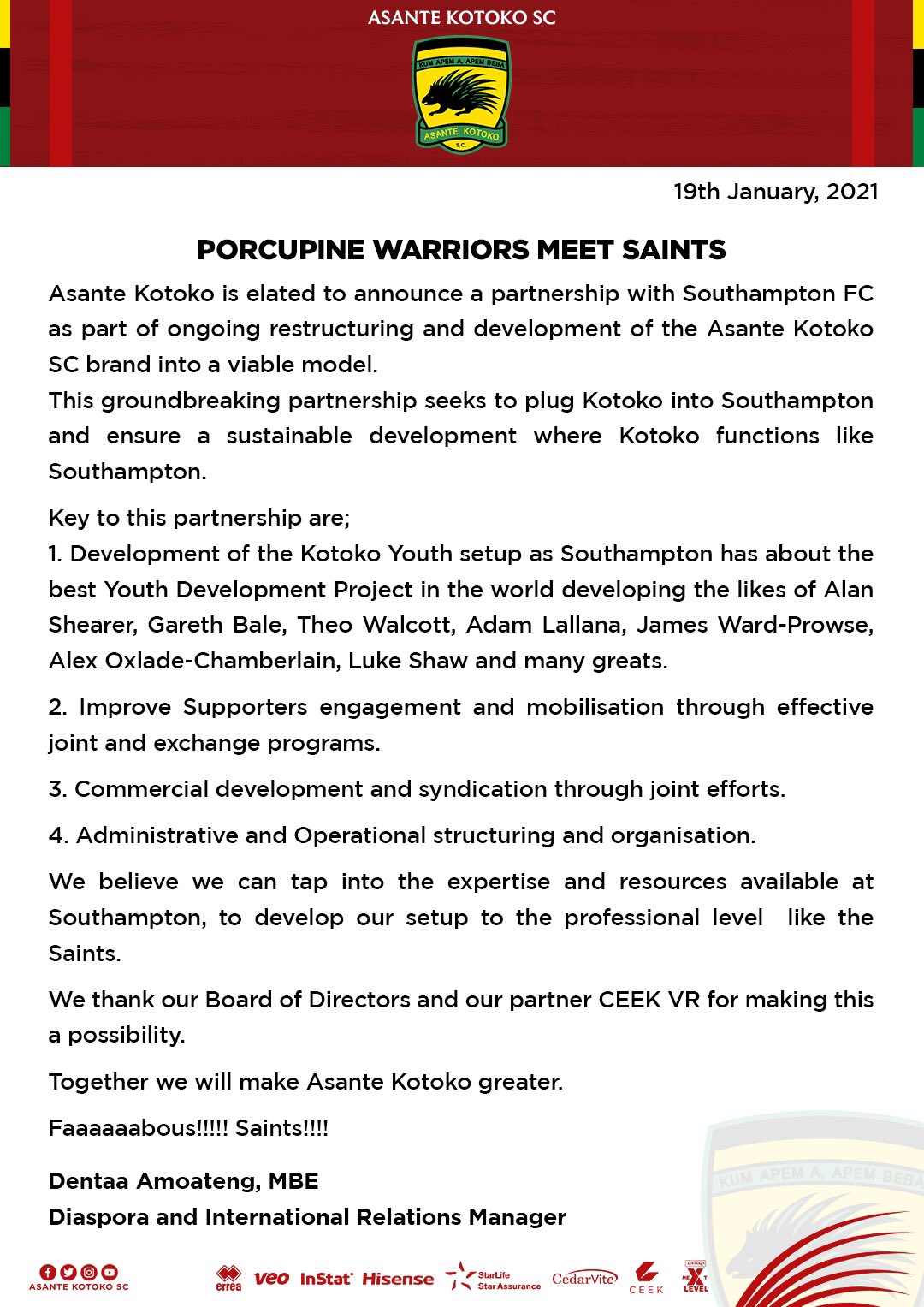 Kotoko have been there before, of course; rewind to July 2011, when a similar deal was struck with another Premier League club. It felt pretty big at the time, as this does now, but the excitement died rather quickly, even if the deal itself lingered a little longer.
Sometime in 2015, in fact, Kotoko had to move quickly to quash talk that it had been cancelled, issuing a statement that described such talk as "unfounded and baseless." Those reports gained ground, partly, because Kotoko had gone through considerable upheaval since the exit of Dr. K.K Sarpong, under whose tenure the deal had been bagged.
But then came the decline — first sudden, then rapid — of Sunderland themselves that has seen them plunge from England's elite level to becoming Shrewsbury's league-mates at present, all in two short years. As things stand, not many know — or care — if their agreement with Kotoko still stands or not.
For now, it's all about Southampton — a team that, for a few hours earlier this season, and for the first time in over three decades, topped England's top-flight — and Kotoko will milk this for as much, and for as long, as they can.
Southampton don't look like a club that's going down anytime soon. If anything, under Austrian boss Ralph Hasenhüttl, the Saints are on the rise, and they are likely to remain relevant in the foreseeable future — Kotoko can bank on that.
What the Porcupine Warriors can't be too sure of is their own stability. At a club where change is the only constant, and where there's nothing more certain than uncertainty, how long would this deal survive Amponsah?
We'll see.
Remember, though, that it wasn't too long ago that speculation was rife that Amponsah could soon be axed; that he was losing the fanbase (over a stuttering start to the season) and the boardroom (over errors in his response to that poor run on the pitch).
However, with his latest move — a masterstroke, no doubt — Amponsah should have both sets of stakeholders eating out of his hand for a while (especially as results have also picked up), affording himself a little more of the most scarce capital available to any Kotoko leader: goodwill.
How much of it he now has, and how well he uses it, will make for interesting observation.
Enn Y. Frimpong — Ink & Kicks