A season has ended and, with it, the final lap — for now, at least — of a 22-year-long run in the Ghana Premier League for Liberty Professionals.
The worst part of it all, even more than the fact of Liberty's relegation, is that nobody — not even themselves — can genuinely claim to be surprised by how things have eventually turned out for the Scientific Soccer Lads.
Liberty have been on this path — a steady, then rapid, decline — for sometime now, increasingly losing their identity and looking nothing like the side that was almost a constant presence in the league table's top four years ago. On occasion, prime Liberty were even good enough to represent Ghana in African inter-club competition!
But what they did so well — much better than most clubs before, perhaps, WAFA arrived on the scene — was playing delightful, almost cultured, football; that, and providing a platform to launch those kids — the Asamoah Gyans, Sulley Muntaris, Kwadwo Asamoahs, and Michael Essiens — with dreams of touching the sky someday.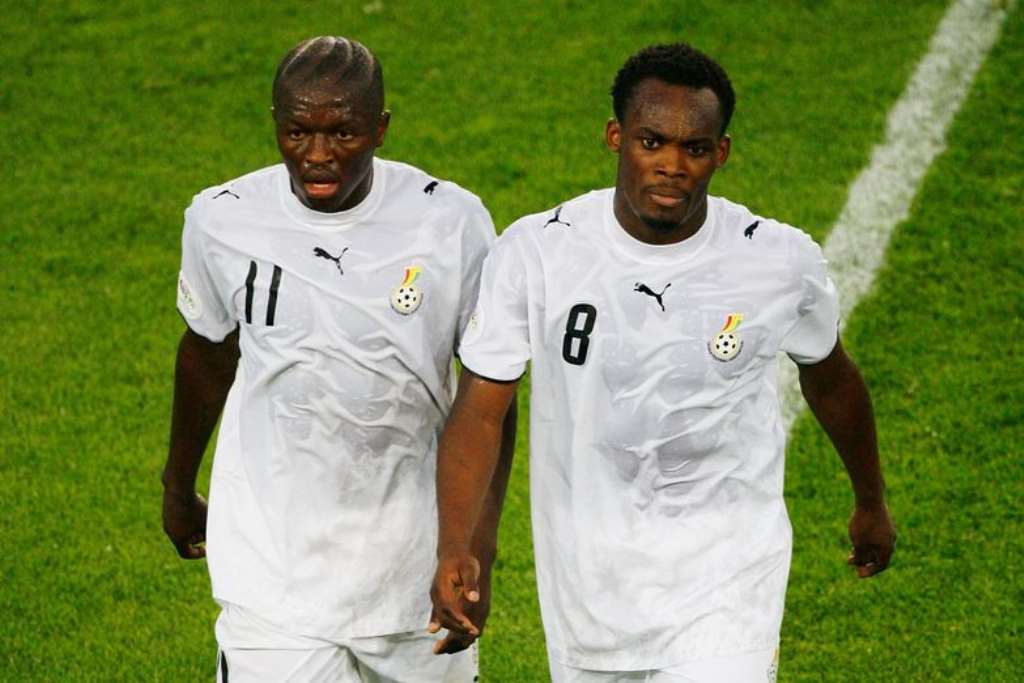 Those abilities, however, appeared to desert Liberty in recent years. The football wasn't as good anymore, the production line broke down, and a club once looked up to as an example by its peers became one of the league's certified whipping boys.
Now, though, Liberty have been beaten to a pulp, incapable of the sort of dramatic resurrection that spared their blushes when they finished 13th in 2013/14 (two points clear), 13th in 2015/16 (one point), and 11th in 2017 (two points).
One more win — to cap off a second round of the 2020/21 season that was noticeably better than the first — was all Liberty required on the final day, at home to fellow battlers [and, ultimately, survivors] Kumasi King Faisal, to remain in the league, yet not even all the brilliance of a Fifa World Cup-winning coach could get this sinking ship home and dry.
But while Liberty, to their credit, put up a good fight, one of the other two sides going down with them, Inter Allies, didn't.
Liberty and Allies — both founded in 1996, in Ghana's Greater Accra Region — have always had quite a few common threads running through them; including, but not limited to, a solid record in talent development and a hitherto unwavering commitment to tried-and-tested ideals.
Those methods paid off sooner for Liberty, in terms of speed of ascent through the ranks of the Ghanaian football pyramid, culminating in admission to the top-flight — just in case you didn't do the math at the outset of this article — in 1999.
Allies caught up much later, joining the big boys only eight years ago. Their fortunes, ever since, have largely reflected a renewal of their brother-from-another-mother kinship with Liberty: in 14/15, Liberty placed 5th and Allies 6th; 13th and 12th, in that order, in 15/16; 11th and 13th in 2017.
There has been very little to choose between the two sides, really, and it feels hardly surprising that they've both finally exited together, hand in hand.
Liberty would, perhaps, feel a bit surer of a quicker recovery, given how close they were to survival in the end; Allies, on the other hand, should have more pieces to pick up, considering they were a full 14 points adrift of everyone else and carry with them a 7-0 thrashing in Obuasi as the parting memory of their time in the Premier League.
Hardly inspiring stuff, eh?
On their way down, anyway, Liberty and Allies might look longingly at another Accra-based side that is cruising in the opposite direction, powered by the same principles that once elevated the condemned pair as models of how to play football and how to run a football club — and maybe they'd be reminded of how to do both all over again.
While Liberty were fighting for their lives against Faisal, second-tier Accra Lions were steamrollering Danbort FC to a 3-1 win that booked their ticket for a first Premier League season, defying considerable odds to do so. Lions, stunningly, weren't even in existence when Allies secured their own maiden promotion (13/14), but their sheer resolve, sprinkled with a healthy dose of professionalism that is uncommon in these parts, has got them to the top so shortly after their 2015 take-off.
In the league, Rainer Kraft's team will almost certainly be a breath of fresh air, and Accra, especially, would be better for it.
The burning rivalry between champions Hearts of Oak and their 'noisy neighbours' Great Olympics will serve its own thrills, while Legon Cities should also generate their own brand of entertainment — more on the pitch than off it, hopefully? — but it is Lions that can be counted on most to offer that explosive cocktail of youth and flair and structure for which Liberty and/or Allies were once admired, with no net loss at all.
Yaw Frimpong — Ink & Kicks