The tale would always be told, you know, of just how great a year 2000 was for Accra Hearts of Oak.
It all ended in ultimate glory, when Hearts were crowned African champions for the first time, in December of that year. That double-legged victory — victory, yes, in each leg — over Tunisian side Esperance stood out as the highlight, the grand finale, of that annus mirabilis.
That CAF Champions League trophy wasn't, of course, the only piece of silverware Hearts won that year. They picked up two more domestically, stringing together a treble — unprecedented at the time and, 21 years later, still unmatched — which elevated that 'Hearts XI' into a realm all of its own.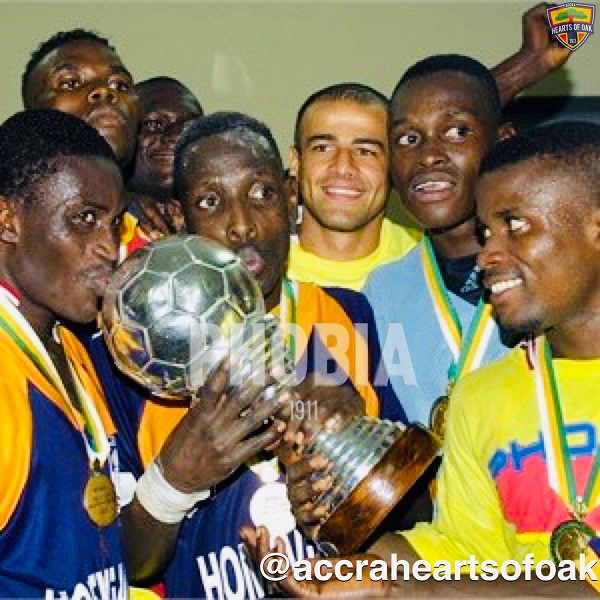 At the time, one of those trophies, the Ghana Premier League title, had begun to lose its luster in the eyes of Phobians — and who could blame them?
Hearts had won it three times in a row already, and they'd claim it twice more before that six-season winning streak was over. But this particular league triumph wouldn't feel so mundane; it would, in fact, sparkle a little more, courtesy a result — and a performance — Hearts produced on only the second matchday of the campaign, when archrivals Asante Kotoko came to town.
There would only be one more Wednesday evening league meeting between the two sworn foes in the capital — the next, and last, would be remembered for all the wrong reasons — but this one was going to be etched onto the memories of both sets of fans, for better (Hearts) or for worse (Kotoko), forever and a day.
Only four times prior, in the rich history of this fiery feud, had one team scored at least four times in a game, but on each of those occasions — three of them won by Hearts — the losing side got at least two goals of their own.
This time, though, Cecil Jones Attuquayefio's Hearts would take it all — goals, points, bragging rights… everything — against a Kotoko team that looked drained of its juices. Ishmael Addo's 24th minute header, from a sweet Kenneth Sarpong corner-kick, got the party started.
But if that first goal felt like it had gone in off Kotoko's Togolese import Franck Atsou — and maybe it did — there was absolutely no doubt about the ownership of the second, coming in seven minutes later.
Addo, goal-king that season and in the seasons sandwiching it, is revered for the sheer numbers that he so regularly stuck into the back of the net in his prime, but an understated aspect of his goalscoring was the quality of some of his strikes.
The goal that doubled Hearts' lead certainly belonged to that gallery of masterpieces. Just outside the area, from the right, Addo lobbed the ball exquisitely – over Oscar Asamoah, Kotoko's goalkeeper — and landed it with dead-on precision, delivering what would surely have been the best finish of the night, if Hearts had any self-control in them.
But they simply couldn't help themselves, could they?
There was just too much time left — a whole hour or so — to ease off. Sensing that this could be as great a game as any they'd ever played against the old enemy, Hearts went on to grab a couple more, turning what should have been a routine win – normal, given the prevailing status quo — into a demolition exercise.
Sarpong poked home, on the volley, a Charles Taylor freekick that was never going to miss its address — such was its accuracy — before Emmanuel Osei Kufuor added an extra layer of gloss to seal a display for the ages.
A good sequence of passing saw namesake Emmanuel Adjogu slip the ball between two Kotoko players for Kufuor who, pausing just long and cleverly enough for the last barriers between him and the goal to collapse, almost causally slotted home the fourth.
It wasn't just the margin of defeat that got to Kotoko; it was also the knife-twisting nature of it, creating a wound so deep and wide that it has never really healed.
Vengeance has been on Kotoko's minds ever since, yet in subsequent editions of the 'Super Clash' – even when the Porcupine Warriors have had the odds weigh heavily in their favour — they have failed to exact it.
And they probably never will until, perhaps, Kotoko assemble a team as unusually fine and fiercely ruthless as that legendary Hearts side — well-nigh impossible, if we're being honest.
Enn Y. Frimpong — Ink & Kicks