It's a very human — and very Ghanaian — thing, indeed, to pine for the 'good old days'.
For many fans of the Ghana national team — those that still have the forbearance to sit through a game these days, anyway — that feeling of nostalgia flooded their minds as they saw the Black Stars, in Friday's Fifa World Cup qualifier against Ethiopia, struggle to find the back of the net.
Seeing it happen versus continental heavyweights like South Africa, Morocco and the Ivory Coast in recent games was worrying enough, but watching that same narrative play out again when Ghana took on the unfancied Ethiopians — not, by any stretch of the imagination, Ghana's equals on the stage of international football — was just too much, too hard to take.
Jordan Ayew continues to frustrate in a role that is clearly not his, as Ghana's leading man in attack, resulting in the expression by some of a longing for a prompt recall of the last elite finisher the country had, Asamoah Gyan.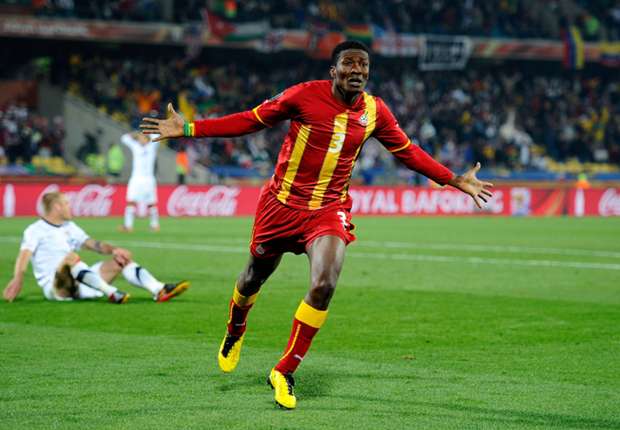 Gyan certainly has the résumé for the task. Nobody has scored more goals for Ghana, officially, than his 51, and Gyan almost single-handedly bore the team's scoring burden for the best part of the last 15 years.
But it's just that line of reasoning — that these are boots only one man, Gyan, can fill — that has led us to this point of desperation.
For years, that meant coaches of the Black Stars refused, deliberately or otherwise, to consider and nurture other options. Gyan, fine or frail, was drafted for service; remember that time, at the 2015 Africa Cup of Nations, when he was dragged from the sick-bed to bail Ghana out in a decisive group game against Algeria (and, as often happened, he delivered)?
It's not from the sidelines that some would rather the 35-year-old be summoned from this time, though; it's the past, where Gyan has been for a while. He is four years removed from his last Ghana goal, two from his last Ghana appearance, although Gyan strongly insists the story of his international career — illustrious, glittering, legendary — isn't yet over.
A hint that our guy is likely living in denial?
When he showed up to help out with the draw for the 2021 Africa Cup of Nations a couple of weeks ago, he shared that privilege with Rabah Madjer (the Algerian great of old), Samuel Eto'o Fils and Didier Drogba (two of Gyan's contemporaries, neither of whom now plays active football), and Gaelle Enganamouit (a female Cameroonian footballer who reportedly retired last year at the relatively young age of 28).
Surely, you get the picture, don't you?
And it's just as well that Gyan comes across as a spent force. He has laboured in carrying out the basics on a football pitch for well over a year now, let alone score, but a battle for form hasn't even been the biggest of Gyan's worries; a battle for fitness has.
All those challenges meant Gyan wasn't in a position to solve the problems that plagued Legon Cities, the Ghanaian club on whose books he was last season; you really think he's the solution to the Black Stars' own issues?
If you stubbornly insist, well, you're not alone. Current Ghana trainer Charles Akonnor appears to be a fan, too, and has encouraged Gyan to do what he can to, as it were, turn back the hands of time.
"Asamoah Gyan has made it clear that he wants to. He's an experienced man and knows what to do for him to get into the team," Akonnor, in a press conference held via Zoom, said.
"Once he does, he's a Ghanaian and he's done a marvelous job in the past. So, we've had a bit of discussion, he knows what to do. I'm also watching him closely."
Unless Akonnor needs a quick-fix — and, right now, the one thing Gyan needs to fix quickly is his body (no offence intended) — this isn't the way to go.
If anyone "knows what to do", it's Akonnor himself: look far, search wide, and find someone younger, fitter and in-form — say, Kwame Opoku? Or, dare I suggest, Diawisie Taylor? — to bang in the goals.
"The past," a jilted young lover once famously said, "is not the present."
Yaw Frimpong — Ink & Kicks